Delicious Melomakarona pancakes. All the great aromas of melomakarona are trapped in a small fluffy disc that will make you drool. A great option for Christmas day breakfast or brunch and a perfect solution if you had no time to bake melomakarona.
Melomakarona are Greek Christmas cookies soaked in honey syrup, scented with orange and cinnamon, and topped with chopped walnuts. They are one of the most famous Greek Christmas desserts and they are AMAZING.
I have a soft spot for pancakes, can't deny it, so I couldn't think of a better recipe to share with you for Christmas. Fluffy, delicious, highly aromatic pancakes made gluten-free, dairy-free, and without the addition of sugar.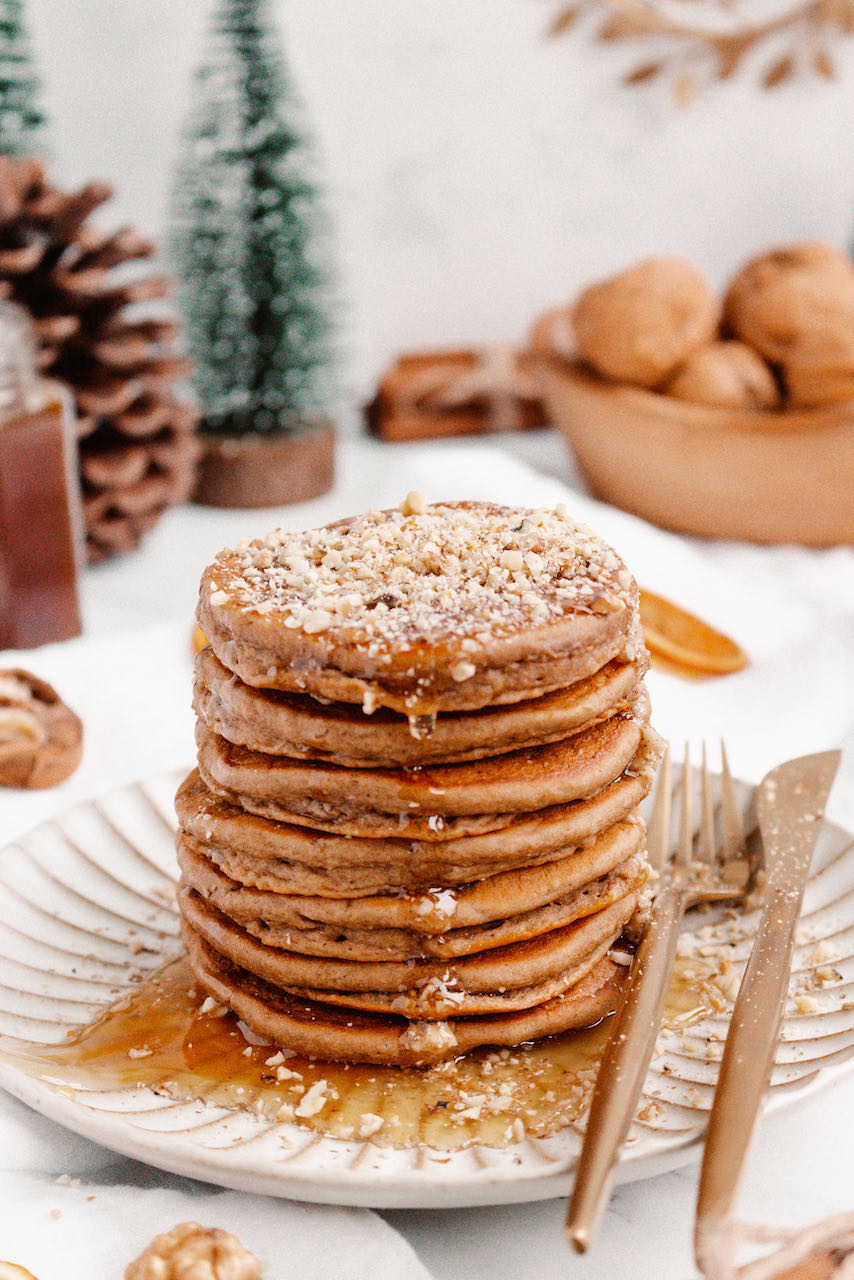 Pancakes: Mediterranean Greek food!
Pancakes were most likely the earliest cereal food in prehistoric societies. There is a lot of archaeological evidence that supports and suggests this theory.
In Greece, pancakes are called τηγανίτες (tiganites). Ancient Greeks called them τηγανίτης (tēganitēs), ταγηνίτης (tagēnitēs), or ταγηνίας (tagēnias). These words derive from τάγηνον (tagēnon), modern Greek τηγάνι, which literally means "frying pan".
Ancient Greek pancakes were sweet, typically served with honey, fruits, and nuts, or savory served with cheese or yogurt. The earliest reference to the word tagēnias is traced to the poets Cratinus and Magnes of the 5th century BC. Athenaeus in Deipnosophistae uses the name σταιτίτης (staititēs) for pancakes, which means "flour of spelt".
The modern word pancake appeared in English in the 15th century.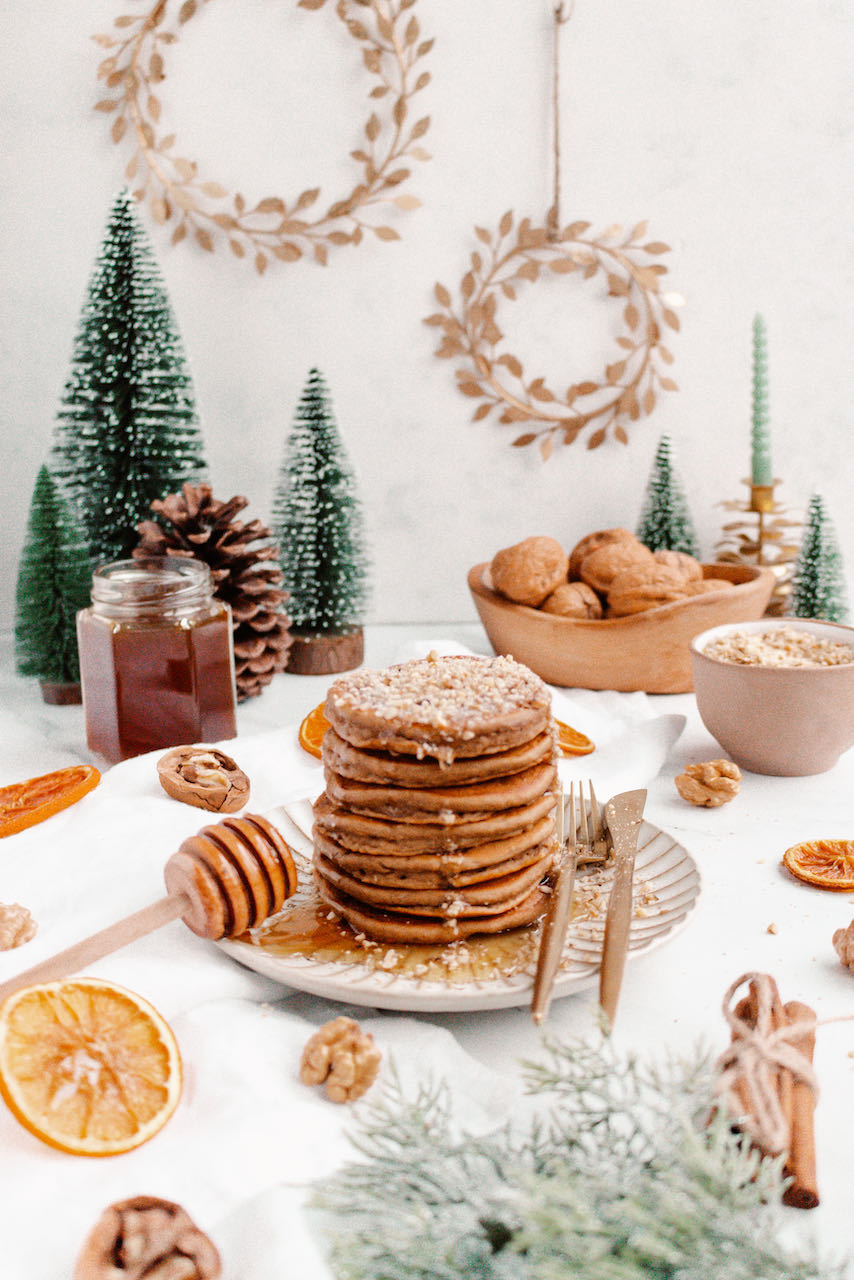 Ingredients
Orange: Use unwaxed orange zest and juice. This is what makes the pancakes extra flavorful and aromatic.
Egg: In case of egg allergy, replace the eggs with:
1 banana ( it changes the flavor a little) or
2 tablespoon chia seeds or flaxseeds, mixed with 3 tablespoon water. Let it rest for 5 minutes to become jelly and then use. The pancakes can be less fluffy in this case.
Spices: Cinnamon, cloves, and nutmeg are the classic melomakarona spices. Add ½ teaspoon ginger to add some spiciness.
Sweetener: Melomakarona are honey cookies. So honey is the definitive sweetener. However, if you cannot consume it, replace it with maple syrup.
Flour: I use an all-purpose gluten-free flour from Greece. If you can consume gluten, substitute the same amount with all-purpose wheat flour.
Leavening agents: Make sure to use certified gluten-free baking powder and baking soda if you cannot consume gluten.
Alcohol: Optional, but it adds so much flavor and aroma. Replace it with orange juice if you want to make the melomakarona pancakes alcohol-free.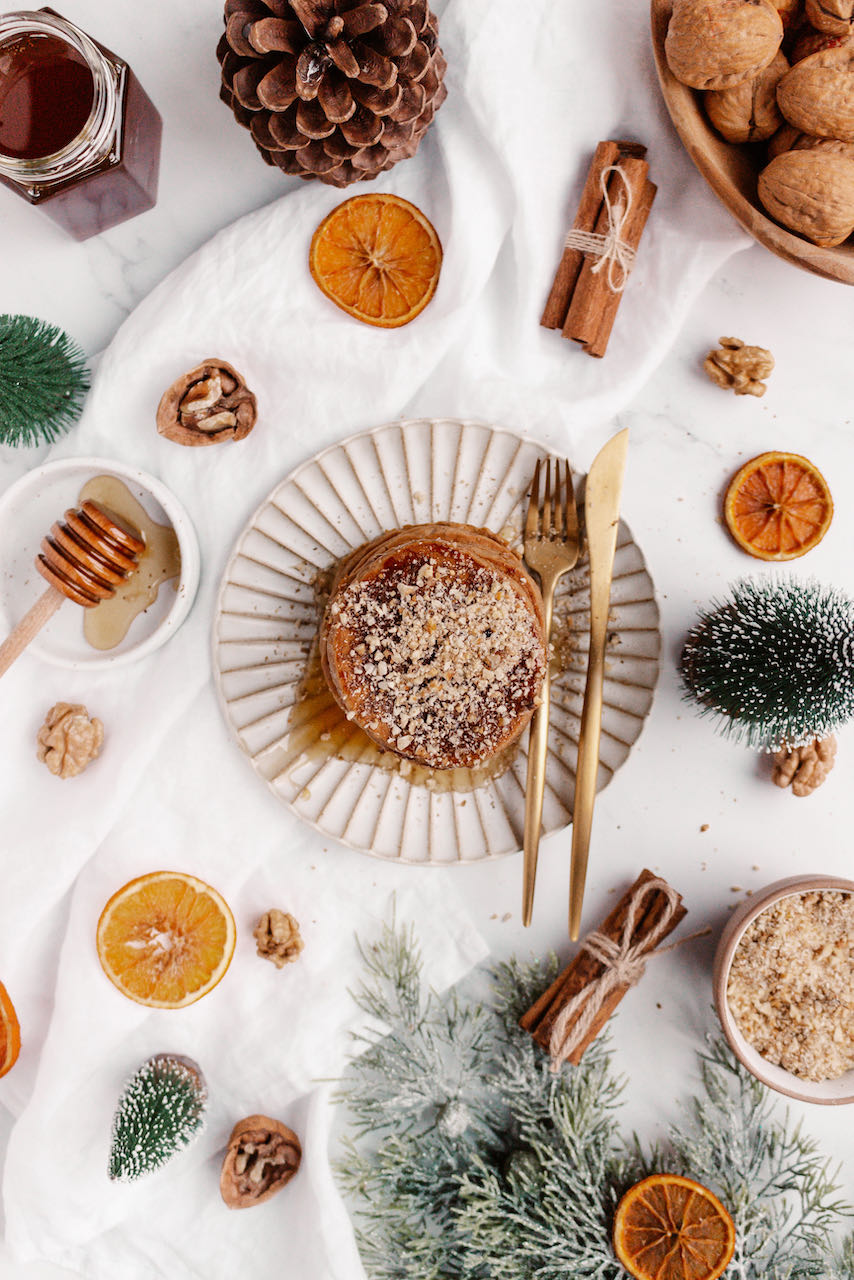 Tips & tricks
Use a non-stick pan to make the pancakes. It is easier to flip them. If they stick to your pan, spray or grease it with a little bit of olive oil.
Wait until the pan is hot before pouring the batter on it.
Make the honey syrup to drizzle over the pancakes. Mix 100g (0.29 cup) honey with 80g (⅓ cup) water, 1 cinnamon stick, 5 whole cloves, and the juice of half orange. Simmer for 5 minutes and serve the syrup warm or cold.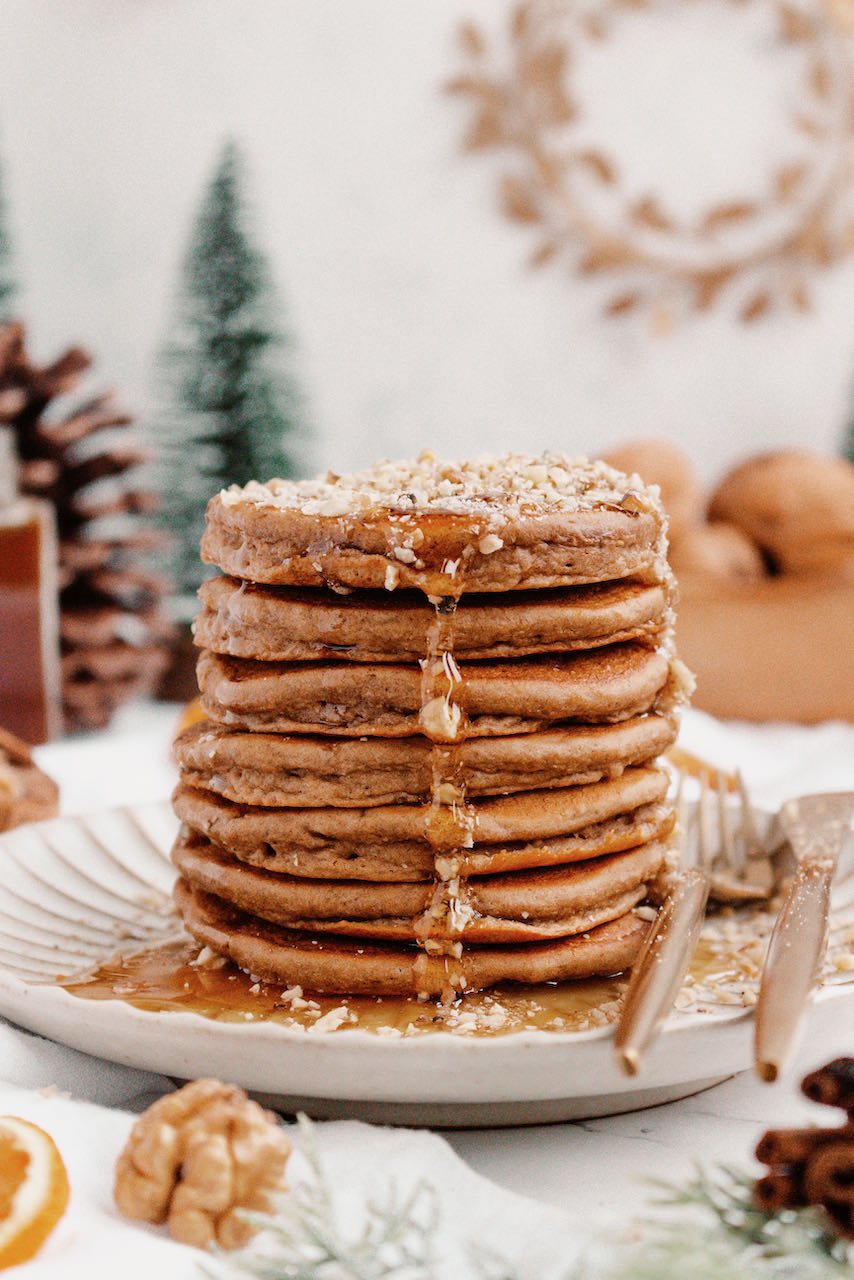 Serve
Serve the melomakarona pancakes warm, drizzled with 1 tablespoon honey on top, and sprinkled with 1 tablespoon finely chopped walnuts. One serving is 3-4 pancakes.
Another alternative is to serve the melomakarona pancakes with maple syrup topped with chopped walnuts and a dash of cinnamon.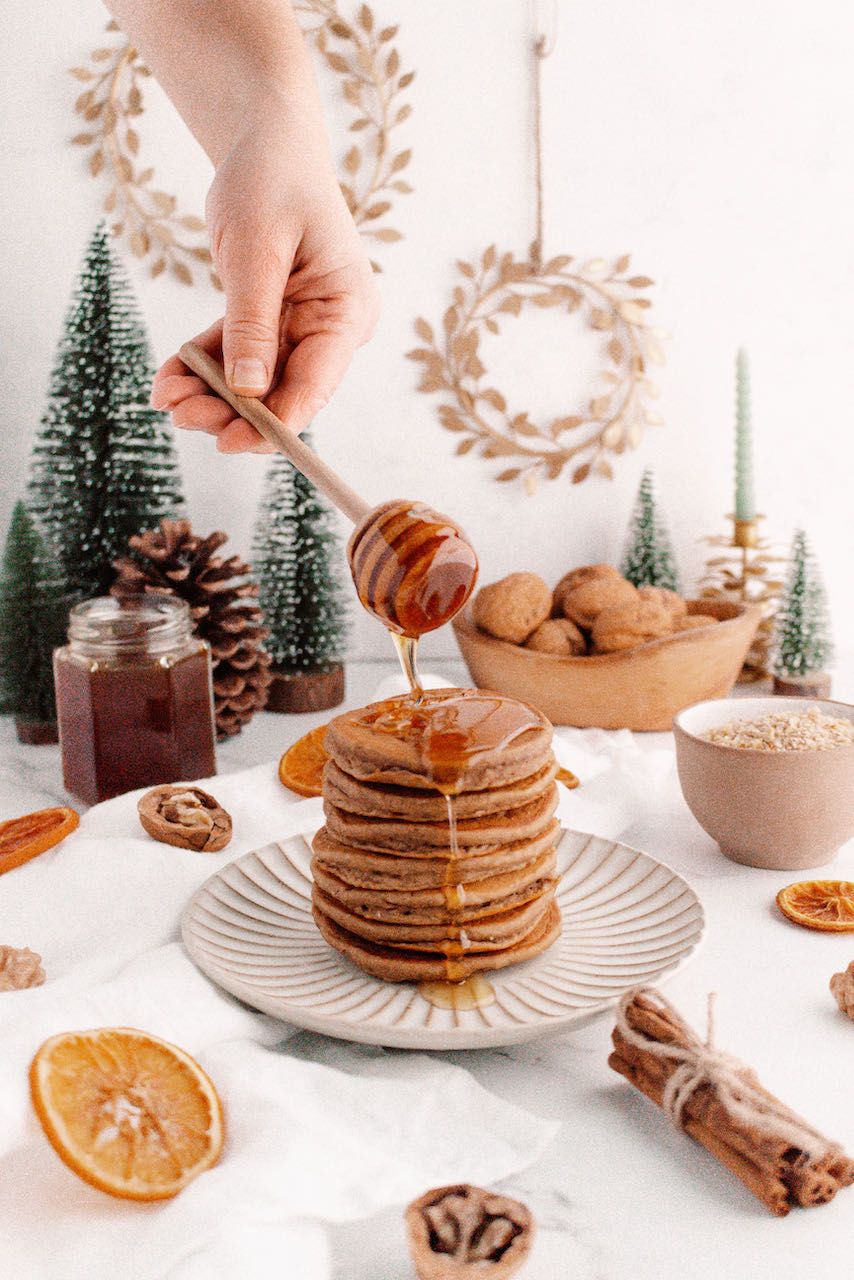 How to store
Store the melomakarona pancakes in an airtight container, in the fridge, up to 4 days.
Freeze the pancakes for up to 4 months. Place parchment paper in between the pancakes to avoid them from sticking to each other.
Thaw them at room temperature and reheat them in the oven, at 150ºC (300ºF) for 5 minutes.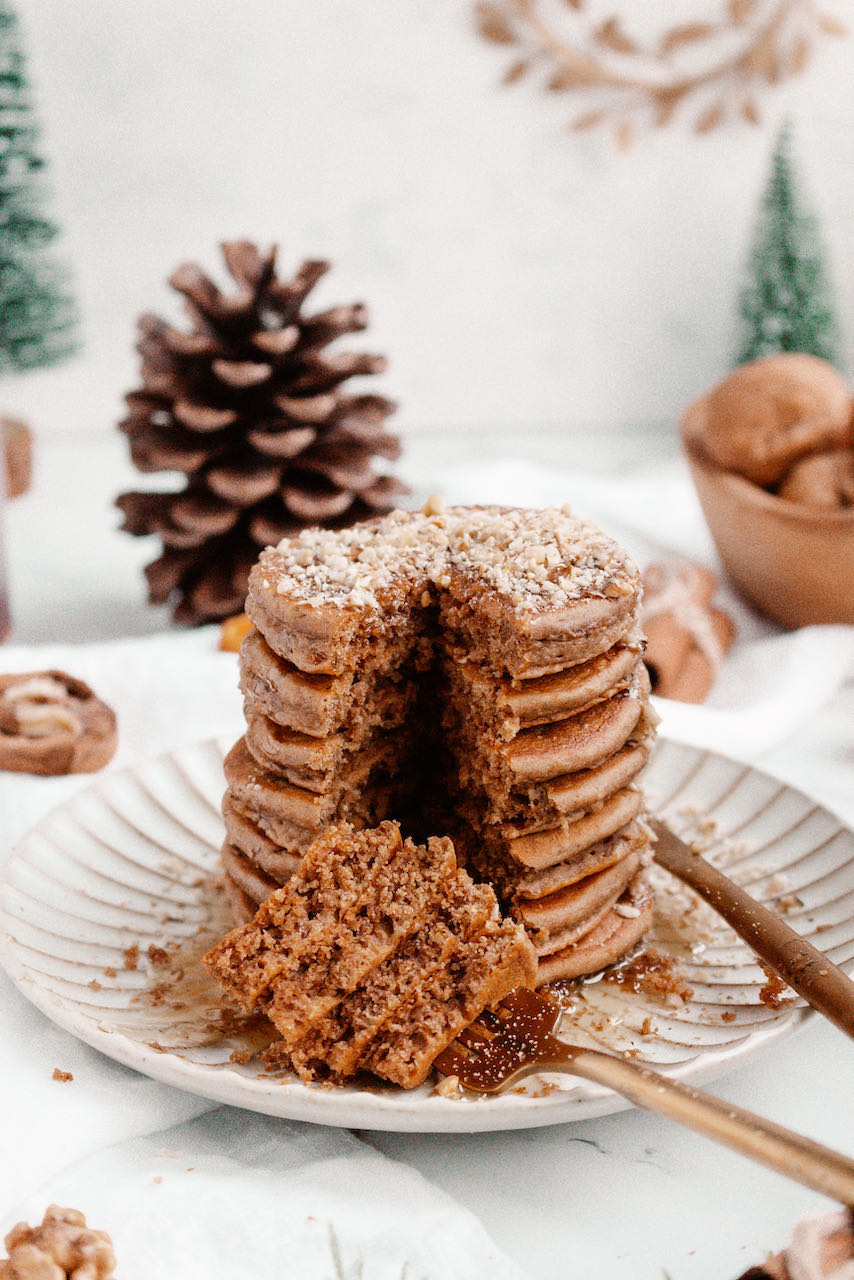 More Christmas deliciousness?
Try also these Christmas favorites:
Recipe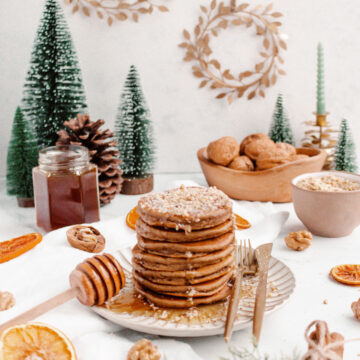 Pancakes melomakarona
A Greek Christmas classic cookie, now available also as a gluten-free pancake! A delicious breakfast/brunch choice scented with cinnamon, orange, and topped with walnuts.
Ingredients
150

g/⅗ cup

orange juice

freshly squeezed

35

g/5 tsp

honey

35

g/2 ½ tbsp

olive oil

extra virgin

1

medium

orange zest

2

large

eggs

2

tablespoon

cognac or brandy

optional

1 ¼

teaspoon

ground cinnamon

½

teaspoon

ground cloves

¼

teaspoon

nutmeg

2

teaspoon

baking powder

gluten-free

¼

teaspoon

baking soda

145

g/5.11 oz

all-purpose flour

gluten-free

30

g/1.05 oz

oat flour

gluten-free

4

tablespoon

chopped walnuts

topping

4

tablespoon

honey

topping
Instructions
In a large bowl, whisk together the eggs, orange juice, honey, olive oil, cognac, and orange zest.

Sift the all-purpose flour, baking powder, baking soda, and spices in the bowl, add the oat flour, and whisk until perfectly combined.

Heat a non-stick frying pan or griddle over medium-low heat. Measure ¼ cup of batter and pour it onto the frying pan. Spread into a circle 10 cm/4 inches.

When bubbles start to appear on the top of the pancakes, turn them over and bake for about 2 minutes, or until lightly browned.

Serve while still hot, with honey and chopped walnuts on top.
Notes
Use a non-stick pan, it makes it easier to flip the pancakes, and be sure that is heated enough so that the pancakes are properly baked.
Serve the pancakes drizzled with honey and topped with finely chopped walnuts. Alternatively, serve with maple syrup and some cinnamon. A portion is 3-4 pancakes.
Store the pancakes, in an airtight container, in the fridge, for up to 4 days. Freeze them, for 4 months placing parchment paper between them. Thaw at room temperature and reheat in the oven at 150°C (300ºF) for 5 minutes.
Nutrition facts
Servings: 1 (55g) | Calories: 114kcal | Carbohydrates: 15g | Protein: 3g | Fat: 4.1g | Saturated Fat: 0.7g | Trans Fat: 0g | Cholesterol: 31mg | Sodium: 42mg | Potassium: 164mg | Fiber: 0.9g | Sugar: 9.32g | Vitamin A: 72IU | Vitamin C: 6.5mg | Calcium: 51mg | Iron: 1.08mg
Have you tried this recipe?
Spread the love and mention @foodathlon_ or tag #foodathlon on Instagram
Leave a comment and star rating ★ in the section below