Greek leek lemon risotto or prasorizo lemonato as we call it in Greece is a delicious, comfort dish. Its name means literally leeks (praso) and rice (rizo). A traditional, typically home-cooked dish.
It is a humble dish that represents the simplicity of Greek cuisine, with a creamy texture and sweet flavor. A vegetarian (vegan) dish, that is also gluten-free, quick, and easy-to-be-made.
Prasorizo is a type of risotto eaten during the cold autumn or winter months when leeks are in season, and especially during nisteia which is the fasting period for religious reasons. Every family has its recipe but almost always there are two versions of the dish, white or lemon, like in this recipe, and red made with tomato.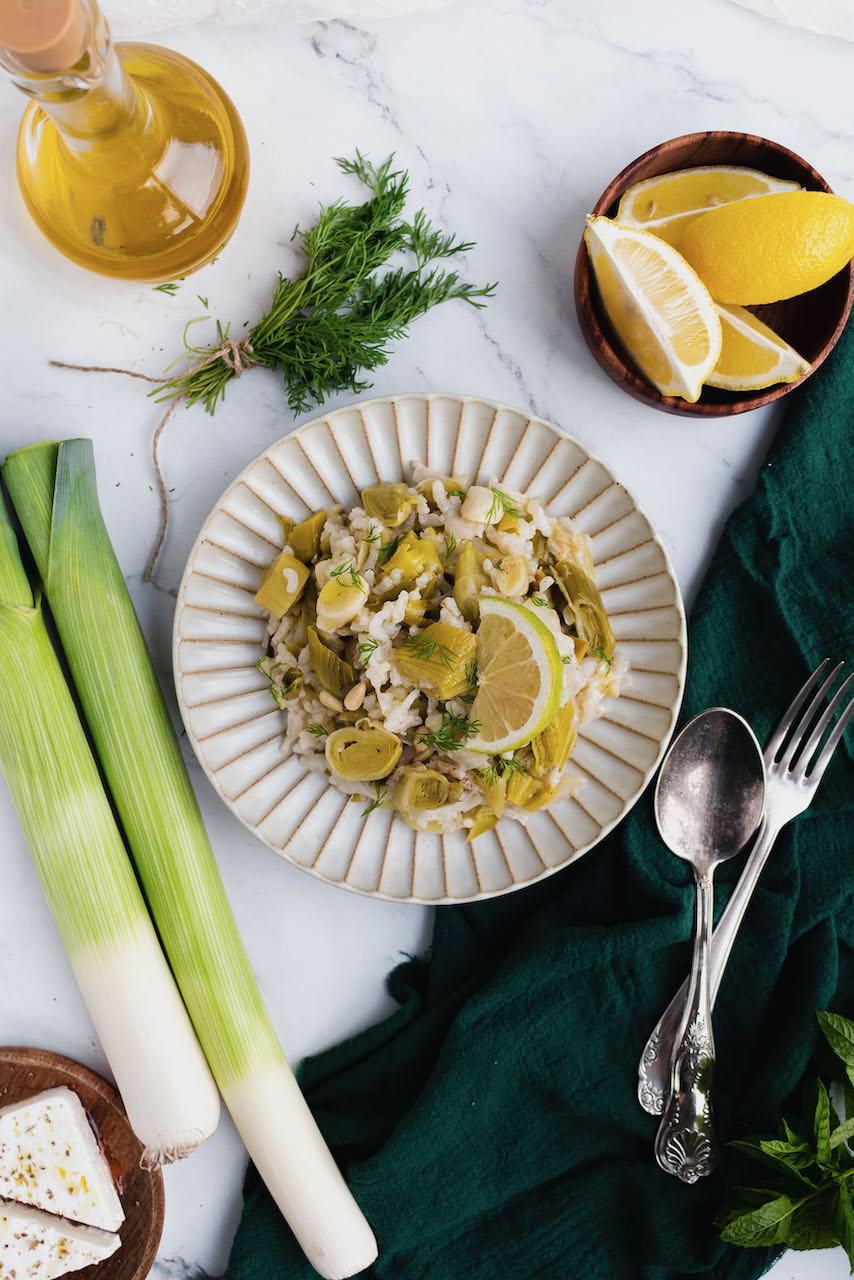 What are the health benefits of leeks?
Leeks belong to the allium family. Greeks are using leeks in the kitchen from ancient times and thought that they were helping with voice.
They have a milder more delicate flavor than onions and when cooked or caramelized they provide a sweeter taste.
Leeks are nutrient-dense which means that they are low in calories, but are filled with minerals and vitamins. They are also a great source of antioxidants like flavonoids and carotenoids, and vitamin K. Other nutrients and vitamins found in leeks are vitamin C, B6 & A, fiber, folate, iron, beta-carotene, manganese, and copper.
Leeks are an easy and great addition to a healthy diet and they may promote weight loss, reduce inflammation, improve digestion, and fight infections, heart disease, and even cancer according to some studies.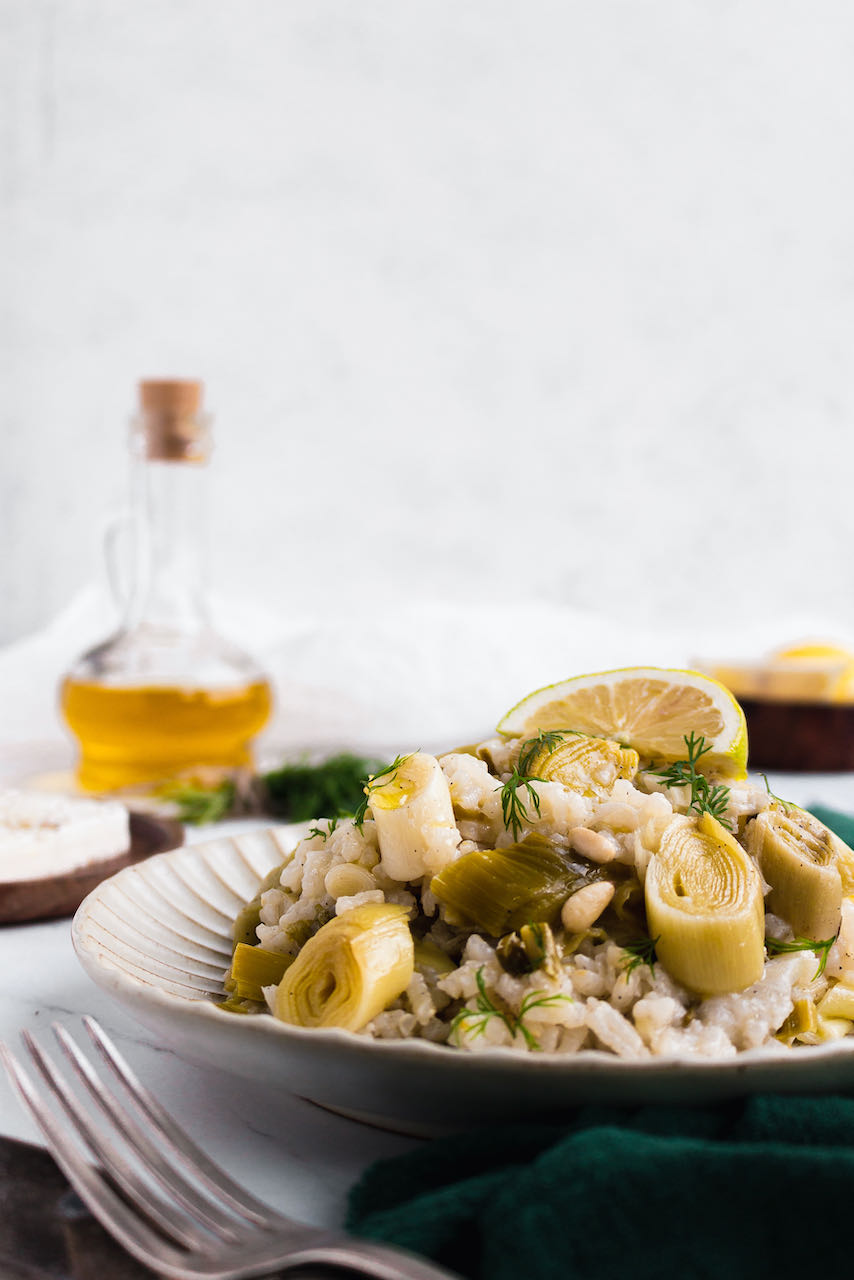 Ingredients of the Greek leek risotto
Leeks: Slice the white and pale green parts diagonally into 1.5 cm (0.6inch) rings/slices and finely chop the green parts.
Onions: Swap the yellow onion with white or red depending on what you have in hand.
Herbs: I like to use dill and spearmint. My grandma used parsley, but I have an allergy. You can also add oregano.
Rice: In Greece, Prasorizo is made with a specific type of rice called Carolina. It is medium-grain rice. If you can't find medium-grain rice use Arborio rice. Any other variety won't work because Prasorizo needs to be creamy.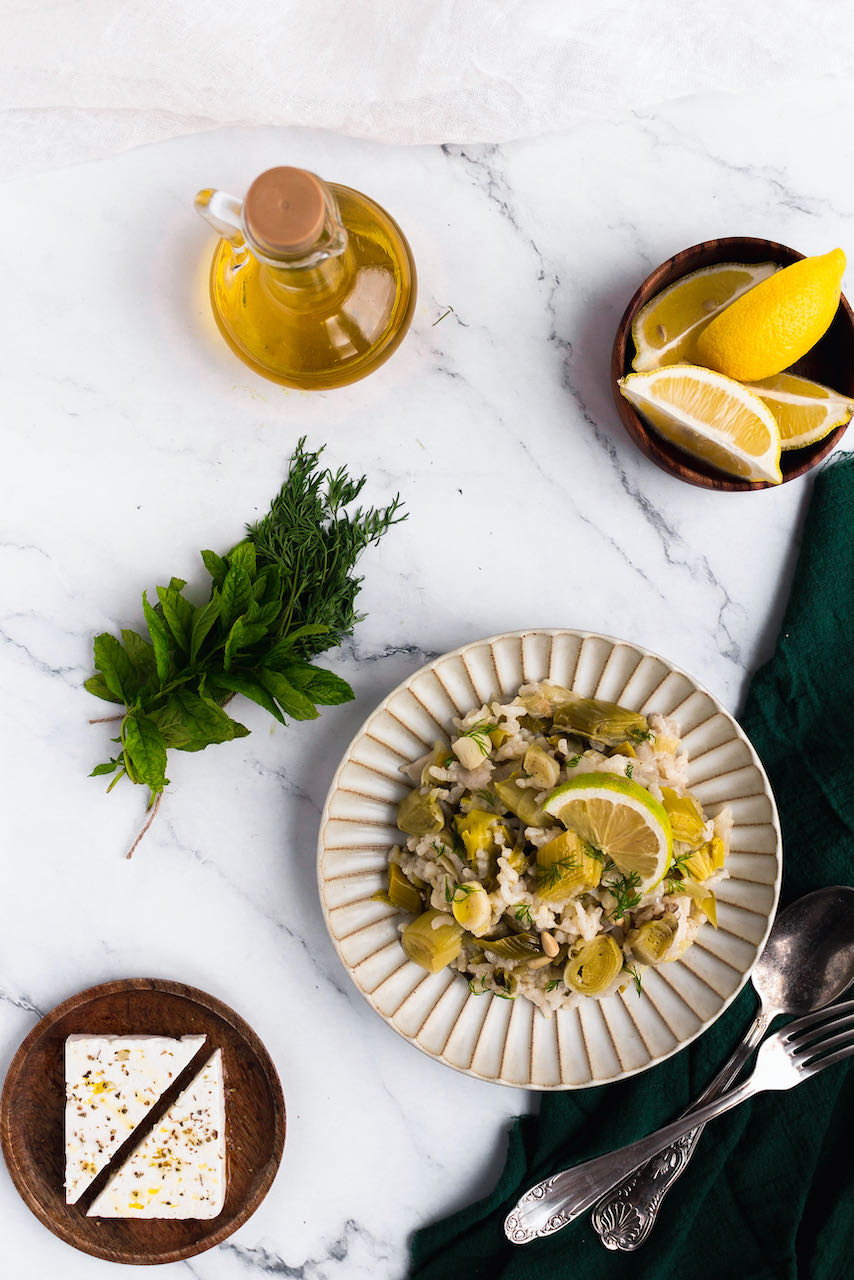 Tips & tricks
Use unwaxed lemons when you use lemon zest. Spay the lemons with a solution made with 3 parts of warm water and 1 part of distilled white vinegar. Let the solution for 5 minutes on the lemons and then wash and scrub them.
Avoid using any type of rice other than medium-grain or Arborio, if you want your dish to be creamy
Leeks get more flavorful and sweet the longer they cook. We want to cook them until they are soft and sweet but not melted.
Prepare your leeks, by chopping the top open part of the leaves and the roots at the bottom. Wash the green leaves very thoroughly and cut them into pieces. Slice diagonally into rings/slices the pale green and white parts. I like to place the cut pieces of leek in a bowl filled with cold water and ¼ cup vinegar for about 20-30 minutes to make sure that they are clean and don't have bugs.
When we use dry herbs for this recipe, we use only ⅓ to ½ of the amount used of fresh herbs.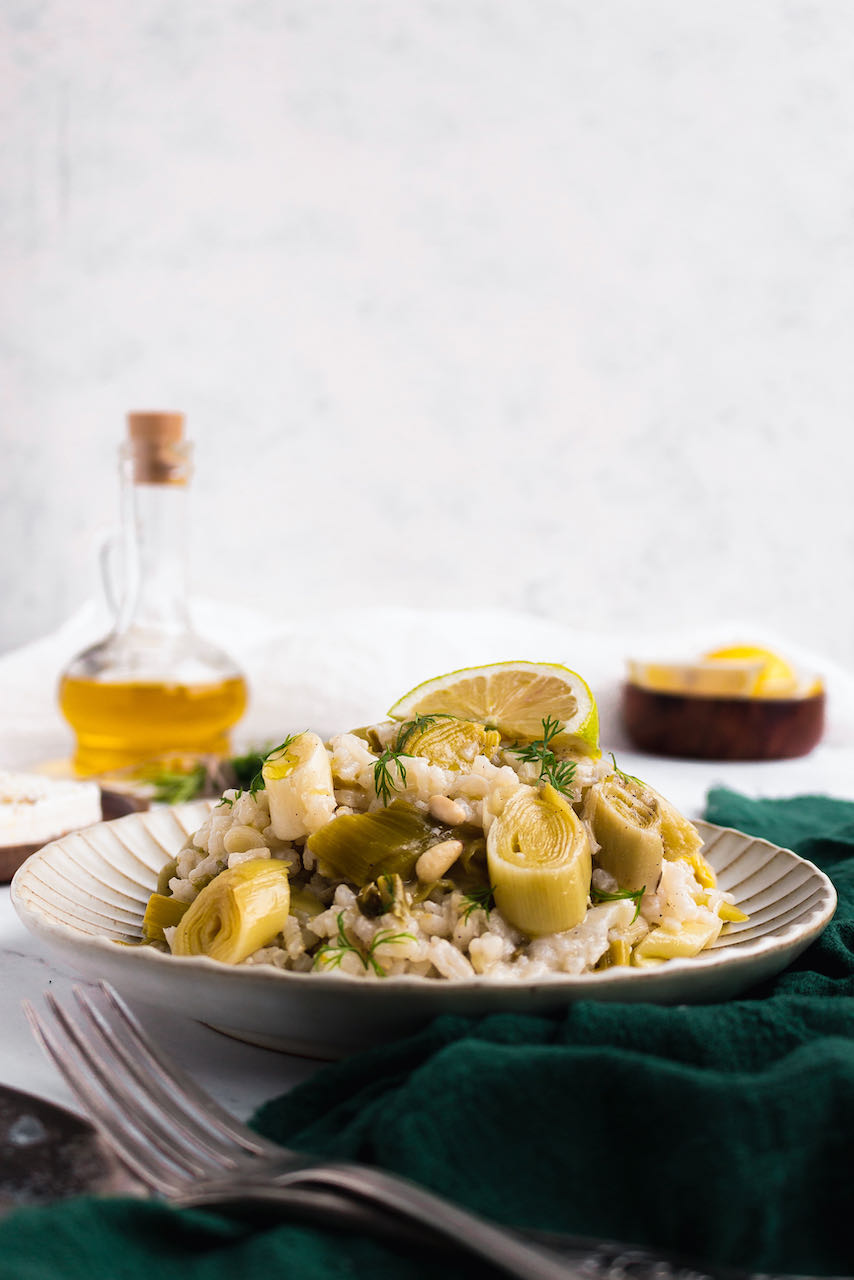 How to serve the Greek leek risotto
Prasorizo is usually served as a main dish. Serve it alongside a piece of feta cheese and a slice of freshly baked bread.
Serve it also as a side dish. It pairs perfectly with roasted chicken or pork.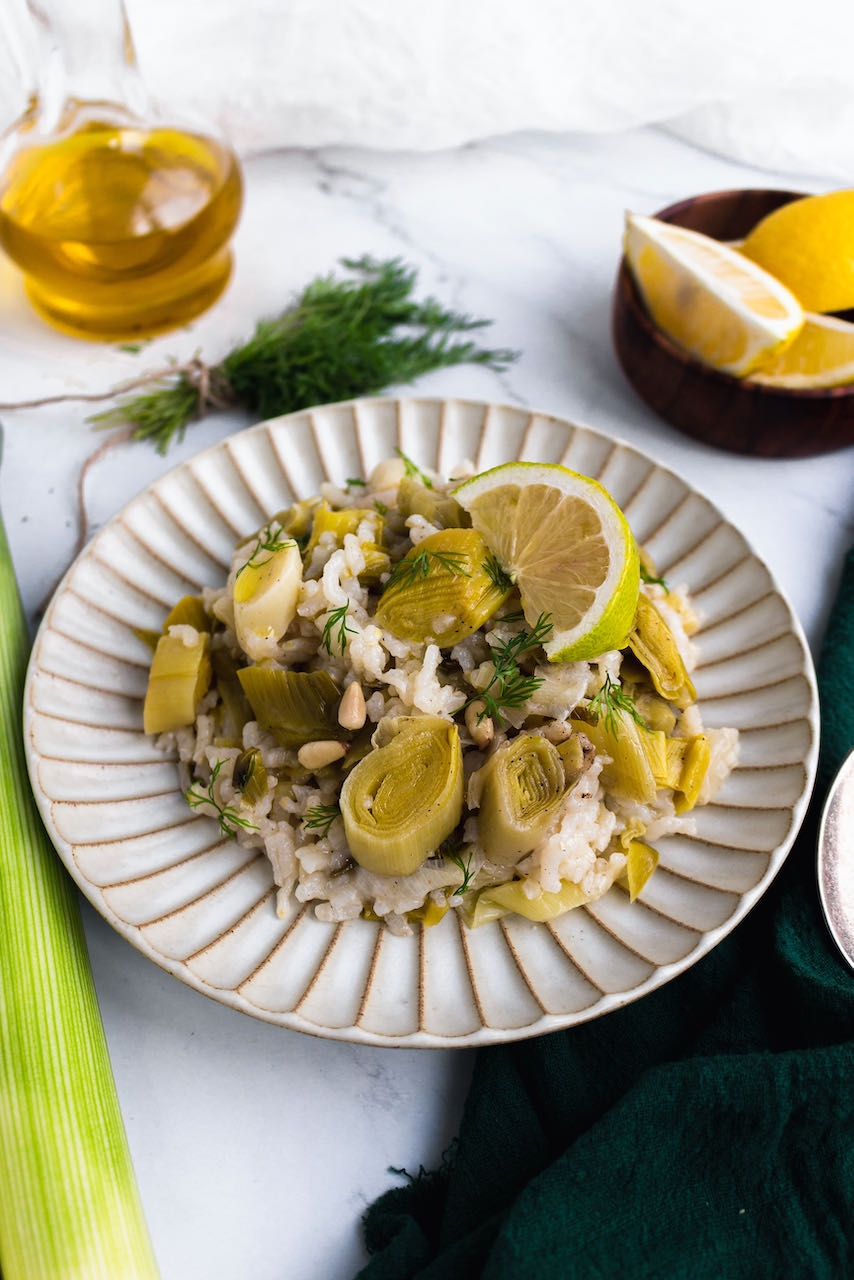 How to store the Greek leek risotto
Store prasorizo in an airtight container in the fridge for up to 4 days.
I don't recommend freezing any type of dish that contains rice.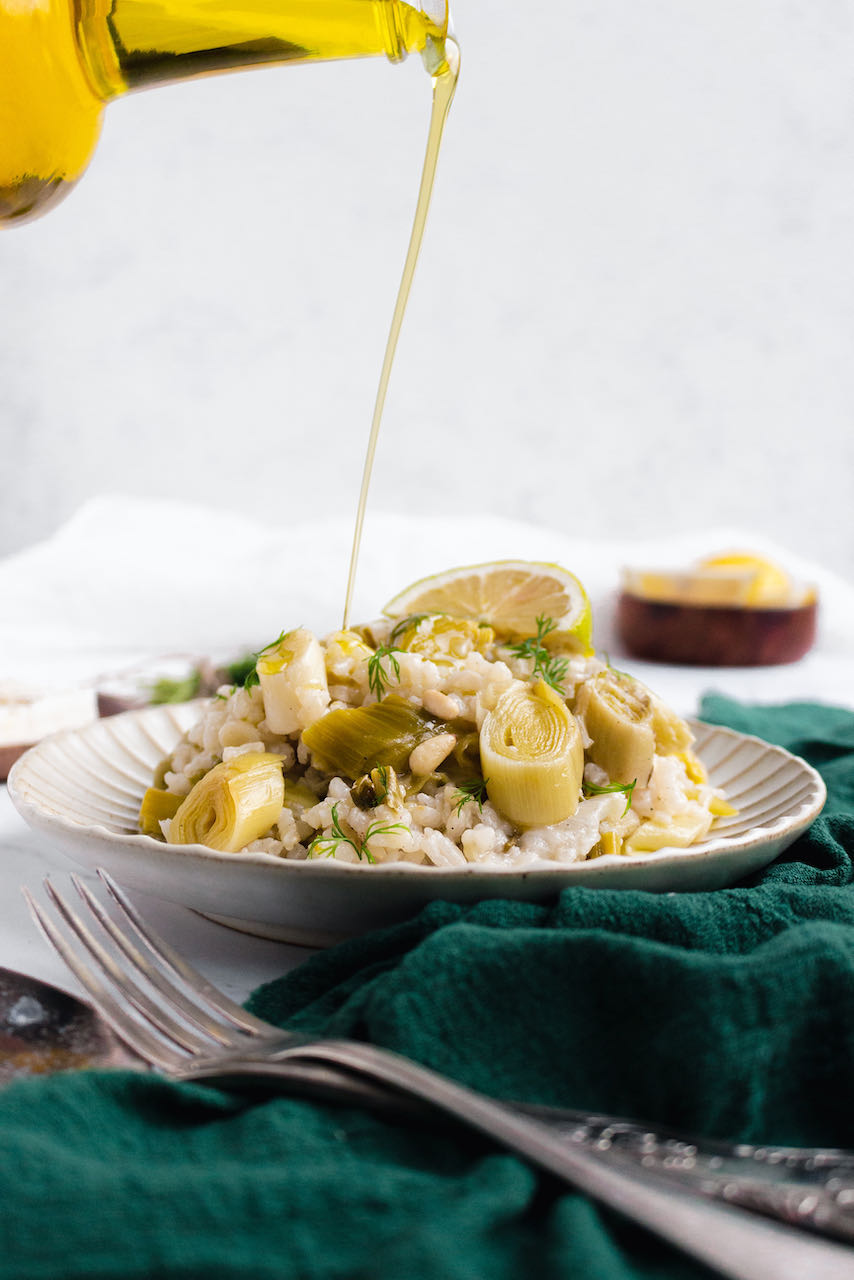 Love rice dishes?
Don't miss the following:
Recipe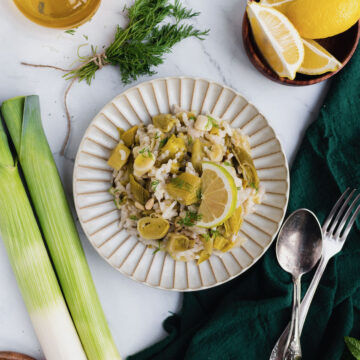 Greek Leek Lemon Risotto (Prasorizo)
Prasorizo, as it is called in Greece, is a humble, delicious, vegetarian (vegan) dish that is also gluten-free. A quick and easy, full of flavor comfort dish.
Ingredients
80

ml/⅓ cup

olive oil

extra virgin

1

medium

onion

medium chopped

2

spring onions

finely chopped

1

tablespoon

pine nuts

optional

4

medium

leeks

120

ml/½ cup

white dry wine

220

gr/1⅛ cup

arborio rice

or medium grain

600

ml/2½ - cups

warm vegetable broth

or warm water

1

teaspoon

sea salt

1

teaspoon

ground black pepper

2

tablespoon

fresh dill

finely chopped

1

tablespoon

fresh spearmint

finely chopped

1

medium

lemon

zest & juice
Instructions
Wash and slice the leeks. Slice the white and pale green parts diagonally into 1.5 cm (0.6inch) rings/slices and finely chop the green parts.

Place a deep frying/sauté pan or pot, with a lid, over medium/high heat and add the olive oil.

When the oil is warm, add the yellow onion, the pine nuts, and the spring onions and sauté until soft.

Add the leeks, salt them and place a lid in the pot. Be careful not to brown the leeks, stir occasionally and gently. When the leeks are beginning to soften, pour the wine and allow the alcohol to evaporate.

Lower the heat to medium and add the rice. Pour the vegetable stock, season with pepper, and stir to combine. Cover with the lid and simmer until the leeks are tender and the rice is soft and creamy. About 20 minutes.

Add the dill, spearmint, lemon zest, and lemon juice. Stir to combine and let it simmer for another five minutes.

Remove from heat, and taste to adjust salt, pepper, and lemon.

If rice is still uncooked, add some water, and cook for another 3 to 5 minutes.

When ready, set aside for at least 10 minutes covered. This makes it extra creamy.
Notes
Serve with extra ground pepper, dill, and lemon juice on top.
If you don't have vegetable broth, dissolve a vegetable bouillon cube into the amount of warm water.
Serve as a main course or as a side dish. It goes perfectly with chicken or pork.
It is common to serve this dish accompanied by feta cheese on the side or crumbled on top. If not vegan or dairy-free, try it.
In Greece, we use medium-grain rice called Carolina to make prasorizo. If you cannot find medium-grain rice, use arborio rice.
Nutrition facts
Servings: 1 (265g) | Calories: 304kcal | Carbohydrates: 40.95g | Protein: 4.68g | Fat: 14.5g | Saturated Fat:2g | Trans Fat: 0g | Cholesterol: 0mg | Sodium: 407mg | Potassium: 316mg | Fiber: 3.5g | Sugar: 3.99g | Vitamin A: 1083IU | Vitamin C: 13.1mg | Vitamin K: 47.1μg| Calcium: 105mg | Iron: 2.77mg | Manganese: 1.927mg
Have you tried this recipe?
Spread the love and mention @foodathlon_ or tag #foodathlon on Instagram
Leave a comment and star rating ★ in the section below