Extremely tasty, gluten-free, summery Mediterranean zucchini and mushroom muffins with feta. Moist and easy to make, they are a great grab-and-go choice perfect for any lunchbox.
Especially in the summer, I am looking for easy, delicious food that I could take out and about with me, and these savory muffins are exactly that. They are filled with shredded zucchini, mushrooms, sun-dried tomatoes, red pepper, and feta cheese, and can be consumed warm or cold.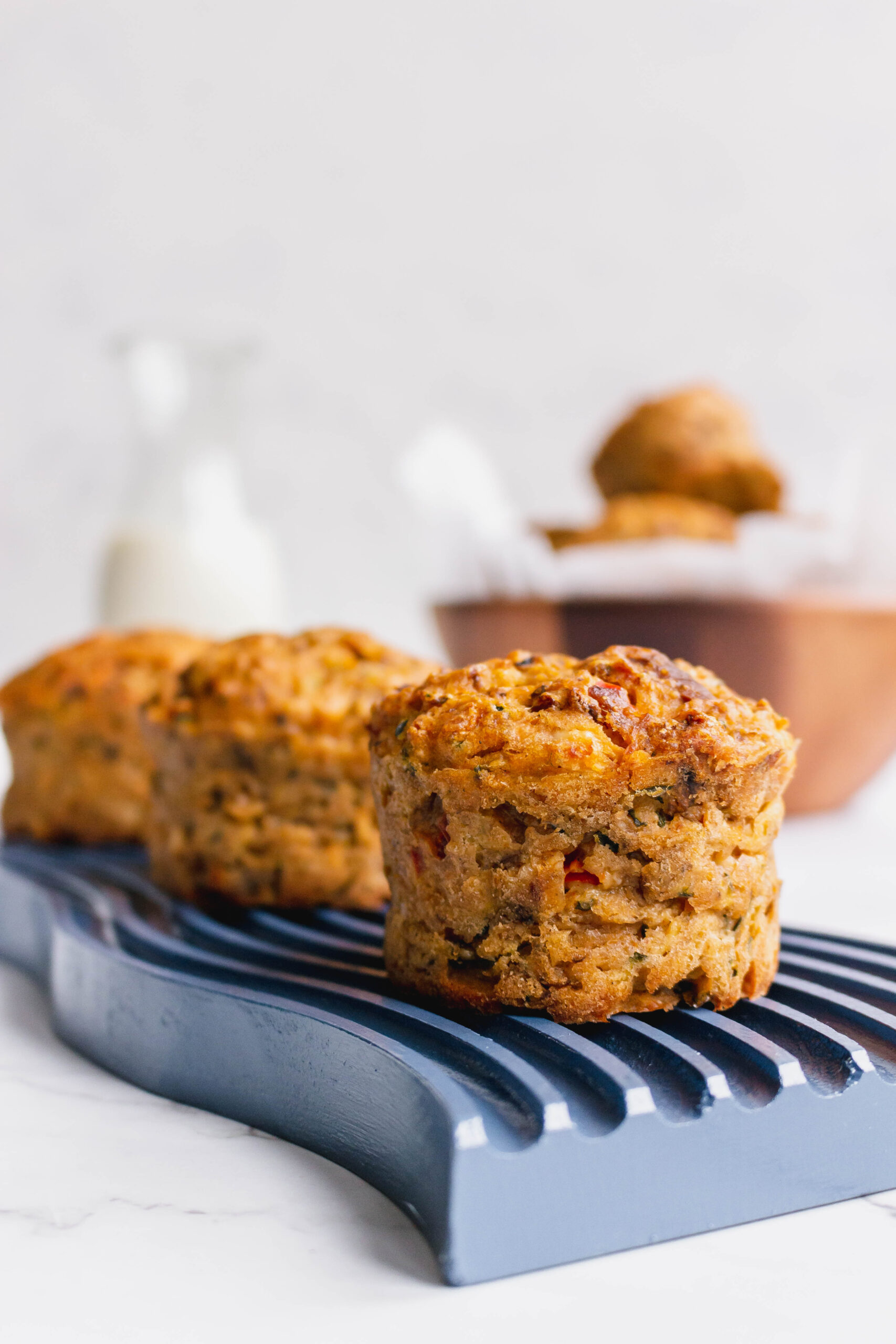 What are zucchini's health benefits?
One of the most amazing products of summer is zucchini or courgette. It is a versatile vegetable that you can use for savory and sweet recipes and mix with a lot of different flavors. In the Mediterranean zucchinis are widely cultivated and can be served raw, fried, stewed, stuffed, baked, boiled, etc. Zucchini is rich in antioxidants, vitamins (especially A & C), and minerals.
The vitamins in the zucchini can support the immune system and vision. The antioxidants (high amounts in the skin) protect the body from free radicals. Carotenoids are high and can benefit the heart, eyes, and skin. They are also rich in water and fiber which can promote healthy digestion and gut.
Other potential benefits may include (even though more research is needed), healthy thyroid function, bone health, anticancer effects, and prostate health.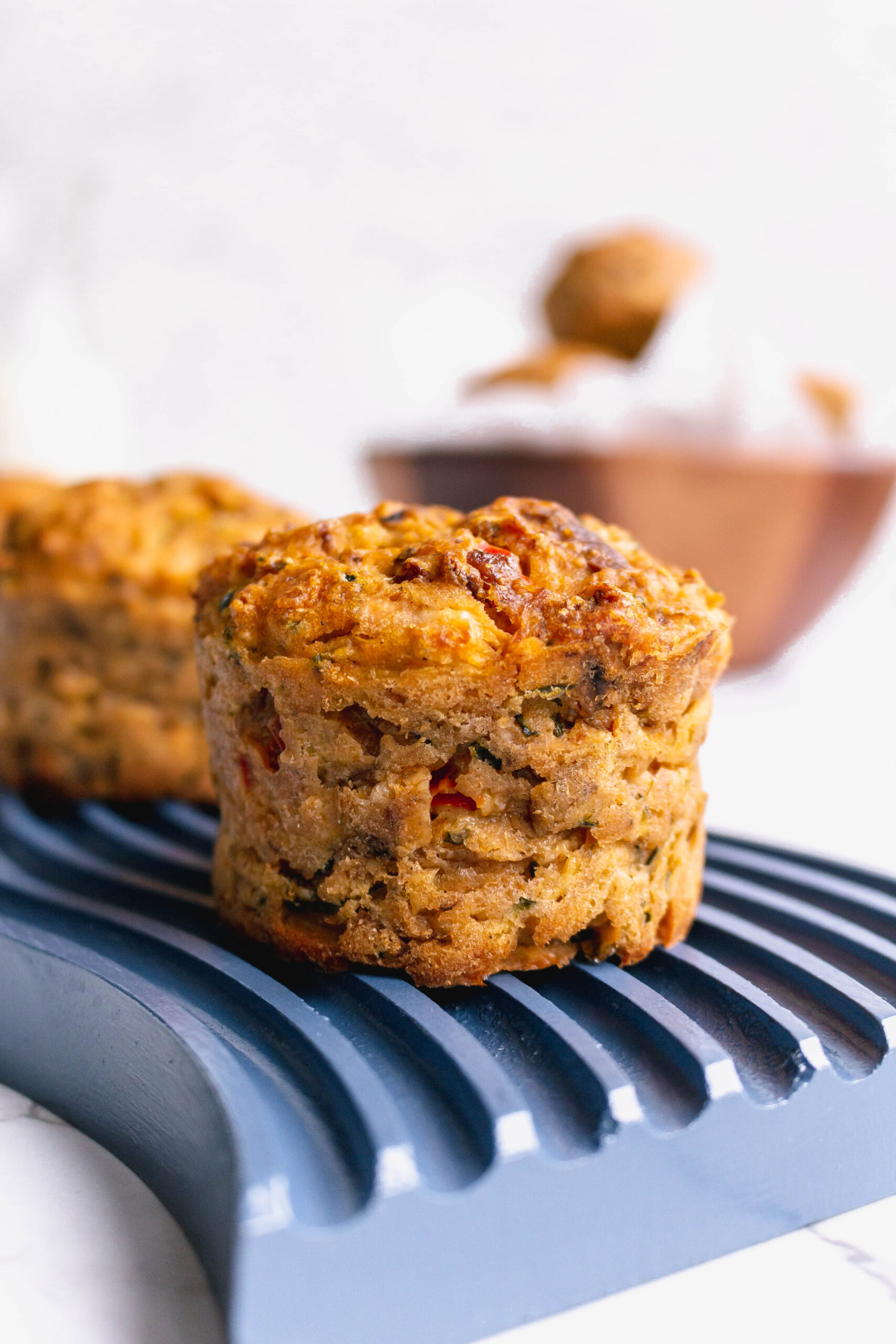 Zucchini Mushroom Muffins with Feta Ingredients
Zucchini: Use about 2 or 3 small-size zucchini. Grate them (using a food processor or a box grater), then squeeze all the water out of them, and finally weigh them.
Mushrooms: Use about 4 to 5 large white button mushrooms and grate them or slice them into very thin slices.
Cheese: I am using feta cheese because everything tastes a little better with some feta. Use a hard or medium/hard feta to add some saltiness and extra flavor to the muffins.
Eggs: Use them as a binding agent and help the mixture to be fluffy. I use organic eggs at room temperature.
Sun-dried tomatoes: Just 4 whole dried tomatoes or 8 halved are perfect to add saltiness and umami flavor to the muffins. They are high in lycopene, antioxidants, and vitamin C. If using sun-dried tomatoes preserved in oil, drain them and pat dry them with kitchen towels. I cut them into small pieces.
Spices: Freshly ground black pepper, onion powder, dried oregano, and paprika powder (sweet or smoked), are added to give extra flavor to these muffins. I do not add extra salt because I find that the saltiness, from feta cheese and sun-dried tomatoes, is enough for me but if you want them saltier add ½ teaspoon of fine sea salt. We can also add fresh or dried herbs like basil, thyme, dill, or spearmint.
Flour: I am using all-purpose gluten-free flour. If you don't have any problem with gluten, simply exchange it with all-purpose flour.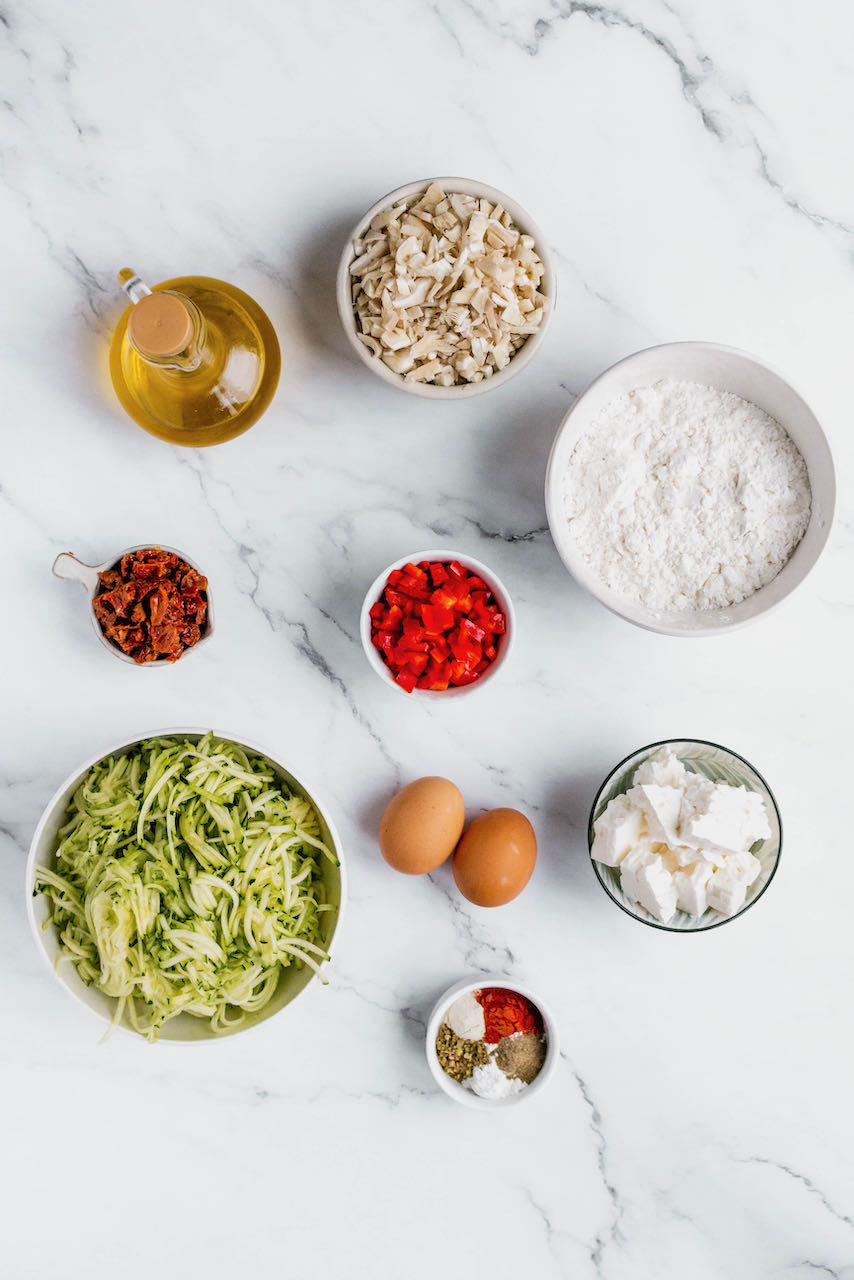 Tips & tricks
Ensure that you squeeze out as much juice as you can from the grated zucchini. Place them in a cheesecloth or a tea towel and squeeze as hard as you can.
If you use dehydrated tomatoes for this recipe, soak them for 5 to 10 minutes, in boiling hot water before slicing.
Let the muffins cool into the muffin tray and then transfer them to a wire rack and let them cool completely. Gluten-free baked goods need to be cool to be stable or else they can crumble.
Grease the muffin pan really well before adding the mixture. I use olive oil and a brush.
Use hard paper muffin liners because savory muffins tend to stick to the paper of the cupcake liners. Alternatively, silicon muffin cases could be used.
Bake 8 large muffins or 12 normal muffins with this amount of batter.
Every oven is different, so keep an eye on the muffins and use a skewer or toothpick to test your muffins. They are ready when the skewer comes out with almost no crumbs on it.
Top them with some extra shredded hard yellow cheese before baking them.
Do not overwork the batter. The mixture should be just combined and look a little lumpy.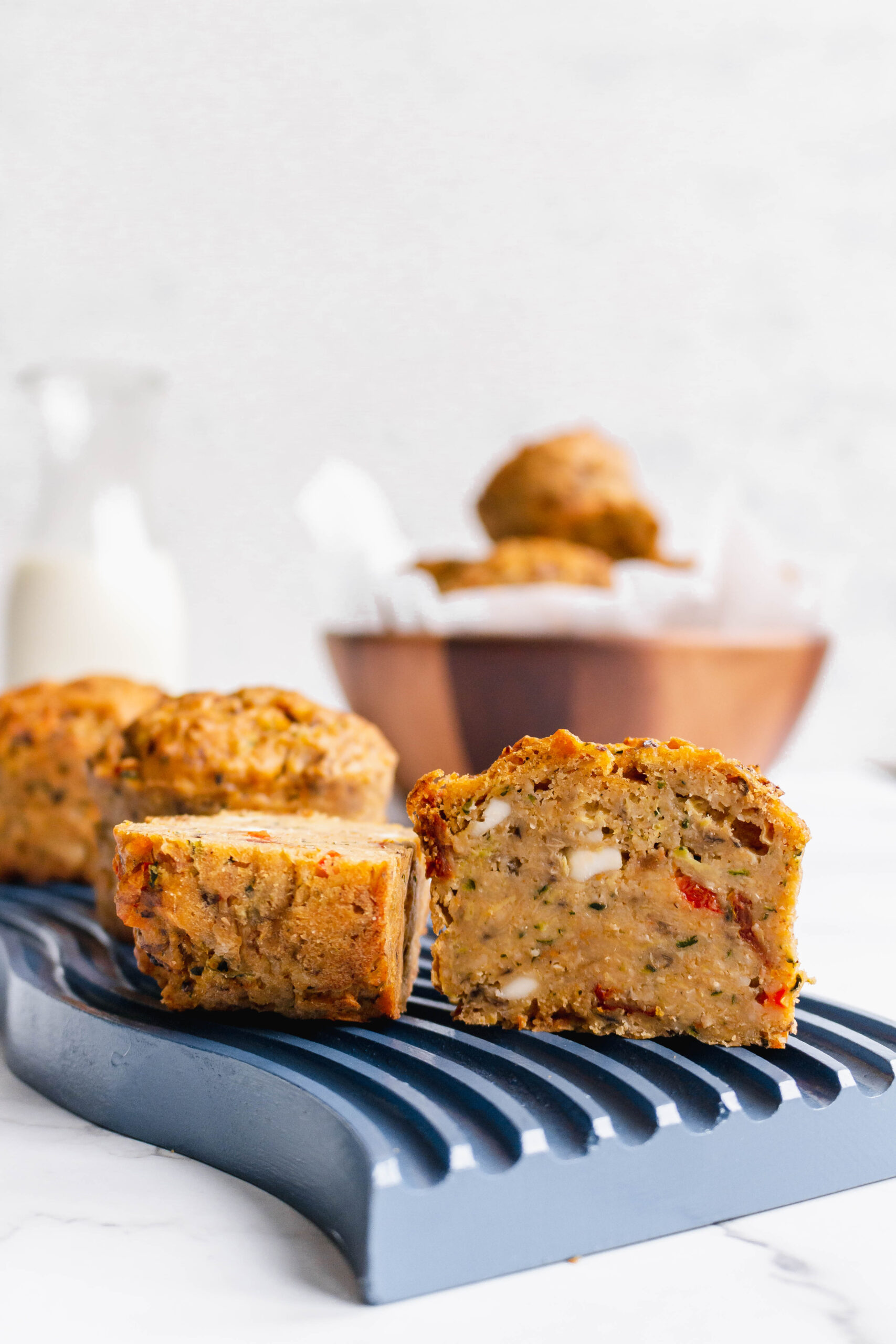 How to serve zucchini mushroom muffins with feta
Serve the muffins warm or cold as breakfast, lunch, or snack.
Alongside a bowl of Greek Salad
Warm with butter spread on top
As quick bread with soup
How to store zucchini mushroom muffins with feta
Before storing the muffins it is important to let them cool completely on a wire rack.
Store in the fridge, in an airtight container, for up to 5 days.
Freeze them, for up to 2 months. Wrap them, individually, with plastic wrap (cling wrap) and then place them into zip lock bags or an airtight container and freeze.
Love zucchini?
Check also this recipe:
Recipe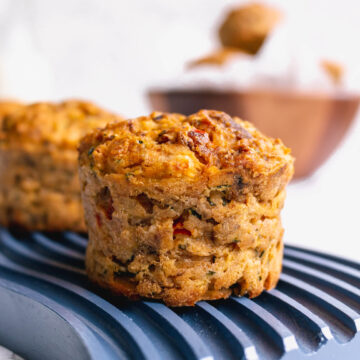 Zucchini & Mushrooms Muffins With Feta Cheese
These zucchini and mushroom muffins are extremely summery and delicious. Mediterranean flavors creating a moist and easy one bowl recipe, that is gluten-free and nut-free.
Ingredients
350

g/12.34oz

zucchini

grated & drained

180

g/6.35oz

mushrooms

finely sliced

1

medium

red bullhorn pepper

diced in medium pieces

150

g/5.3oz

feta cheese

crumbled

2

medium

eggs

8

pieces

sun-dried tomatoes

half

60

ml/¼ cup

olive oil

extra virgin

1

teaspoon

paprika powder

smoked or sweet

½

teaspoon

onion powder

½

teaspoon

black pepper

freshly ground

¾

teaspoon

dried oregano

2 ½

teaspoon

baking powder

220-240

g/7.76-8.46oz

all-purpose flour

gluten-free

1

tablespoon

apple cider vinegar
Instructions
Preheat the oven to 180°C (350°F). Grease a 12 cup muffin tin with olive oil.1

In a large mixing bowl, combine flour with baking powder, oregano, and spices.

Make a well in the middle and add the eggs and olive oil. Use a whisk to break the egg yolks.

Add the zucchini, the feta cheese, bullhorn pepper, vinegar and mushrooms, and stir to combine. Do not over-mix the batter.

Use an ice-cream scoop to spoon the batter into the muffin tins, and bake for 30-40 minutes. Bake until the tops are golden and a toothpick/skewer inserted into the center comes out almost clean.

Remove from the oven, let them cool for 10 minutes in the tin and then place them in a wire rack, until completely cooled.
Notes
The mixture is for 12 normal muffins, or 8 large.
The amount of flour depends on how moist the zucchinis are. Also, different gluten-free flours have different absorption abilities.
Grate the zucchini and slice the mushrooms with a food processor, or use a box grater.
Place the grated zucchini into a tea towel and squeeze out as much liquid as possible. Then, weigh and add to the batter.
Gluten-free baked goods are very fragile when warm. Be careful when removing from the muffin tin.
Store the cooled muffins in an airtight container, in the fridge, for up to 5 days.
Nutrition facts
Servings: 1 (100g) | Calories: 168kcal | Carbohydrates: 18g | Protein: 6.19g | Fat: 8.3g | Saturated Fat: 2.8g | Trans Fat: 0g | Cholesterol: 38mg | Sodium: 132mg | Potassium: 399mg | Fiber: 1.5g | Sugar: 1.83g | Vitamin A: 654IU | Vitamin C: 23.5mg | Calcium: 125mg | Iron: 1.09mg
Have you tried this recipe?
Spread the love and mention @foodathlon_ or tag #foodathlon on Instagram
Leave a comment and star rating ★ in the section below