These tahini pancakes are inspired by my sister's breakfast and the Greek or Cypriot Great Lent sweet Tahinopita. Tahini is highly nutritious and full of healthy fats, minerals, and vitamins. It is also rich in antioxidants and contains anti-inflammatory compounds.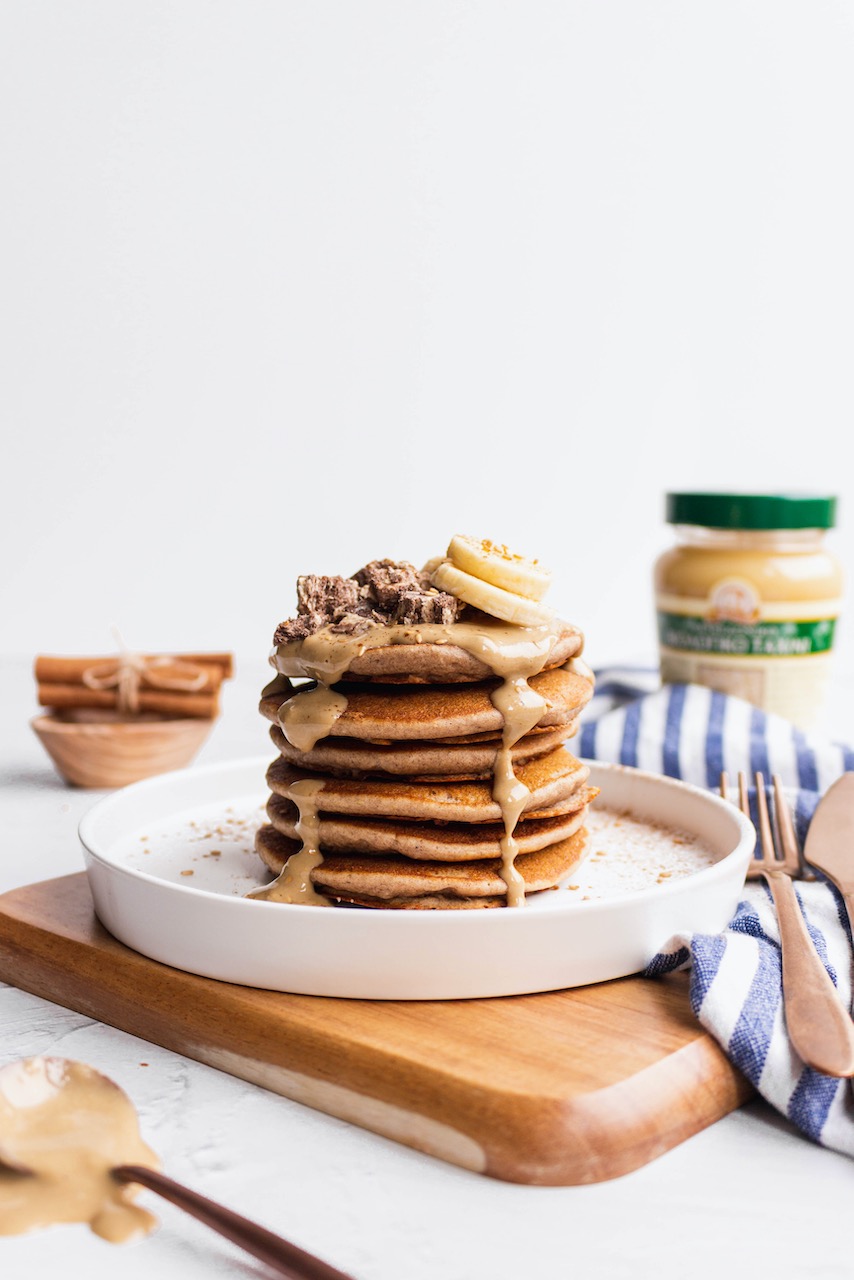 What is tahini?
Tahini is a paste made from toasted ground sesame seeds. Mediterranean cuisine uses tahini heavily, especially in the Middle Eastern region (Levantine). We can eat tahini plain, as a spread or dip, or as an ingredient in other dishes (e.g. hummus and halva).
Ingredients for making tahini pancakes
Tahini: I am using an all-natural organic tahini paste without salt. Tahini is a rich source of vitamin B1 (thiamine), phosphorus, iron, magnesium, and folate. It is also rich in antioxidants, and some of its compounds are anti-inflammatory.
Banana: A very popular fruit, that gives a very specific flavor to these pancakes. It also functions as a binding agent. Bananas are rich in vitamin B6, and potassium, and are a good source of fiber.
Almonds: They provide a crunchy texture to the pancakes and a lot of flavors. Almonds are very nutritious: high in healthy fats, protein, fiber, and antioxidants.
Sweetener: Use maple syrup to make the tahini pancakes vegan. Or use honey for the real Mediterranean experience. If you prefer a lower glycemic index, use stevia, coconut sugar, or agave syrup.
Rolled oats: If you really need the rolled oats to be gluten-free, get only the certified ones. Only those are guaranteed not to be cross-contaminated with gluten. Oats are high in fiber and protein. They also contain great amounts of minerals and vitamins, such as iron, manganese, magnesium, phosphorus, B vitamins, zinc, and antioxidants.
Gluten-free flour: If you can consume gluten and don't have gluten-free flour in stock, substitute the gluten-free flour with the same amount of all-purpose flour. I use my own gluten-free flour blend, but if you don't want to make your own, feel free to buy it from the stores.
Almond milk: I use almond milk, but you can also use oat milk as a dairy-free alternative, or regular milk if you consume dairy. I do not recommend coconut milk, because it will alter the taste of the pancakes.
Baking powder: If you are following a gluten-free diet, make sure that the baking powder used is also gluten-free.
Flavorings: Cinnamon, vanilla, and lemon zest are added flavorings that we have tried and loved in this pancake batter.
Tips & tricks for making fluffy tahini pancakes
Let the batter rest for at least 10 minutes. If it becomes too thick, add a bit more milk.
Make sure that your pan is hot enough before you start baking the pancakes.
Pancakes are a product of love and patience. Bake them at medium temperature and give them time to become fluffy and cooked through.
Using a non-stick pan is the best way for avoiding the usage of extra oil.
Serve
Top the pancakes with fresh bananas, extra tahini, sesame seeds, maple syrup or honey, chocolate shavings, or crumbled halva.
Serve the tahini pancakes while still warm. To keep the baked pancakes warm while making the rest, place them in the oven at 50°C (120°F).
How to store the tahini pancakes
Store the tahini pancakes in an airtight container in the fridge for up to 3 days.
Freeze the pancakes, after completely cooled down, in an airtight container or a ziplock bag, for up to 2 months. Defrost them at room temperature.
Are you a pancake fan?
We love them too. Try these interesting pancake recipes:
Recipe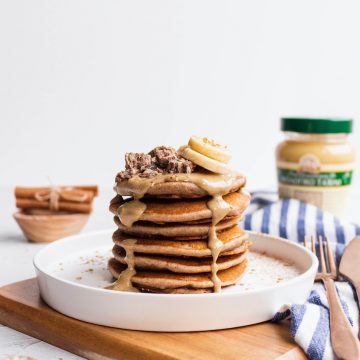 Tahini Pancakes
These pancakes are inspired by my sister's breakfast and the Greek or Cypriot Great Lent sweet Tahinopita. Tahini is highly nutritious full of healthy fats, minerals, and vitamins. It is also rich in antioxidants and contains anti-inflammatory compounds.
Ingredients
1

medium

ripe banana

4

tablespoon

tahini paste

⅓

cup/50g

raw almonds

½

cup/35g

rolled oats (gluten-free)

2

tbsp/30ml

maple syrup or honey

1

tbsp/15ml

olive oil

1

cup/240ml

almond milk

2

teaspoon

baking powder

½

teaspoon

baking soda

1

teaspoon

cinnamon, vanilla, or lemon zest
Instructions
In a food processor, put the almonds, rolled oats, and banana, and blend until you make a paste.

In a bowl, add all the ingredients and the blended paste, and mix until well combined.

Allow the batter to rest while heating up a non-stick pan or griddle over high/medium heat.

When the pan is heated, lower the heat to medium and wipe over some vegetable oil.

Pour ¼ cup of the batter for every pancake.

When bubbles begin to appear on the surface, flip them over with a spatula.

Repeat with the remaining batter.

Top them with maple syrup, fresh fruit of choice, and/or more tahini paste.
Notes
Top your pancakes with some more tahini, honey, or maple syrup (if vegan), some roasted sesame seeds, or roasted almonds.
If not gluten-free, replace flours with 125g (1 cup) all-purpose flour.
Add some non-dairy chocolate syrup or sprinkle with cocoa powder.
Top it with fresh banana slices and sprinkle with ground cinnamon. These are my sister's favorite combinations and topping choices.
Nutrition facts
Servings: 1 (45g) | Calories: 88kcal | Carbohydrates: 14g | Protein: 2.74g | Fat: 3.4g | Saturated Fat: 0.509g | Trans Fat: 0g | Cholesterol: 0mg | Sodium: 100mg | Potassium: 183mg | Fiber: 1.4g | Sugar: 3.7g | Vitamin A: 90IU | Vitamin C: 0.9mg | Calcium: 93mg | Iron: 0.71mg
Have you tried this recipe?
Spread the love and mention @foodathlon_ or tag #foodathlon on Instagram
Leave a comment and star rating ★ in the section below