If you need to elevate your breakfast, this tahini orange granola is a game-changer. Nutty golden chunks, packed with Middle Eastern flavors and a chewy, crunchy texture. A combination of tahini, orange, nuts, spices, and honey that is to die for.
Start your day with this delicious granola, or have it as a quick snack/dessert. It will be one of the absolute best and more flavorful granola that you'll ever taste.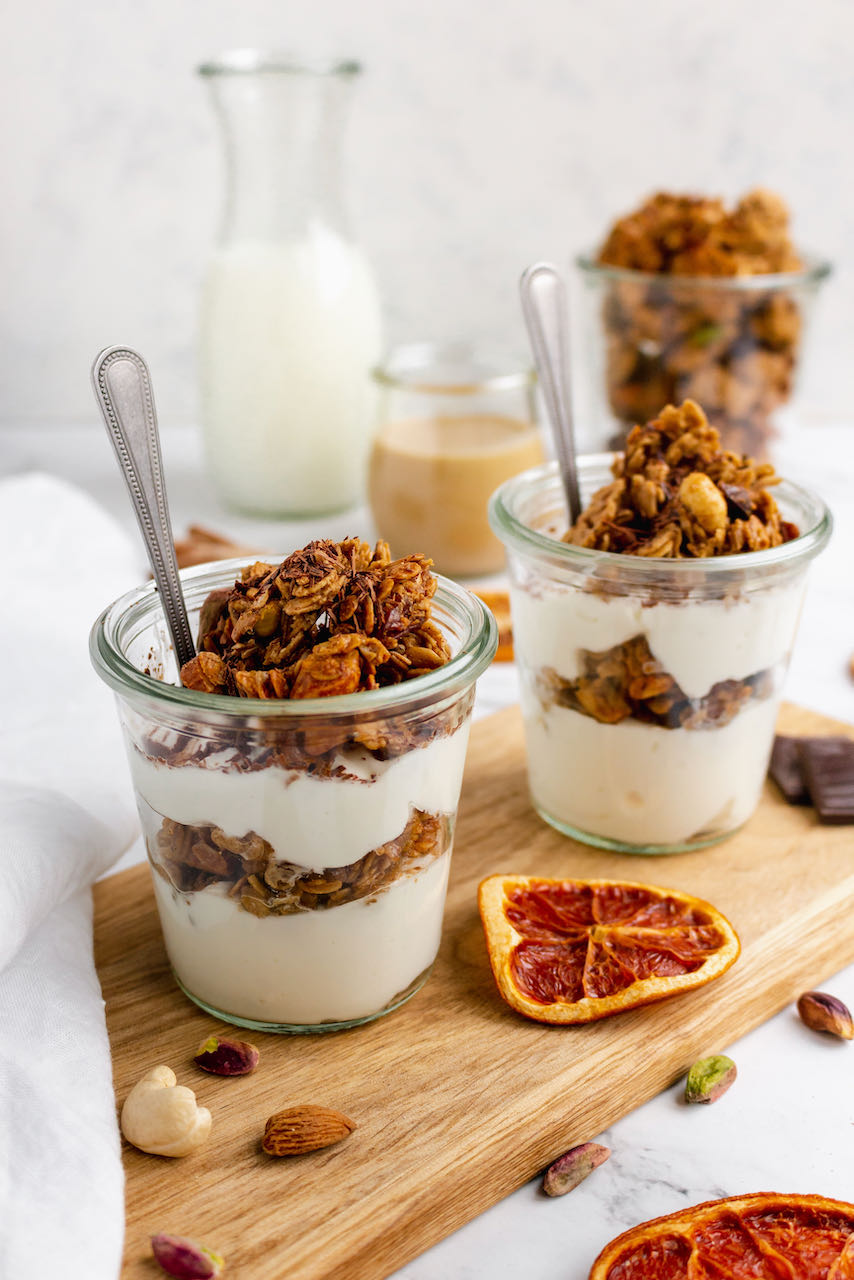 Why is tahini orange granola good for you?
Granola is quick and easy to make, and you get a delicious breakfast for days. Making your own granola tastes better than store-bought, and has no preservatives and additives.
This recipe is refined sugar-free, you can make it gluten-free, and with a simple sub (honey with maple syrup) it becomes vegan.
The health benefits of this granola are numerous. Tahini is rich in antioxidants and has anti-inflammatory and antibacterial properties. Oats are a great source of fiber and plant-based protein. And olive oil is rich in healthy monounsaturated fats. Altogether, a powerhouse of vitamins, minerals, and nutrients.
Tahini orange granola ingredients
Tahini: A golden sesame paste with an amazing flavor is the base for the recipe. Its nutty flavor and creamy texture create an extra depth of flavor in this granola. Buy it online or in middle eastern supply stores.
Orange: Use the zest of an unwaxed orange and freshly squeezed juice out of it.
Nuts: Use any type of raw nuts that you have in your pantry. For me, true Middle-Eastern-inspired granola contains almonds, pistachios, and cashews.
Oats: I use gluten-free rolled oat also known as old-fashioned oats for this recipe. Oatmeal can replace rolled oats but the granola will be more grainy.
Sweetener: Honey and raisins add sweetness to this granola. Honey can be substituted with maple syrup or agave syrup for vegan granola.
Spices: Authentic Middle Eastern spices of cardamom, cinnamon, and cloves that enrich the orange flavor.
Olive oil: I love extra virgin olive oil. It has a peppery flavor and an intensity that goes amazingly well with Mediterranean and Middle Eastern flavors. Substitute with coconut or vegetable oil if you like but you will not get all the benefits that olive oil offers.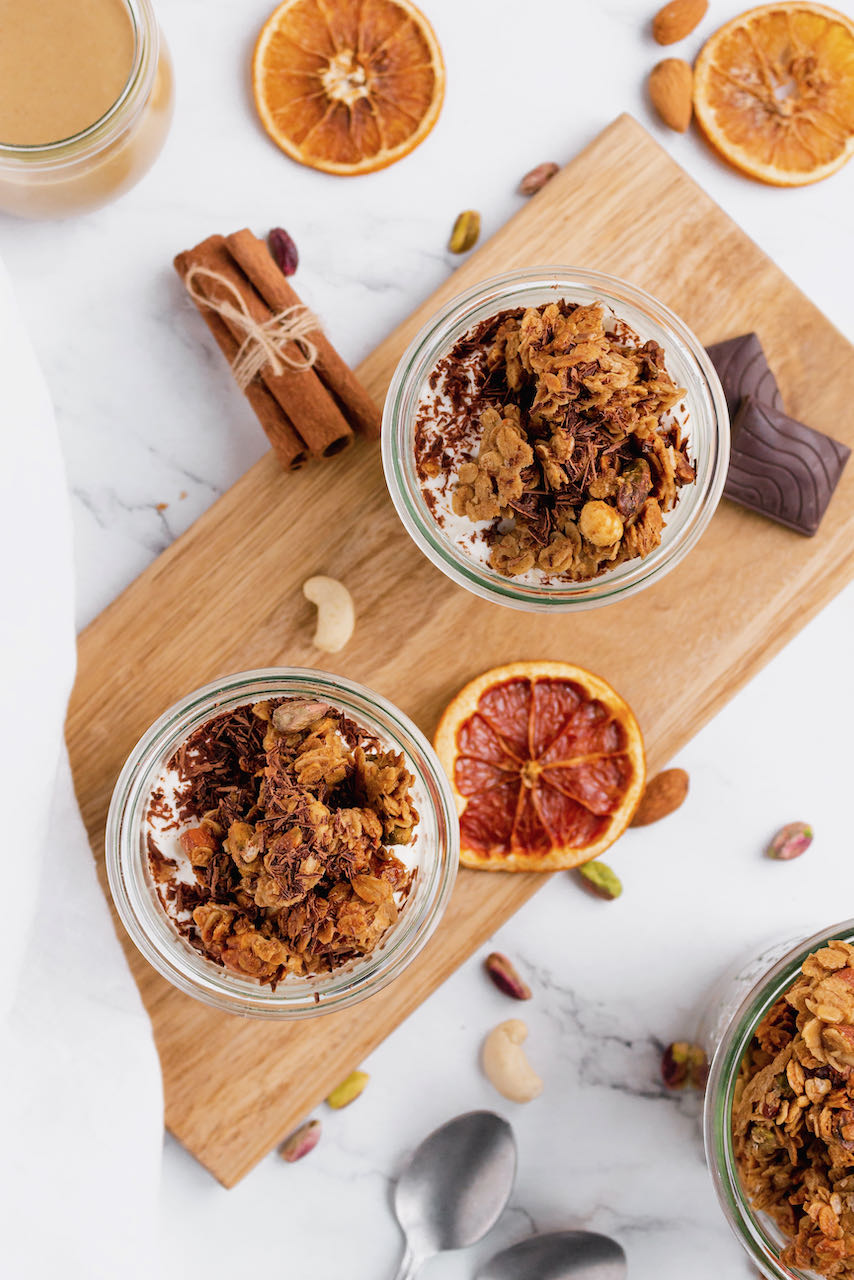 Tips & tricks
Use tahini that has a running consistency and not a thick one as a spread. This will ensure the best coating of all the ingredients.
Don't forget the salt in this recipe. Yes, tahini granola can be made without salt, but it is the one ingredient that balances the flavors in this mixture.
Do not break the granola immediately out of the oven. Let it cool completely first and then make as large or small clusters as you like. The granola becomes crispy and crunchy as it cools down.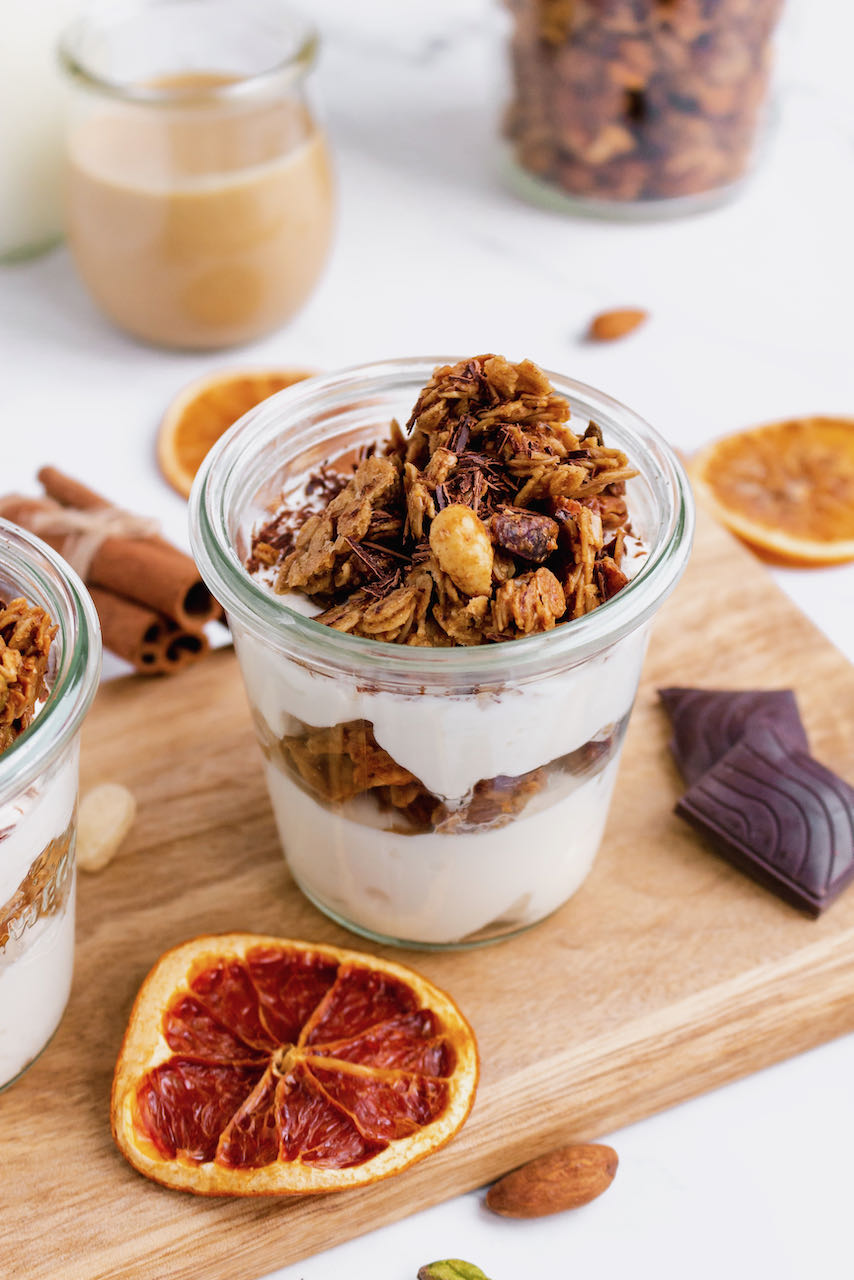 How to serve tahini orange granola
Even though this tahini granola is great on its own you can also serve it with:
Greek yogurt
Fresh fruit
Chia pudding
Smoothies
Ice-cream
Milk (plant-based)
After removing the granola from the oven and it cools down, you can add some (if you like):
Chocolate chips/chunks
Dried fruits, preferably figs, apricots, or dates
Toasted sesame seeds, pumpkin seeds, or sunflower seeds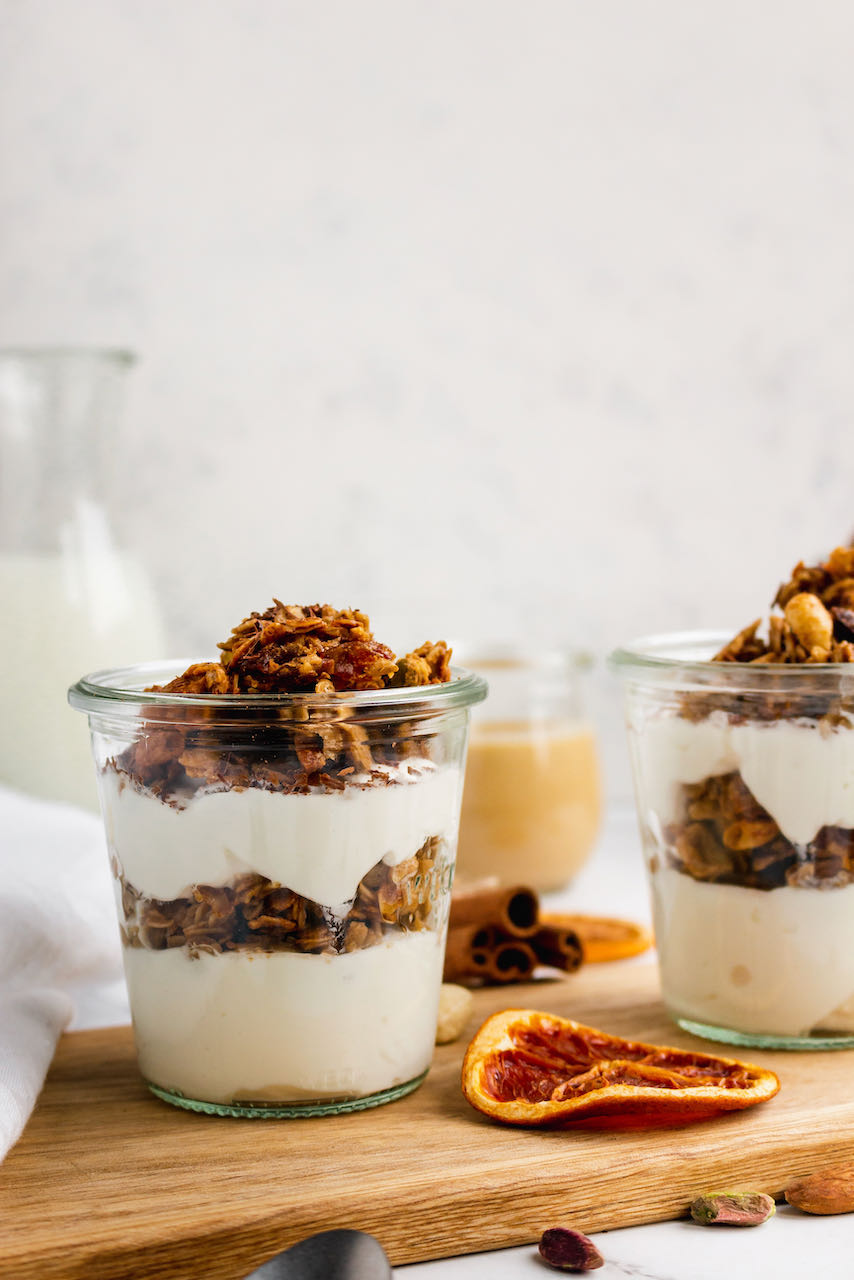 How to store
Store the tahini granola, after it cools completely, at room temperature, in a glass jar with an airtight lid, for up to 1 month.
Are you a tahini lover?
You'll also love these recipes:
Recipe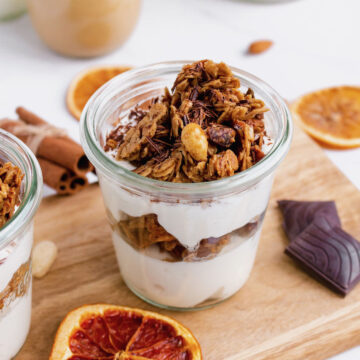 Tahini Orange Granola
Start your day with this delicious granola, or have it as a quick snack/dessert. It will be one of the absolute best and more flavorful granola that you'll ever taste.
Ingredients
360

g/4 cups

rolled oats

gluten-free

180

g/¾ cup

tahini

130

g/⅜ cup

honey

50

g/⅓ cup

chopped raw almonds

50

g/⅓ cup

chopped raw cashews

50

g/⅓ cup

raw pistachio kernels

48

g/⅓ cup

raisins

4

tablespoon

olive oil

extra virgin

2

tablespoon

orange juice

1

medium

orange zest

unwaxed

1

teaspoon

vanilla extract

1 ½

teaspoon

ground cinnamon

½

teaspoon

ground cardamom

½

teaspoon

kosher salt

¼

teaspoon

ground cloves
Instructions
Preheat the oven at 160ºC (325ºF) and line a baking sheet with parchment paper.

In a large bowl, combine the oats, nuts, raisins, and spices.

In a liquid measuring cup, pour the tahini, honey, olive oil, vanilla extract, orange juice and zest, and whisk until combined.

Pour the liquids into the oat mixture and stir until all of the dry ingredients are well coated.

Spread the granola evenly on the prepared baking sheet and bake for 30-35 minutes, until the granola has a light golden brown color.

Remove from the oven, let it cool completely in the pan, and then break into clusters/chunks of desired size.

Store or serve immediately.
Notes
The granola is ready when the edges are darker brown and the center is still soft. Do not overcook it, it becomes crispy and crunchy as it cools down.
Store in an airtight container or glass jar with a lid at room temperature, for up to a month.
Serve with yoghurt, chia pudding, smoothies, ice-cream, or on its own. Delicious as breakfast, brunch, snack, or dessert.
Nutrition facts
Recommended serving: ⅓ cup
Servings: 1 (74g) | Calories: 337kcal | Carbohydrates: 36g | Protein: 10g | Fat: 18.8g | Saturated Fat: 2.6g | Trans Fat: 0g | Cholesterol: 0mg | Sodium: 108mg | Potassium: 310mg | Fiber: 5.6g | Sugar: 11.4g | Vitamin A: 31IU | Vitamin C: 1.7mg | Calcium: 96mg | Iron: 3.28mg | Manganese: 1.874mg | Copper: 0.59mg | Phosphorus: 311mg
Have you tried this recipe?
Spread the love and mention @foodathlon_ or tag #foodathlon on Instagram
Leave a comment and star rating ★ in the section below