Light, fluffy, and incredibly tasty, these goat cheese, thyme, and walnut honey pancakes are on my list of "little things" that make me happy. They are naturally sweetened, and gluten-free. I love all kinds of pancakes, they are easy to make, especially gluten-free. It is the first thing that I learned to bake when I stopped eating gluten.
It's the middle of the summer and I am thinking about vacation. The first place that comes to mind is Crete. This amazing island with beautiful landscapes that smell like thyme and oregano, historic towns, mesmerizing beaches, and delicious food. The inspiration for this recipe came from the Cretan landscape and the produce it has to offer.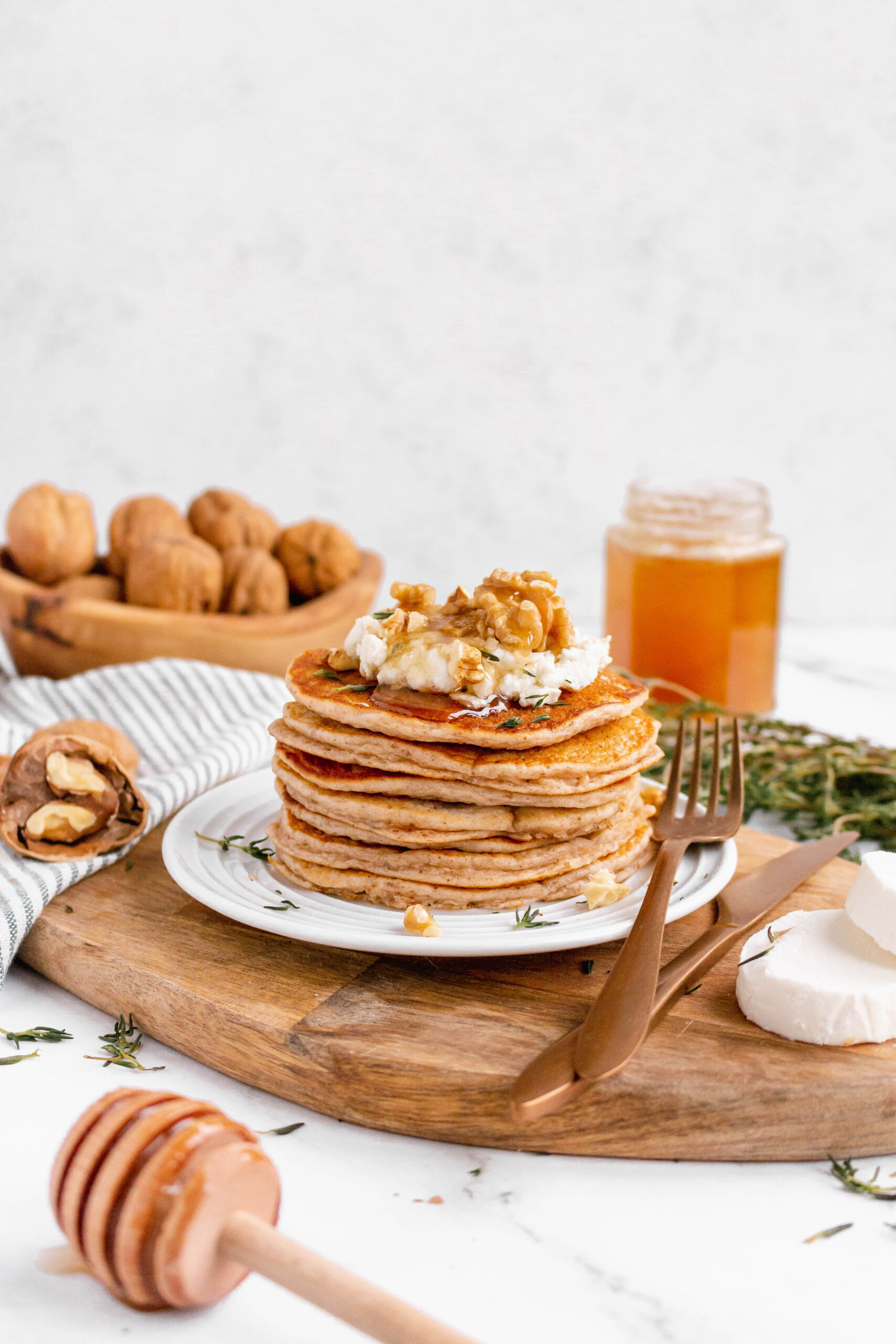 Why this flavor combination?
The Cretan pies from the town of Sfakia are one of my favorite things to eat. This type of pie made with a dough stuffed with soft cheese called mizithra, fried on a skillet, and topped with thyme honey, is flavorful and delicious.
When on vacation in Crete my breakfast always consisted of walnuts, thyme honey, and yogurt. So I combined all of these flavors and memories into a dish.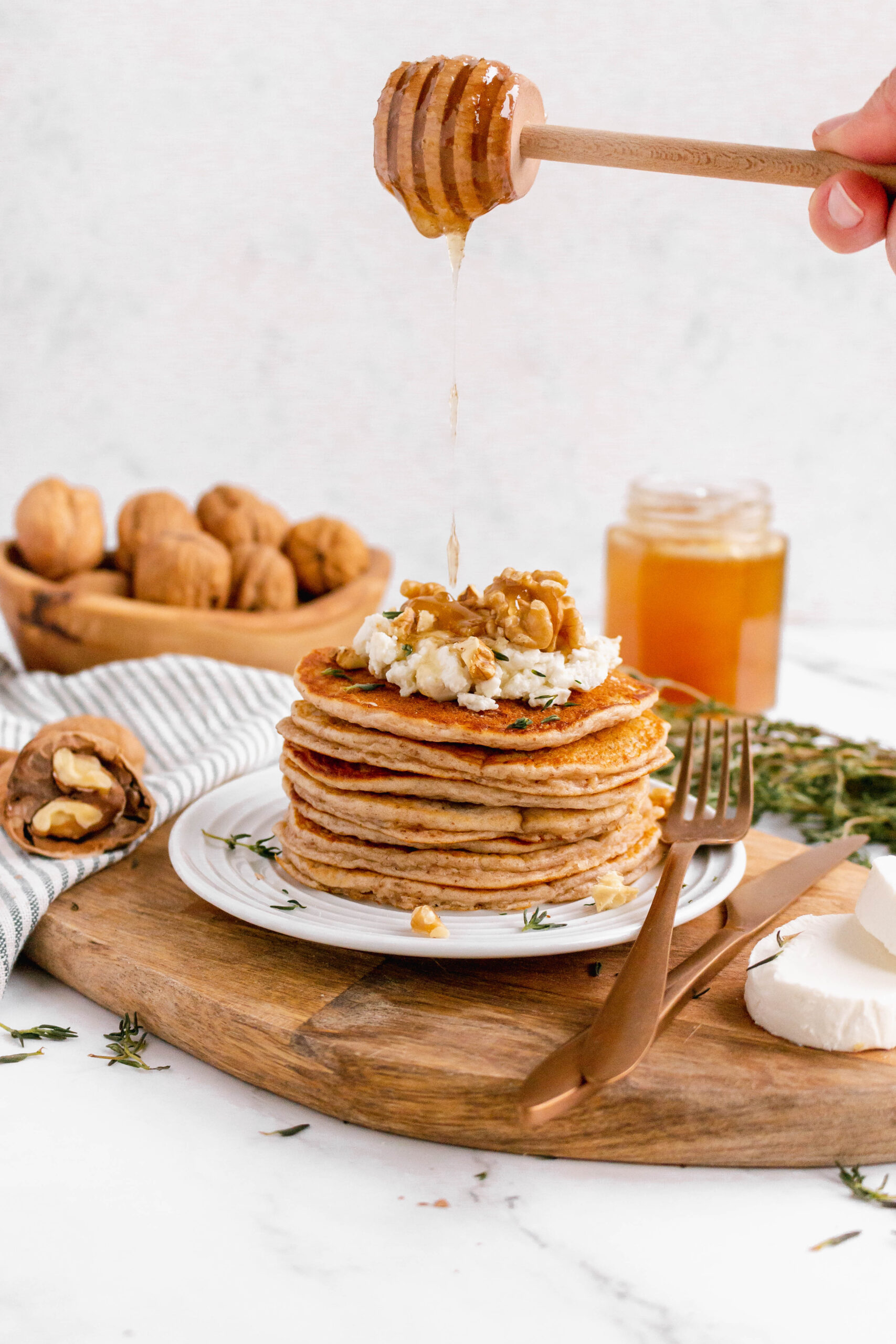 Ingredients for goat cheese honey pancakes
Goat cheese: I use soft fresh goat cheese to make the recipe.
Walnuts: I grind them into a meal and use them as flour. They are an excellent source of antioxidants, healthy fats, minerals, and vitamins. They have the largest amount of omega-3 fats than any other nut and have a mildly sweet flavor that pairs very well with goat cheese.
Thyme: I use fresh thyme leaves to add extra aroma and flavor to the pancakes. Thyme is a typical Mediterranean herb and it is used widely in Greek cuisine.
Honey: I use thyme honey for this recipe. It is very popular in Greece and it is a strong, intensely aromatic honey.
Flour: I am using a mixture of gluten-free self-rising flour and oat flour. You can substitute the same amount in weight of normal flour if you have no allergies or intolerance to gluten.
Milk: I use buttermilk or kefir because it makes the pancakes extra fluffy. If you don't have buttermilk use the same amount of milk with 1 tablespoon of apple cider vinegar stirred into it and leave it until it starts to curdle.
Eggs: I use organic eggs, at room temperature, as a binding and leavening agent.
Olive oil: Just a little bit to add some healthy fats and help the mixture not stick in the pan.
Leavening agents: To help the pancakes rise and be fluffy some baking powder and baking soda are mixed with the flour.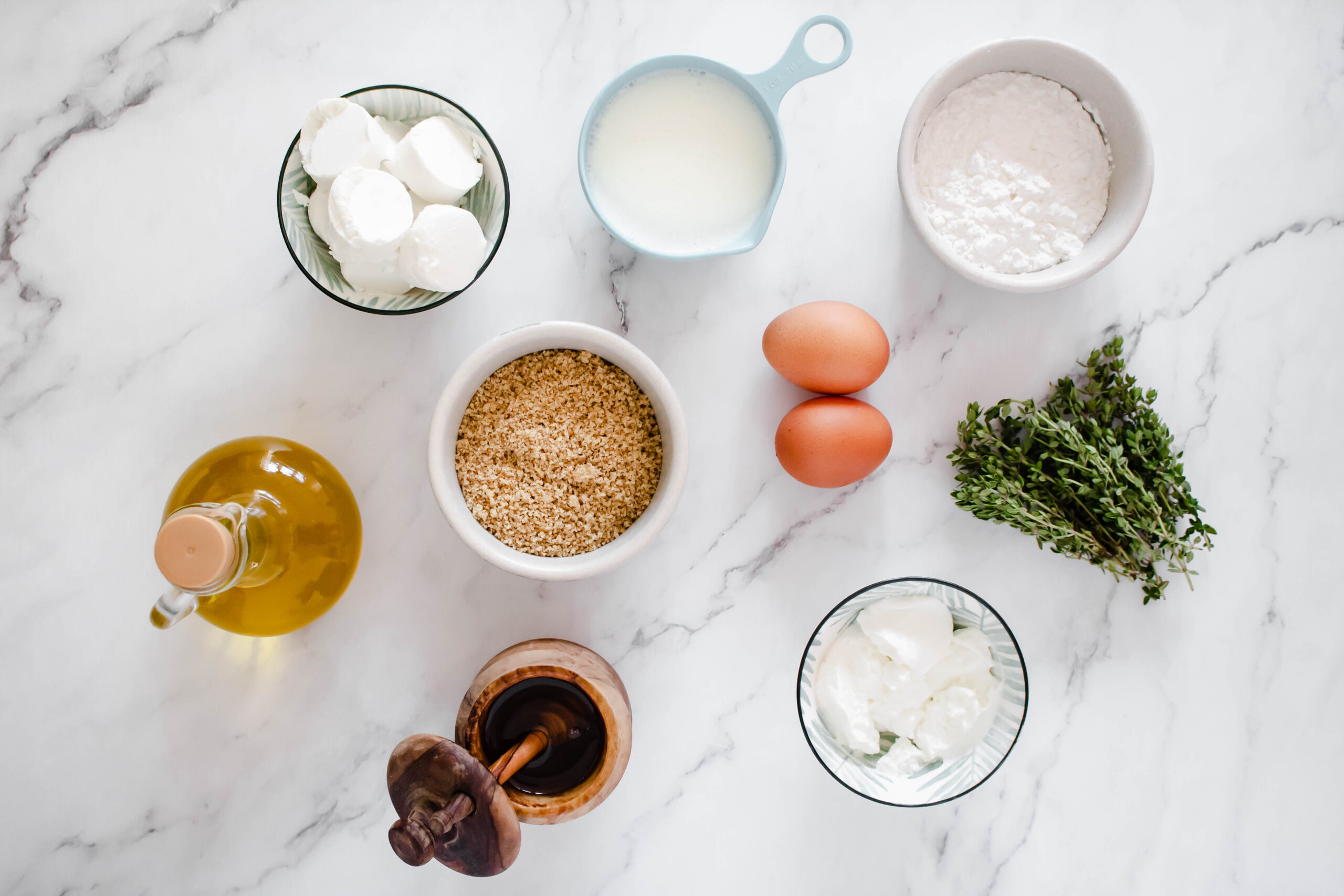 Tips & tricks
Bake the pancakes on medium/low heat until golden.
With these pancakes, bubbles will not appear on the surface when you need to flip them. They are only getting some bubbles around the edges.
Do not overcrowd the pan, these pancakes are spreading a little.
Use a non-stick pan or griddle to make the pancakes. If you are using a griddle or you don't have a non-stick pan brush the surface with some olive oil.
These pancakes are soft and fluffy so don't add more than ¼ cup tablespoon of the batter for every pancake because you won't be able to flip them.
Instead of fresh thyme leaves use 1 teaspoon dried thyme in the pancake mixture.
How to serve goat cheese honey pancakes
Eat the pancakes while still warm. Serve them:
Plain
Topped with extra goat cheese
Drizzled with thyme honey
Spread with some tangy marmalade like orange or apricot.
Sprinkle with fresh thyme leaves
Sprinkle with some cinnamon
Topped with some cured ham like prosciutto
Topped with extra walnuts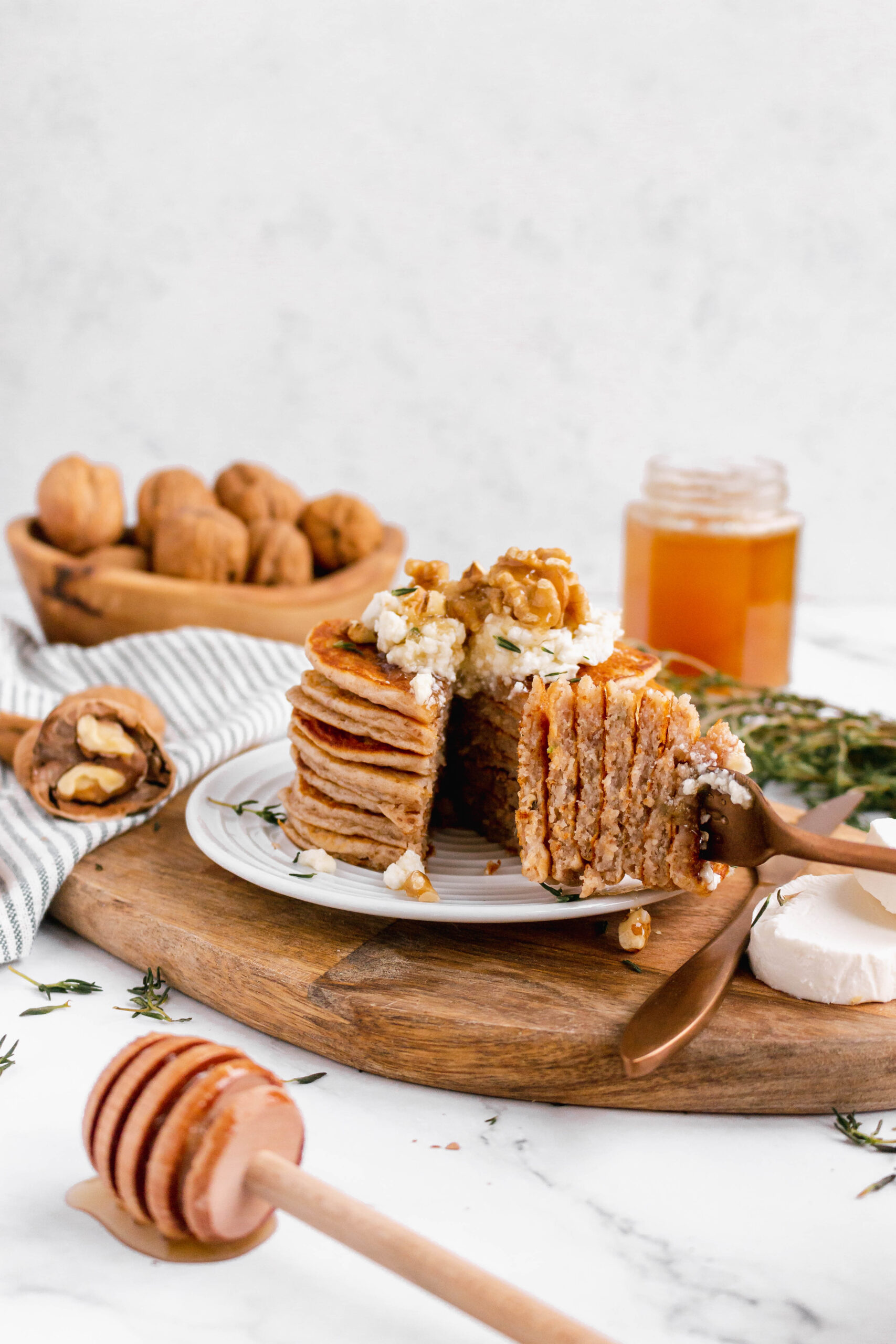 How to store goat cheese honey pancakes
Store the pancakes, in an airtight container in the fridge for up to 3 days.
Freeze the pancakes for up to 1 month. Place them in a zip-lock bag or an airtight container and add parchment paper between the pancakes.
More Greek-inspired pancakes?
See also this:
Recipe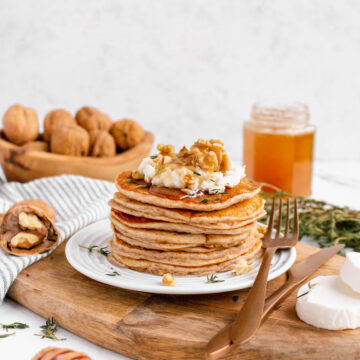 Goat cheese, Thyme, Walnut & Honey Pancakes
Amazing, fluffy pancakes filled with the most delicious flavors of the Mediterranean. Honey, thyme, and walnuts are combined with soft goat cheese to create these tasty savory, and sweet pancakes.
Ingredients
150

g/5.3 oz

soft goat cheese

85

g/3 oz

Greek yoghurt

full fat

2

medium

eggs

room temperature

1 ½

tablespoon

olive oil

extra virgin

1 ½

tbsp

honey

thyme

160

g/5.64 oz

buttermilk

1

tablespoon

fresh thyme leaves

70

g/2.46 oz

self-raising flour

gluten-free

40

g/1.41 oz

ground walnuts

fine

40

g/1.41 oz

oat flour

gluten-free

½

teaspoon

baking soda

1

teaspoon

baking powder

gluten-free
Instructions
In a large mixing bowl, pour the buttermilk, eggs, olive oil, honey, and yogurt and whisk them until fully combined.

Add walnuts, oat and self-raising flour, baking powder, and baking soda into the bowl. Whisk until combined.

Crumble the goat cheese into the mixture, add the fresh thyme leaves and mix with a spatula. Let the batter rest until the pan is hot.

Place a non-stick pan or griddle, on medium/low heat, until hot.

Pour about ¼ cup of the batter for each pancake. Cook each side, until golden and the sides of each pancake are set. Flip and cook on the other side. Repeat until the whole batter is used.

Serve them while still warm, plain, or with the topping of your choice.
Notes
In place of fresh thyme, use 1 teaspoon of dried thyme.
Instead of buttermilk, use the same amount of milk stirred with 1 tablespoon of apple cider vinegar and let the mixture stand for 5 minutes until it curdles.
Served plain or topped with extra goat cheese, honey, walnuts, jam, cinnamon, etc.
Nutrition facts
Servings: 1 (35g) | Calories: 79kcal | Carbohydrates: 6g | Protein: 4g | Fat: 4.6g | Saturated Fat: 1.6g | Trans Fat: 0g | Cholesterol: 20mg | Sodium: 131mg | Potassium: 73mg | Fiber: 0.4g | Sugar: 1.9g | Vitamin A: 111IU | Vitamin B2: 0.094mg | Calcium: 53mg | Phosphorus: 95mg
Have you tried this recipe?
Spread the love and mention @foodathlon_ or tag #foodathlon on Instagram
Leave a comment and star rating ★ in the section below