Zucchini bread is a must in the summer. Extra moist and delicious is the best way to sneak veggies into a kid's diet and a great way to utilize extra zucchini from the garden.
One of the recipes that my mom used to make to "force" us to eat more veggies as kids, is that of zucchini bread. I love this recipe, I had it as breakfast with my milk or in my school bag as a snack. I have changed my mom's recipe quite a bit these days because I am not consuming sugar or gluten, but it is still so tender, moist, sweet, and delicious.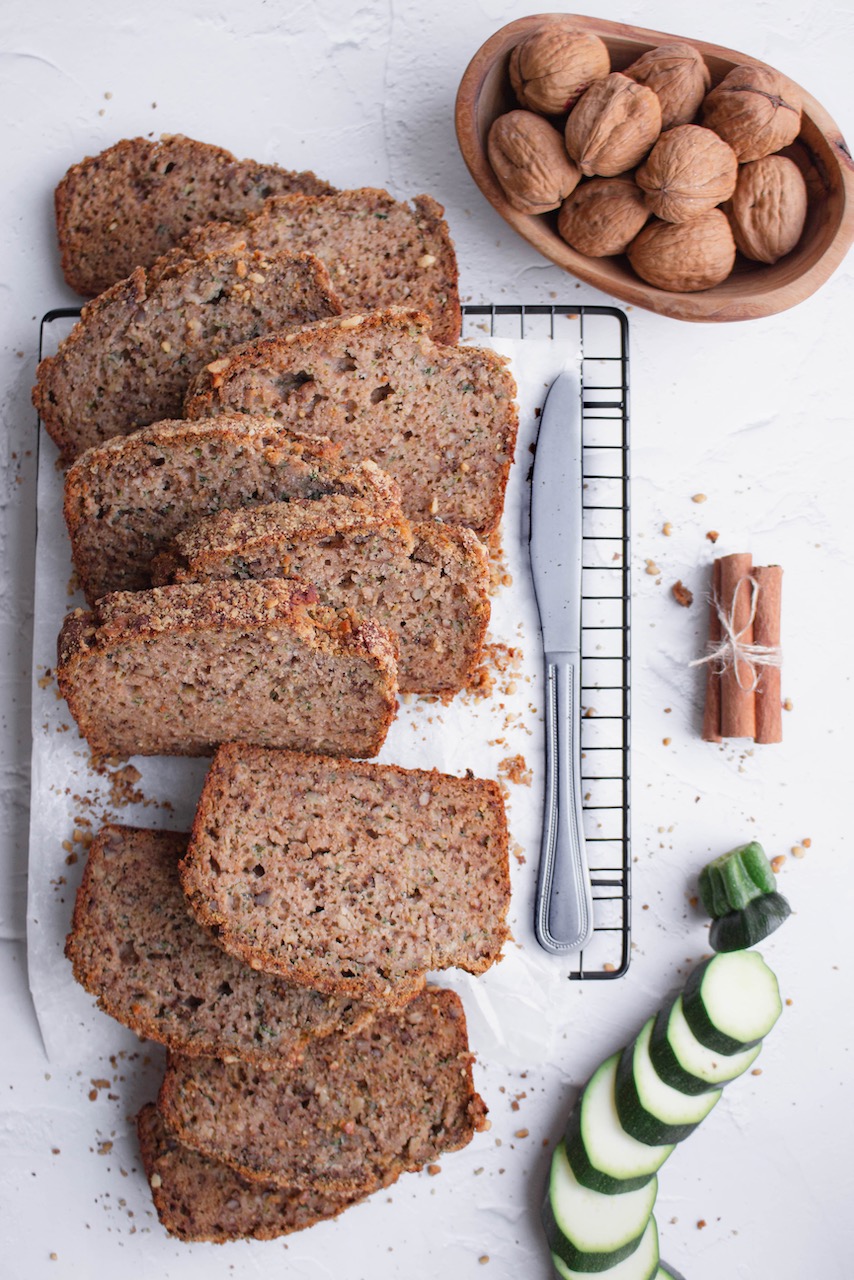 What is zucchini bread?
It is a cake-like bread made with grated zucchini and a combination of spices, which give exceptional taste and aroma to this bread.
Ingredients for making zucchini bread
Zucchini: Zucchini is a versatile vegetable that is at its best from May to September. With its sweet flavor, it can be incorporated into sweet or savory dishes. It can also be an alternative to pasta. Zucchini contains good amounts of folate, potassium, and vitamin A.
Walnuts: Walnuts are a powerhouse with great taste, and they also provide some crunch to the bread. You can always omit them in case of an allergy or replace them with any other nut of choice. Pecans are the best substitute.
Raisins: I like to use sultana raisins for this recipe. Raisins are a good source of fiber, potassium, copper, iron, vitamin B6, and boron, a mineral that improves wound healing and the maintenance of bone and joint health. Substitute with dried cranberries, or cherries, or omit them.
Eggs: Use fresh organic eggs to get the most out of them. Eggs act as binding and rising agents in this recipe. Filled with a good amount of high-quality protein, iron, minerals, vitamins, and antioxidants.
Honey: Use natural flower honey for a mild taste. Honey is filled with vitamins, minerals, and antioxidants, and has antimicrobial and anti-fungal properties. You can always substitute with maple or agave syrup, or even coconut sugar for a refined sugar-free alternative (or use brown sugar).
Oil: Use mild oil in this recipe. Mild olive oil or sunflower oil is the best.
Flour: I am using gluten-free all-purpose flour. You can always substitute with plain all-purpose flour if you have no intolerance or allergies.
Spices: Cinnamon and nutmeg are perfect for this kind of bread. Add some ground cloves and ginger if you love a more spicy, aromatic bread.
Tips & tricks for an amazing zucchini bread
Drain the zucchini excess liquid but don't remove all of the juices. You still want your zucchini bread to be moist.
Let the cake in the loaf pan, until the pan cools down, and then remove it and place it on a cooling rack. This step is required only when you make this bread gluten-free.
Do not over-mix the batter if you want your bread to be moist and fluffy. Over-mixing the batter also means that the bread will collapse in the middle.
Use ingredients that are at room temperature for the best baking and rising results.
Use any kind and size of zucchini you like. If you use large zucchini, remove the seeds because they tend to have more water.
If your bread loaf is browning very quickly on top while baking, top it with some tin foil so that it doesn't get too dark in color.
Serve
Serve and eat zucchini bread one day after you make it. It is always better the next day because it doesn't crumble so much, and it is still moist and fluffy.
Serve it plain, with honey or maple, butter, jam, or icing.
How to store
Zucchini bread can keep up to 4 days at room temperature, or up to one week in an airtight container in the fridge.
Let the zucchini bread cool completely and wrap it in cling film, or place it in a freezer bag or airtight container and freeze it for up to 3 months. Place in the fridge overnight to defrost, and warm it up right before serving. Freeze it in individual slices, placing parchment paper in between slices for easier access.
Looking for more breakfast ideas?
Take a look at the following recipes:
Recipe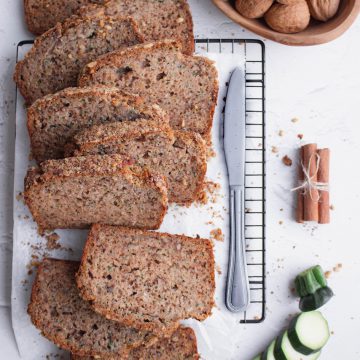 Zucchini Bread
One of summer's favorite vegetable is transformed into a fluffy, moist, and delicious bread, made only with honey and the great aromas of cinnamon, nutmeg, and cloves. An easy and quick recipe that you will love!
Ingredients
2 ¼

cup/400g

coarsely grated zucchini

1

cup/120g

chopped walnuts

3

eggs

large

7 heaped

tbsp/150g

honey

⅓

cup/43g

light olive oil or sunflower oil

1

teaspoon

vanilla extract

1

teaspoon

ground cinnamon

½

teaspoon

ground nutmeg

¼

teaspoon

ground cloves

350

g

all-purpose gluten-free flour

4

tsp/20g

baking powder

⅓

cup/53g

sultana raisins (optional)
Instructions
Preheat the oven at 180°C (350°F) and grease with oil a 9x5 inch (23x13 cm) loaf pan.

Mix the flour, baking powder and spices in a medium bowl.

In a separate bowl whisk eggs with honey, oil, and vanilla. Add the zucchini and mix.

Add the dry ingredients into the wet and mix until just combined.

Fold into the mixture the raisins and ¾ cup of walnuts.

Pour the mixture evenly into the loaf pan and top it with the remaining walnuts.

Bake for about 50 to 60 minutes until golden brown or until a toothpick inserted to the center of the loaf comes out clean.

Let it cool in the pan, remove and place it in a cooling rack until completely cooled.

Slice with a bread serrated knife.
Notes
Don't peel the zucchini, and use the large side of a grater or food processor to shred them.
It can be baked as muffins, as an "easy to grab" choice. Line a large 12 hole muffin tin with muffin cups and fill them. Bake for ~ 25-30 minutes.
Squeeze some moisture out of the zucchini, but not all of it.
Nutrition facts
Servings: 1 (108) | Calories: 283kcal | Carbohydrates: 40g | Protein: 7.2g | Fat: 11.78g | Saturated Fat: 1.6g | Trans Fat: 0.007g | Cholesterol: 47mg | Sodium: 22mg | Potassium: 456mg | Fiber: 2.2g | Sugar: 13.32g | Vitamin A: 234IU | Vitamin C: 11.7mg | Calcium: 106mg | Iron: 1.43mg
Have you tried this recipe?
Spread the love and mention @foodathlon_ or tag #foodathlon on Instagram
Leave a comment and star rating ★ in the section below