Dolmadakia Gialantzi is a beloved Greek version of a popular dish throughout Greek, Middle Eastern, Turkish, and Balkan cuisines, called dolmades. Dolmadakia is the diminutive of the word because they are bite-size. The Greeks use grape leaves stuffed with rice, herbs, and spices. This combination makes it vegan, gluten-free, and very popular during Easter fasting.
The name Gialantzi means fake in Turkish, and in this case, we use it to stress that the dish does not contain meat. Nevertheless, Dolmadakia Gialantzi is a treat for your taste buds. They are so addictive and a labor of love.
Wrapping Dolmadakia takes time and can be a family activity. I still remember sitting with my mom and my grandma at the kitchen table, where they taught us how to wrap them correctly.
History of dolmadakia
Known to the Greeks from ancient times as Thria (Θρία), these filled parcels were made with fig leaves. It was typical to stuff them with cheese or fish and preserve them almost the same way as today: pickled, to reduce their bitterness. The first reference to Thria exists in the poem of Archestratus "Hedypatheia" or "Gastronomia" (350 BC).
Although using grape leaves instead of fig leaves appears around the first century AD, the dish became popular during Ottoman times with the name dolmas. Although this name refers to any type of vegetable that is stuffed. The word dolmas derive from the Turkish doldurmak which means "to stuff".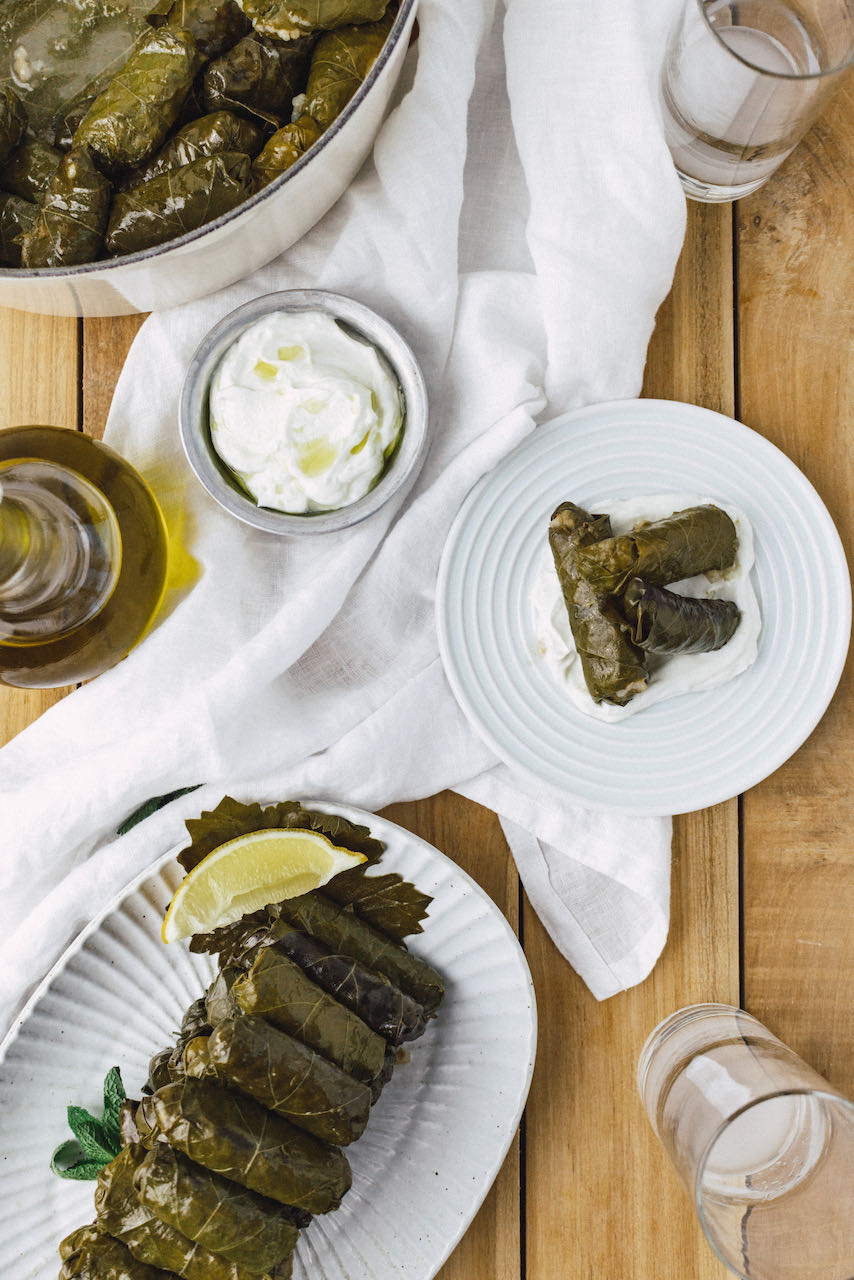 Ingredients for making dolmadakia gialantzi
Grape leaves: Also known as vine leaves. Find them in Greek/Middle Eastern/Turkish stores preserved in brine. Rinse them with cold water to discharge the extra brine and pat dry them.
Rice: I use middle-grain rice called Carolina in Greek. Use any type of middle-grain rice that you can find or replace it with Arborio rice.
Herbs: They are the flavor makers of this dish. I use mint and dill. You can also use spearmint or parsley if you like.
Spices: Alongside herbs, they are what makes this dish so delicious. Salt, black pepper, and a bit of cumin.
Broth: I make my own vegetable broth. Every time I peel a vegetable (not all are suitable) I keep the scraps in the freezer. Once every month I boil the scraps in water and store the broth in portions, in the freezer. Use any type of vegetable broth that you like, or dissolve a bouillon cube in the same amount of water.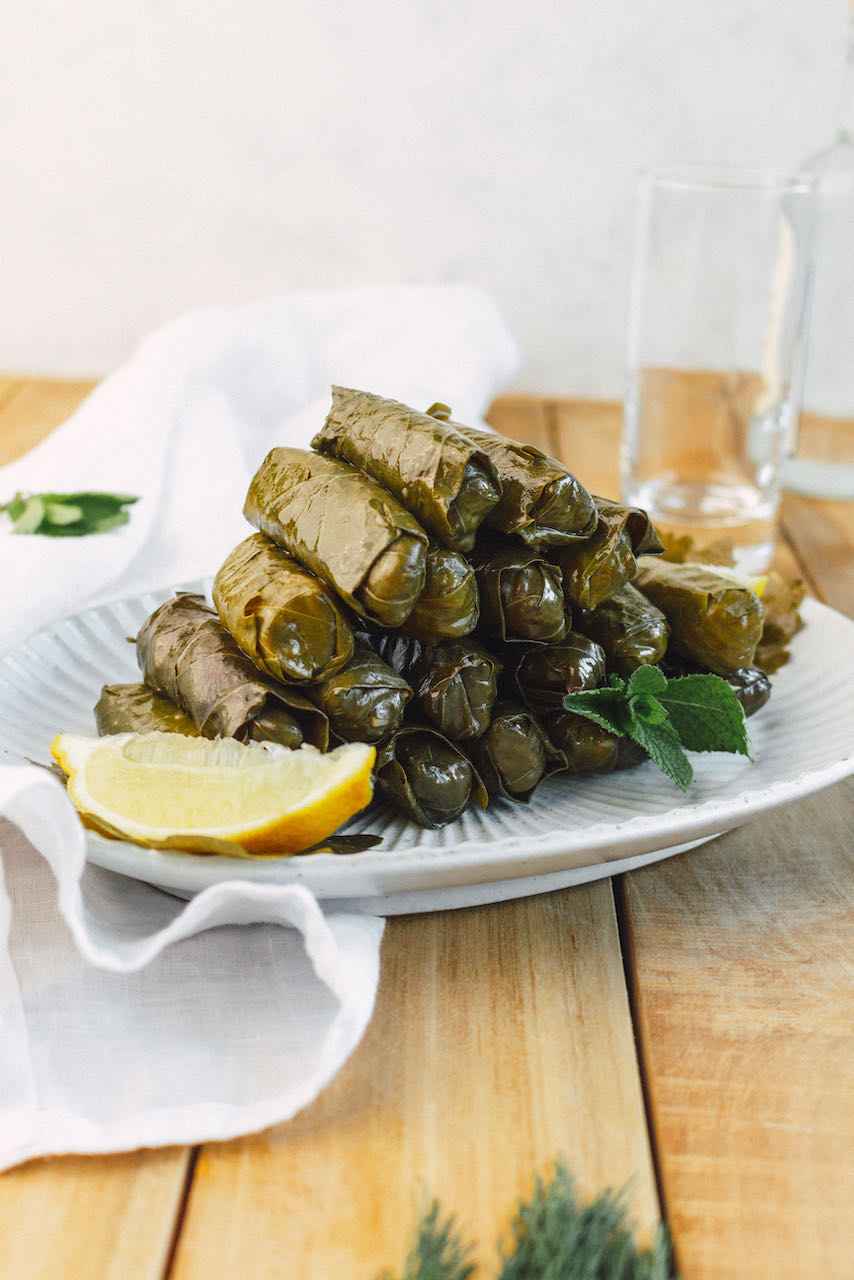 Tips & tricks
Don't overstuff the grape leaves because the rice extends when cooked and it can tear the leaves.
Use a plate as weight. Place it over the rolled grape leaves so that they can stay submerged in the liquid and intact while they are cooking.
After you cook the Dolmadakia, leave them in the pot for at least 20 minutes. This will ensure that they are juicy.
If you want your stuffing to be more fragrant and cooked more evenly, saute it. If you find the saute stuffing heavier in flavor, remember to soak your rice for about 20 minutes.
When using fresh leaves, wash them and blanch them in boiling water for ~ 5 minutes. Then, place them in a colander and drain them completely.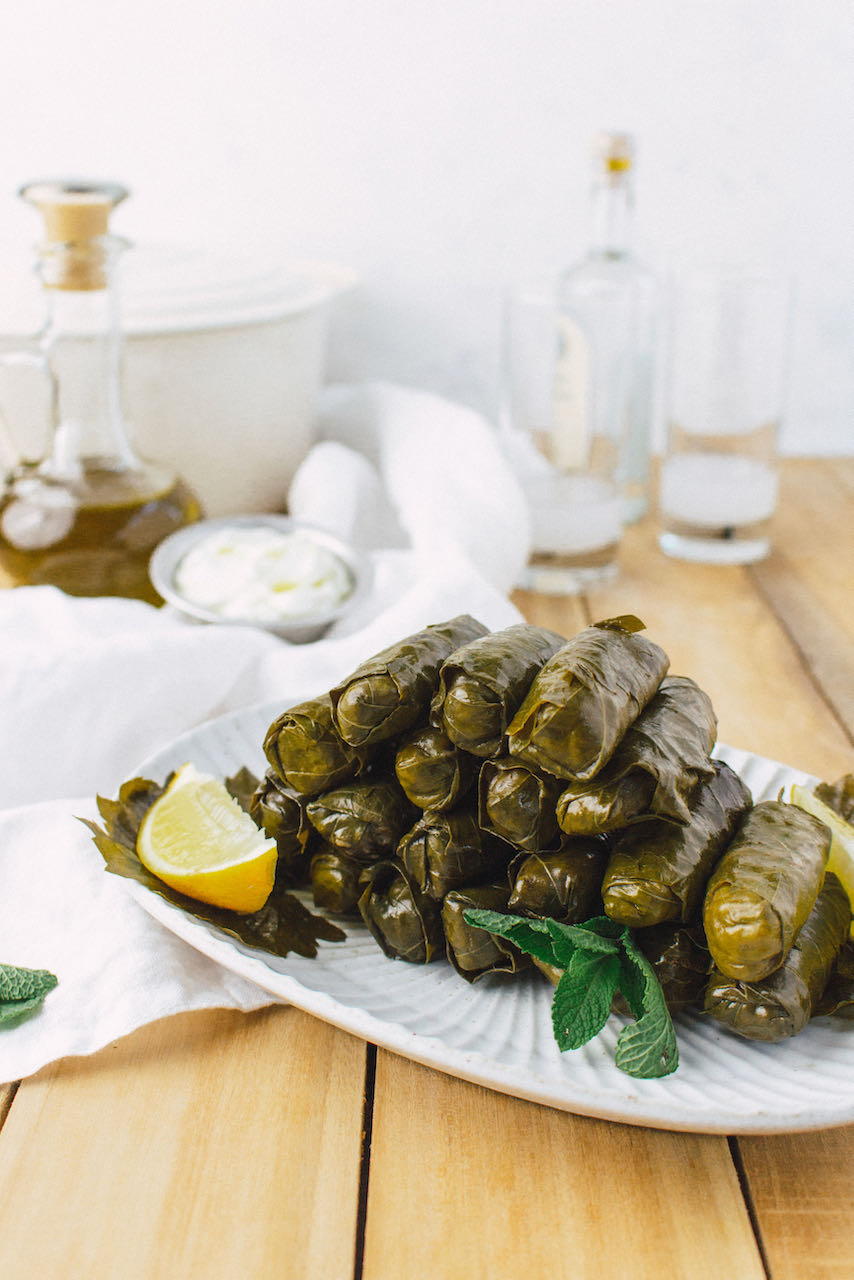 How to serve dolmadakia gialantzi
The eating temperature of Dolmadakia Gialantzi depends on the person. You can eat them warm, at room temperature, or even cold. Serve them as an appetizer (mezze) or as a main dish, with:
Tzatziki or plain yogurt
Avgolemono sauce
Lemon wedges, if vegan or fasting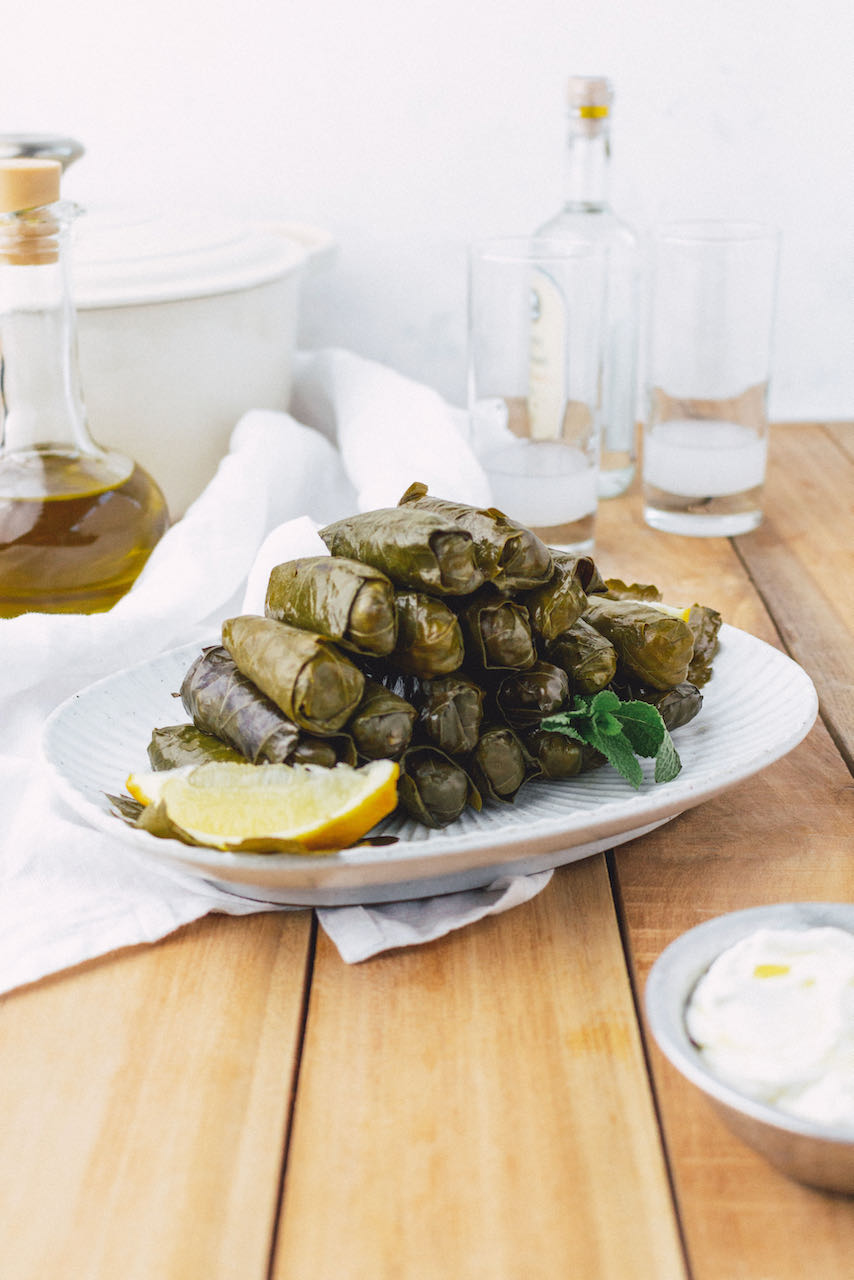 How to store dolmadakia gialantzi
Store Dolmadakia in the fridge, in an airtight container, for up to 5 days.
Although I do not like freezing dishes with rice, it is possible to do it. Freeze Dolmadakia in an airtight container for up to 3 months. Thaw them at room temperature, and reheat them in the microwave or in a pot, with a bit of vegetable broth.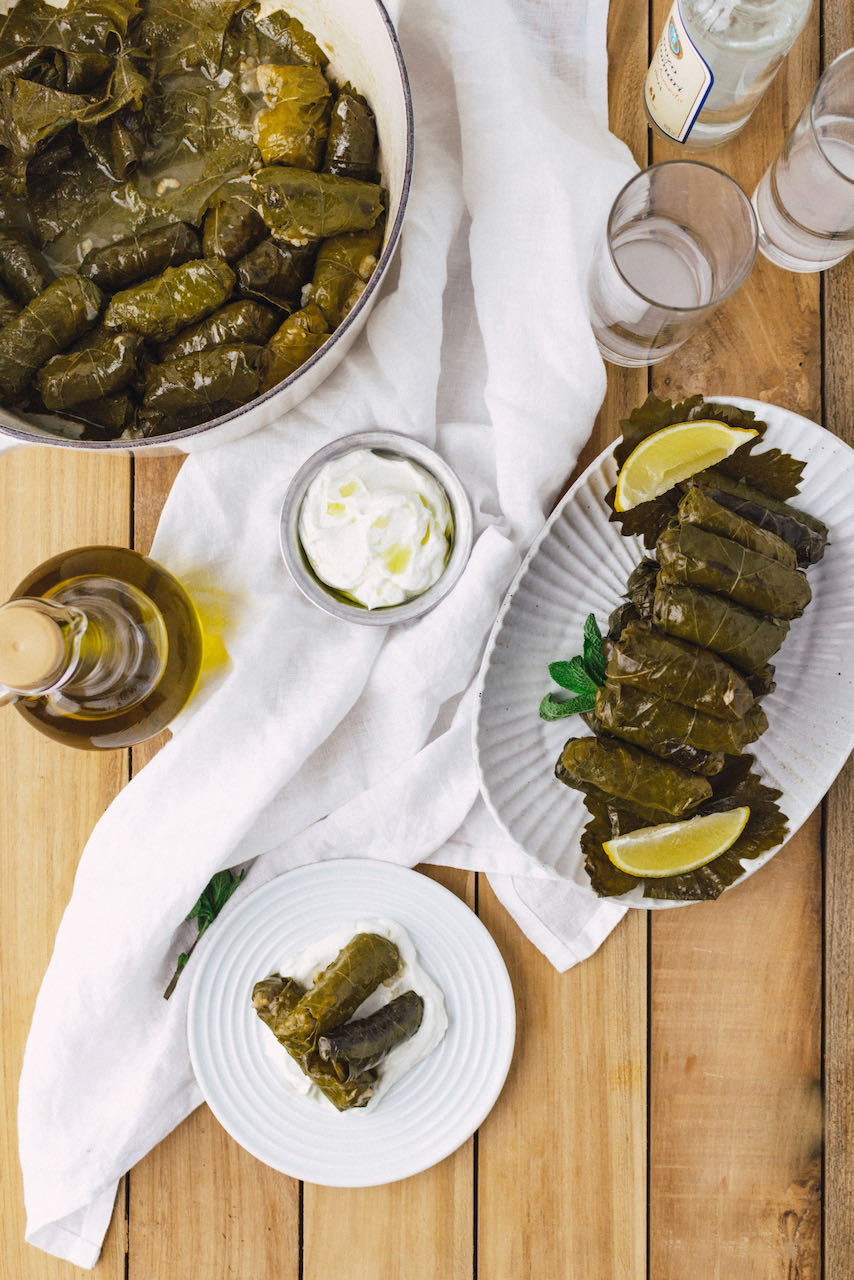 Do you like stuffed vegetables?
Then you also need to try this:
Recipe
Dolmadakia Gialantzi - Stuffed Grape Leaves
An iconic Mediterranean dish. Small parcels made out of grape leaves, stuffed with rice herbs and spices. Dolmadakia Gialantzi, as they are called in Greece, is a truly delicious dish served not only as an appetizer, but also as a main.
Ingredients
260

g/9.17oz

grape/vine leaves in brine

or fresh leaves

⅓

cup

olive oil

extra virgin

1

large

yellow onion

4

spring onions

250

g/1¼cup

medium-grain rice

1

teaspoon

sea salt

½

teaspoon

black pepper

freshly ground

½

tsp

cumin powder

¼

cup

finely chopped dill

¼

cup

finely chopped mint

½

cup

dry white wine

½

tablespoon

tomato paste

720

g/3 cups

vegetable broth

1

lemon

juice

cut in half
Instructions
Remove the leaves from the jar and rinse them with plenty of water. Place them in a colander and let them dry, or pat dry them with a towel. Cut the stems and arrange the leaves by size. Set aside.

In a pan, add half of the olive oil and place it over medium/high heat. Saute the onions until translucent. Add the rice and stir until it is toasted. Pour the wine mixed with the tomato paste, add the spices and herbs and mix. Lower the heat to medium, pour one cup of vegetable broth and simmer until most of the liquid is absorbed.

Remove the pan from the heat and allow it to cool. Use the small or broken grape leaves to cover the bottom of the pot that we will use to cook the rolled grape leaves.

Place a grape leaf on your working surface, with the seam side up, and put one tablespoon or teaspoon (depending on the size of your leaf) at the bottom end (where the stem used to be). Fold the two lower parts of the leaf into (almost) a triangle and tuck the filling in. Then, fold the two sides of the leaf inwards and roll up to make a log (cigar) that contains the filling.

Place a layer of rolled dolmadakia in the pot (over the grape leaves), with the fold side down, tightly the one next to the other. Make a second layer if needed, and cover them with more leaves on the top. Invert a plate and place it on top of them to keep them submerged.

Mix the juice of half lemon, with the rest of the olive oil and the vegetable broth and pour it into the pot. Place the pot over low/ medium heat and simmer for about 30- 35 minutes, until most of the liquid is absorbed.

Remove the pot from the heat and take out the plate carefully. Take out the extra layer of leaves. Drizzle the rest of the lemon juice. Allow the dolmadakia to cool (covered with the lid), until warm or at room temperature, and serve.
Notes
This amount of leaves and stuffing produce about 50 to 60 pieces.
Use vine/grape leaves stored in brine in a jar or fresh leaves and blanch them in boiling water. 
Do not overfill the leaves with the filling because the rice will expand during cooking.
Don't leave gaps between the rolled grape leaves to prevent them from floating or cracking open while cooking.
Store dolmadakia in an airtight container, in the fridge, for up to  5 days.
Serve them with some yogurt or tzatziki, and some extra lemon wedges.
Nutrition facts 
The serving size calculates the nutrition of 4 or 5 pieces per person.
Servings: 1 (143g) | Calories: 158kcal | Carbohydrates: 22g | Protein: 3g | Fat: 7.1g | Saturated Fat: 1g | Trans Fat: 0g | Cholesterol: 0mg | Sodium: 1057mg | Potassium: 118mg | Fiber: 3.4g | Sugar: 1.62g | Vitamin A: 1419IU | Vitamin C: 6.4mg | Calcium: 81mg | Iron: 1.46mg | Manganese: 0.912mg | Copper: 0.477mg
Have you tried this recipe?
Spread the love and mention @foodathlon_ or tag #foodathlon on Instagram
Leave a comment and star rating ★ in the section below