This kale and Brussels sprout salad is celebrating the winter produce to the max. Simple freshly chopped kale mixed with shredded Brussels sprouts, carrots, radishes, pecans, dried figs, and some cheese flakes.
A salad so fresh and vibrant, filled with nutrients, that can be served as a whole meal, or a side dish. It is tasty and absolutely good for you.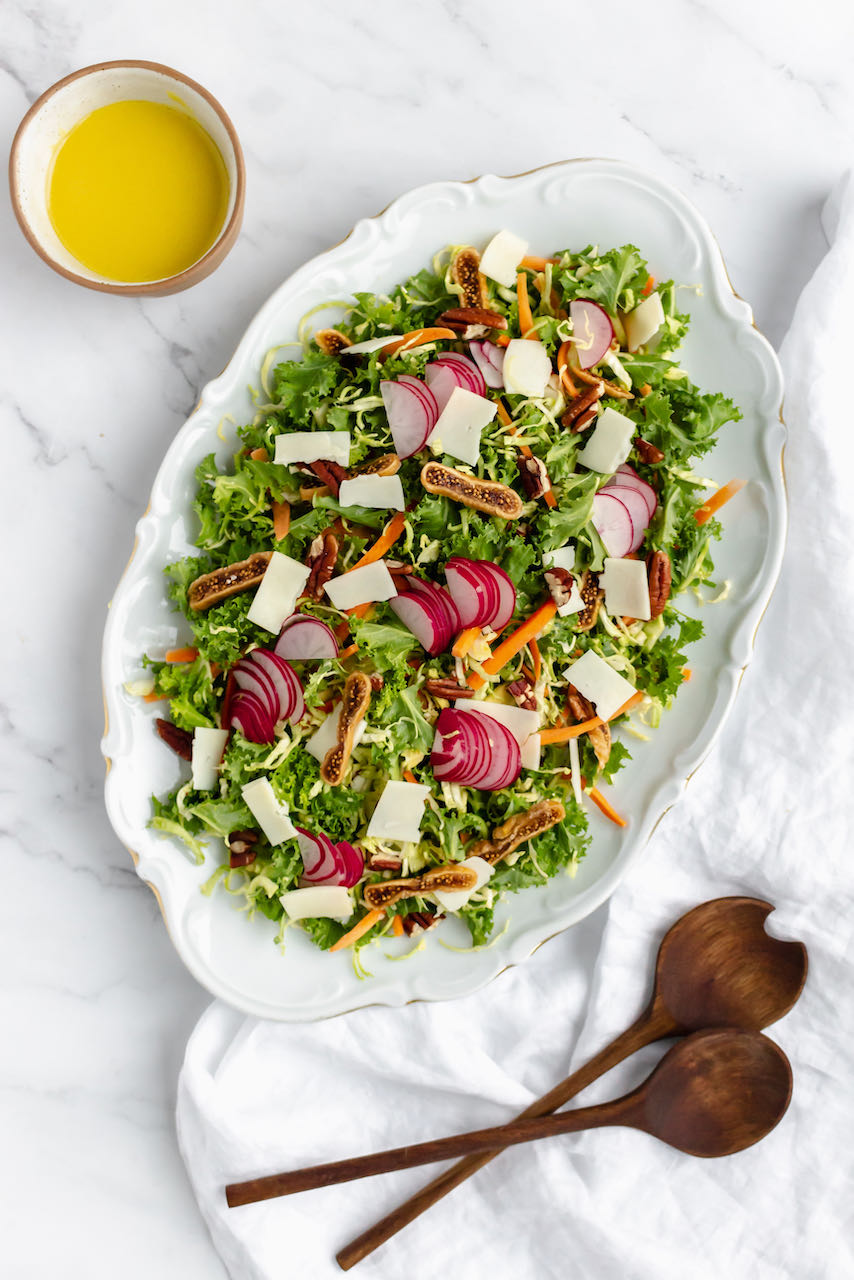 Why is kale good for you?
Kale is a leafy green cruciferous vegetable, and it is in the same family as cabbage, broccoli, and cauliflower. Cruciferous vegetables are one of the dominant food crops worldwide, and there is a good reason for that.
All cruciferous vegetables are high in vitamin C, and fiber and they contain a lot of nutrients, and antioxidants but kale is the king among them.
It is one of the most nutrient-dense food on the planet. Kale contains vitamins A, K, C, and B6, manganese, magnesium, copper, potassium, and iron. It also has B1, B2, and B3 vitamins, zinc, phosphorus, and protein.
The little fat that it contains is mostly omega-3 fatty acids and it is filled with powerful antioxidants. All of that combined with the small number of calories makes kale one of the best things that you can eat.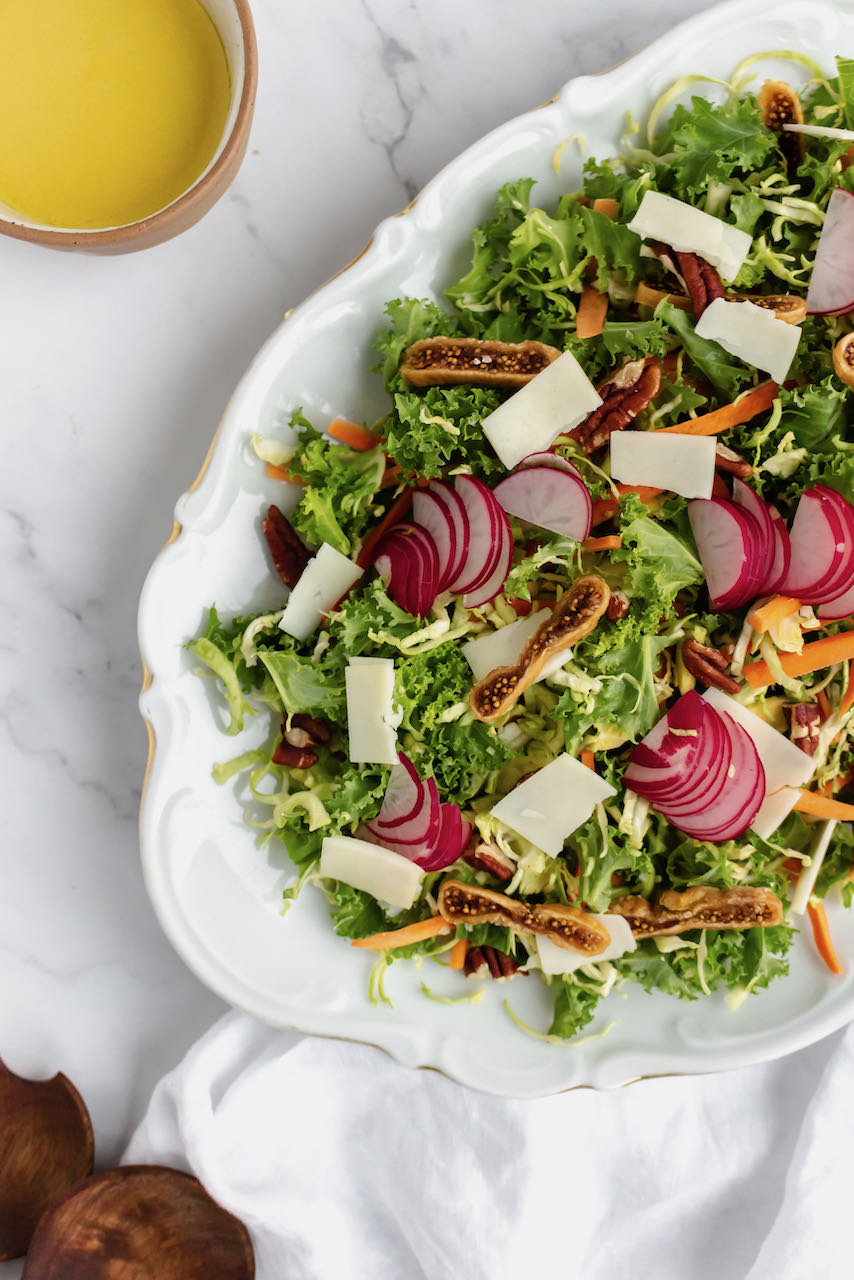 Ingredients for making kale & Brussels sprout salad
Kale: A powerful vegetable. Just remove the middle stock and slice it into small pieces.
Brussels sprout: Remove the outer leaves, cut them in half, and slice them with a knife as thin as possible.
Carrot: I like to add some carrots for sweetness. I cut them in strips or julienne.
Radishes: They add some spiciness to the salad without being extra spicy.
Nuts: I added pecans but walnuts, pistachios or almonds are also delicious and can give an extra crunch. In case of nut allergies, pumpkin seeds can do the trick.
Dried fruit: I really like the sweetness that the dried figs add to the salad. Replace with raisins (sultanas), cranberries, and even cherries. All the dried fruits that I use are sugar-free.
Cheese: I love kefalotyri, a Greek salty cheese made from sheep's milk. Pecorino is a similar cheese. Just add some flakes if you like cheese but if not the salad is delicious without it.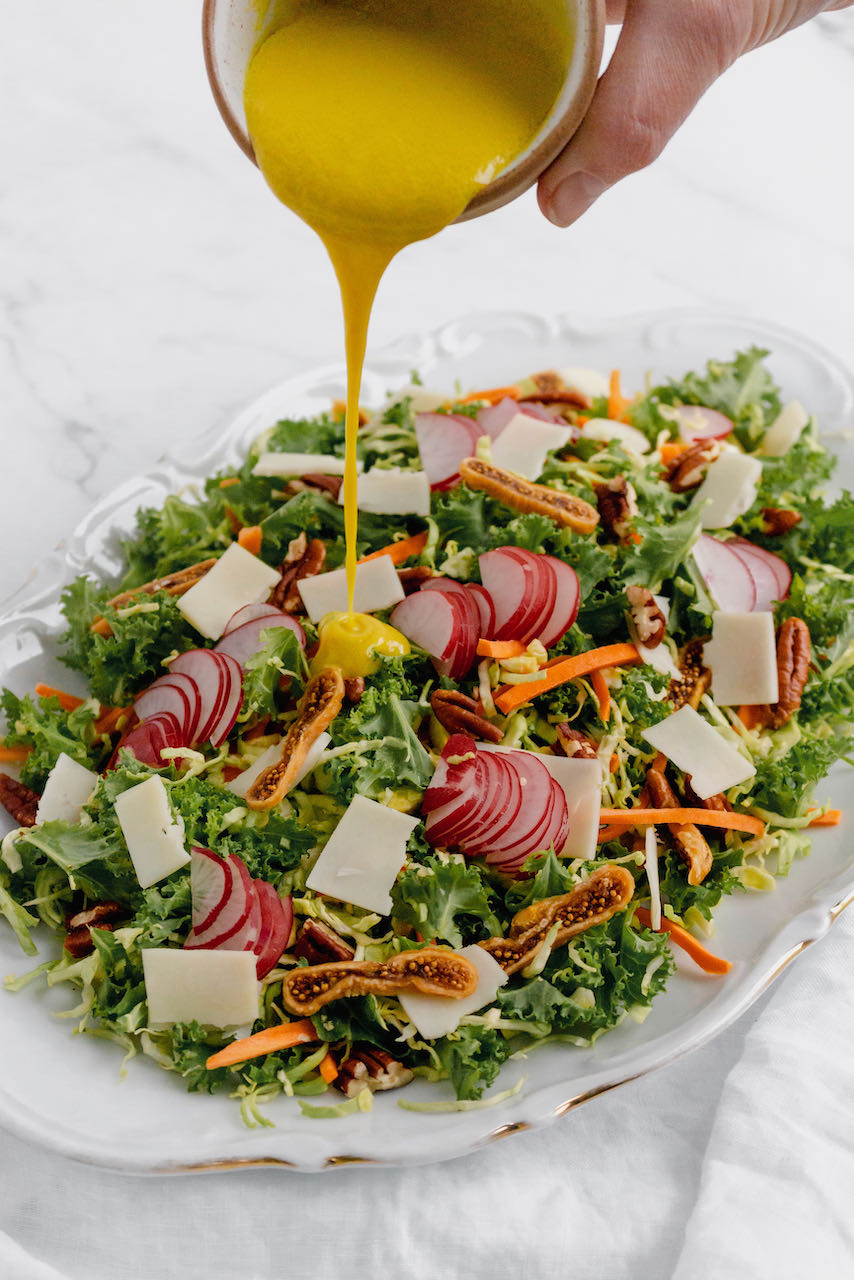 Tips & tricks
Kale and Brussels sprout salad is easily a make-ahead dish. Prepare all of the components in advance and have a great meal in minutes.
To mingle the flavors perfectly, mix the greens with half of the dressing, and let them meld for at least 30 minutes before serving. Add the nuts, dried fruits, cheese, and remaining dressing, before serving.
Always taste your salads and adjust the seasoning according to your taste.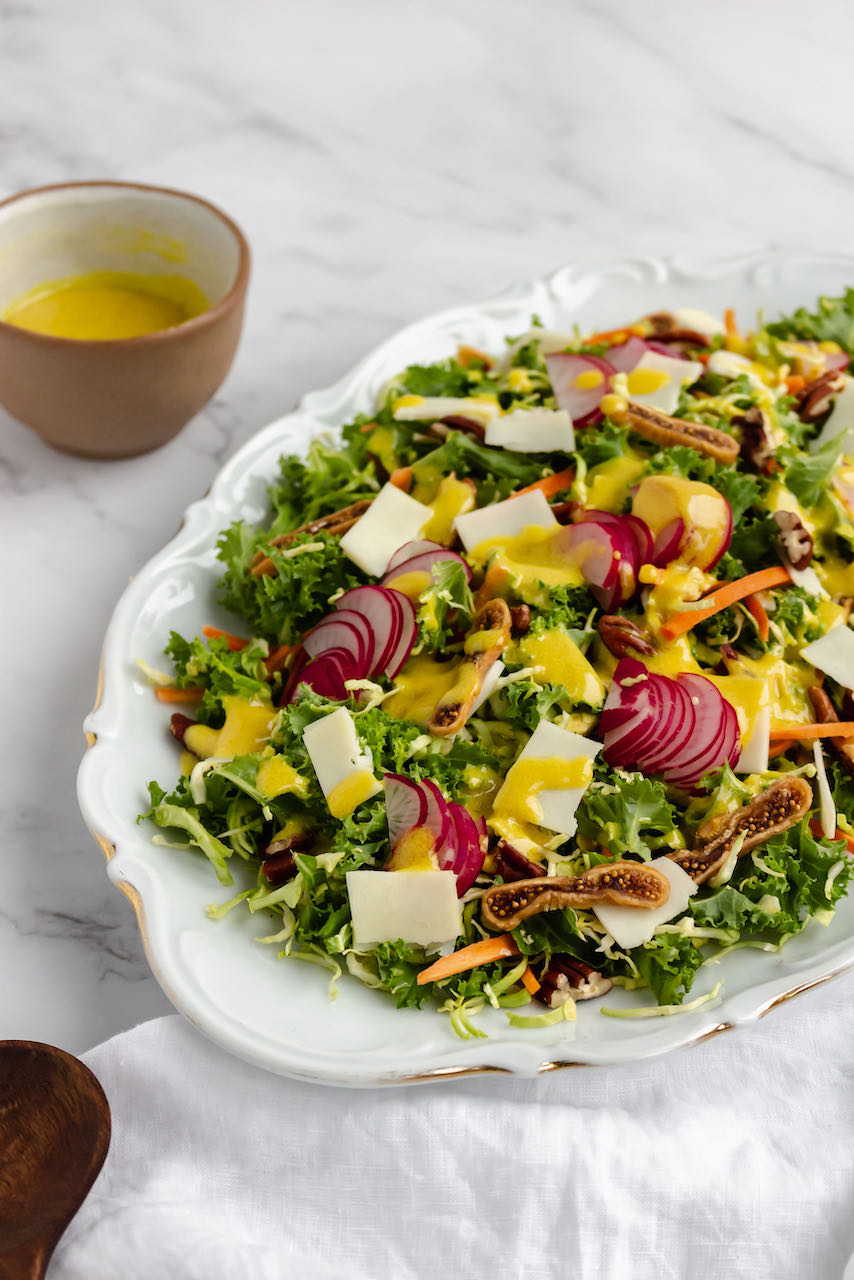 How to serve kale & Brussels sprout salad
Serve it on a big platter or in individual servings as a salad (dah!), a side dish with some grilled fish or lean meat, or as lunch or even light dinner.
How to store kale & Brussels sprout salad
Store the dressing in a glass bottle with a lid, in the fridge, for up to 4 days. The olive oil in the dressing has the tendency to solidify in cold temperatures. Take it out of the fridge 30 minutes prior and shake well before using it.
Wash, pat dry, and place the greens into a glass airtight container, in the fridge, for up to 4 days.
Even though salad is always best eaten the same day, leftovers can be kept in the refrigerator for 1 to 2 days but the dressing softens the kale and sprouts, so it gets duller the longer it sits.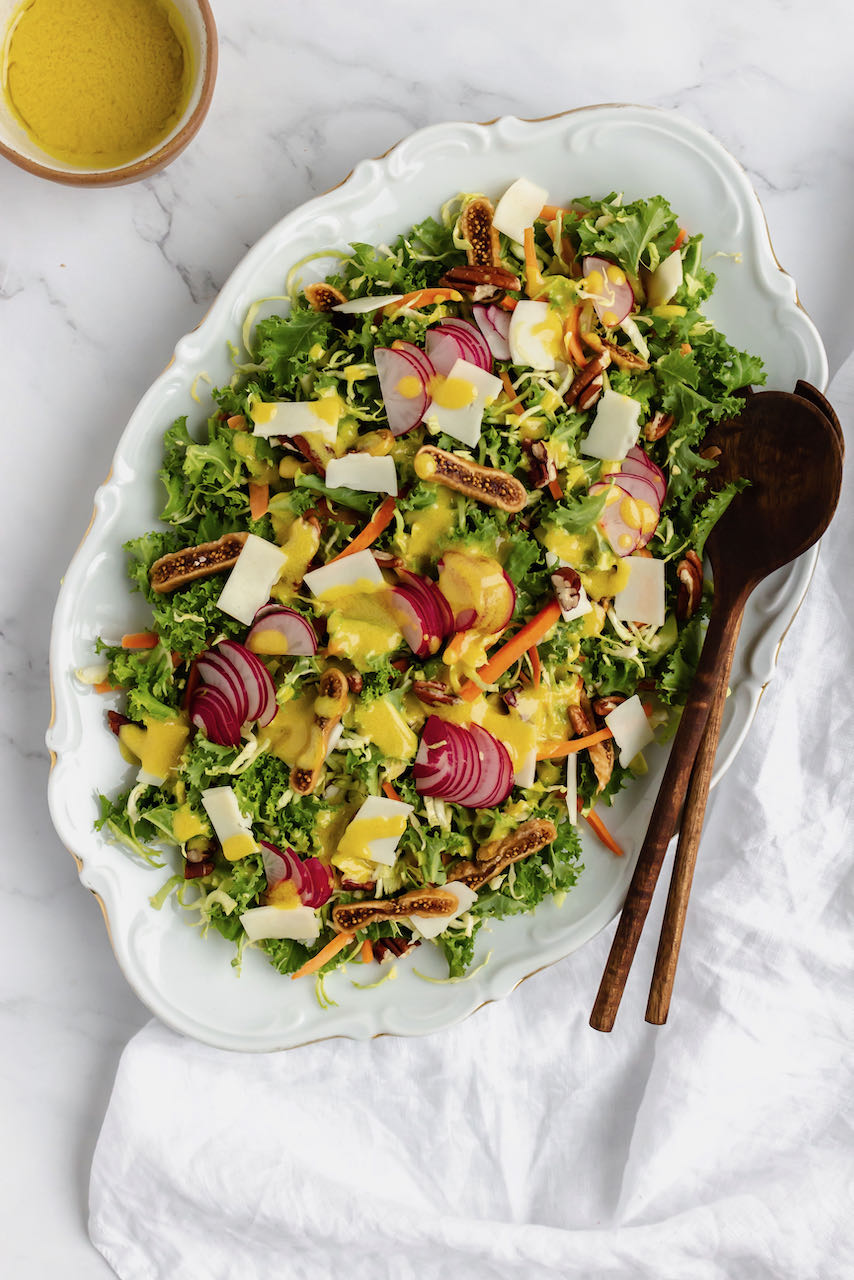 Love salads?
These are some of our favorites:
Recipe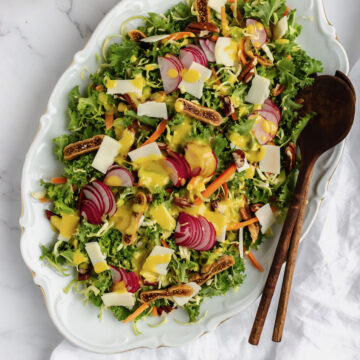 Kale & Brussels Sprout Salad
A flavorful salad that celebrates the winter produce. Delicious fresh kale and shredded Brussels sprout salad with a mustard-lemony dressing.
Ingredients
For the salad
300

gr/10.58oz

kale

300

gr/10.58oz

Brussels sprouts

1

medium

carrot

6

radishes
For the dressing
1

medium

lemon

zest and juice

1

tablespoon

mild mustard

4

tablespoon

olive oil

extra virgin

½

teaspoon

sea salt

black pepper, freshly ground

to taste

¼

teaspoon

garlic powder
Toppings
4

dried figs

sliced

50

gr/1.76oz

kefalotyri

flakes

37

gr/¼ cup

roasted pecans

chopped
Instructions
For the Greens
Wash all of the greens thoroughly. Remove the kale leaves from the tough middle stem, and cut them into bite-size pieces. Remove the outer leaves from the Brussels sprouts, slice them in half and slice them with a knife. Peel, and julienne the carrot. Thinly slice the radishes.

Place all of the vegetables in a large bowl and set them aside.
For the dressing
In a small bowl, add all of the dressing ingredients, and whisk until combined.
Assemble
Add half of the dressing into the salad bowl, mix and let the flavors combine, and the kale leaves soften, for about 15 to 30 minutes.

Serve in a platter or in individual servings topped with the pecans, dried figs and, cheese. Drizzle with the extra dressing and adjust salt and pepper to taste.
Notes
Shred the Brussels sprouts by removing the stems, cutting them in half, placing the cut side down, and with a sharp knife slicing them into thin shreds.
If you prefer the kale cut into ribbons and not bite-size pieces, remove the leaves from the stems, and then roll them together, placing the one on top of the other. With a sharp knife, slice them into the preferable thickness.
The salad is at its best the day that is made but you can store it in the fridge in an airtight container for up to 2 days. The flavor is great, but the greens can become a bit wilted.
Always taste your salads and adjust the seasoning according to your taste.
Nutrition facts
Servings: 1 (233g) | Calories: 334kcal | Carbohydrates: 28g | Protein: 12g | Fat: 22g | Saturated Fat: 3g | Trans Fat: 0g | Cholesterol: 3mg | Sodium: 539mg | Potassium: 923mg | Fiber: 8.2g | Sugar: 9g | Vitamin A: 10639IU | Vitamin C: 160.5mg | Calcium: 277mg | Iron: 3.47mg | Manganese: 1.326mg | Copper: 1.338mg | Vitamin K: 674.3 μg
Have you tried this recipe?
Spread the love and mention @foodathlon_ or tag #foodathlon on Instagram
Leave a comment and star rating ★ in the section below