An easy and delicious recipe inspired by the flavors of the Middle Eastern cuisine. Golden, spiced, soft oven baked eggplants, topped with goat cheese, walnuts, and pomegranates, and drizzled with a lemony tahini sauce. Healthy, simple ingredients, combined to make a filling appetizer, side dish, or dinner.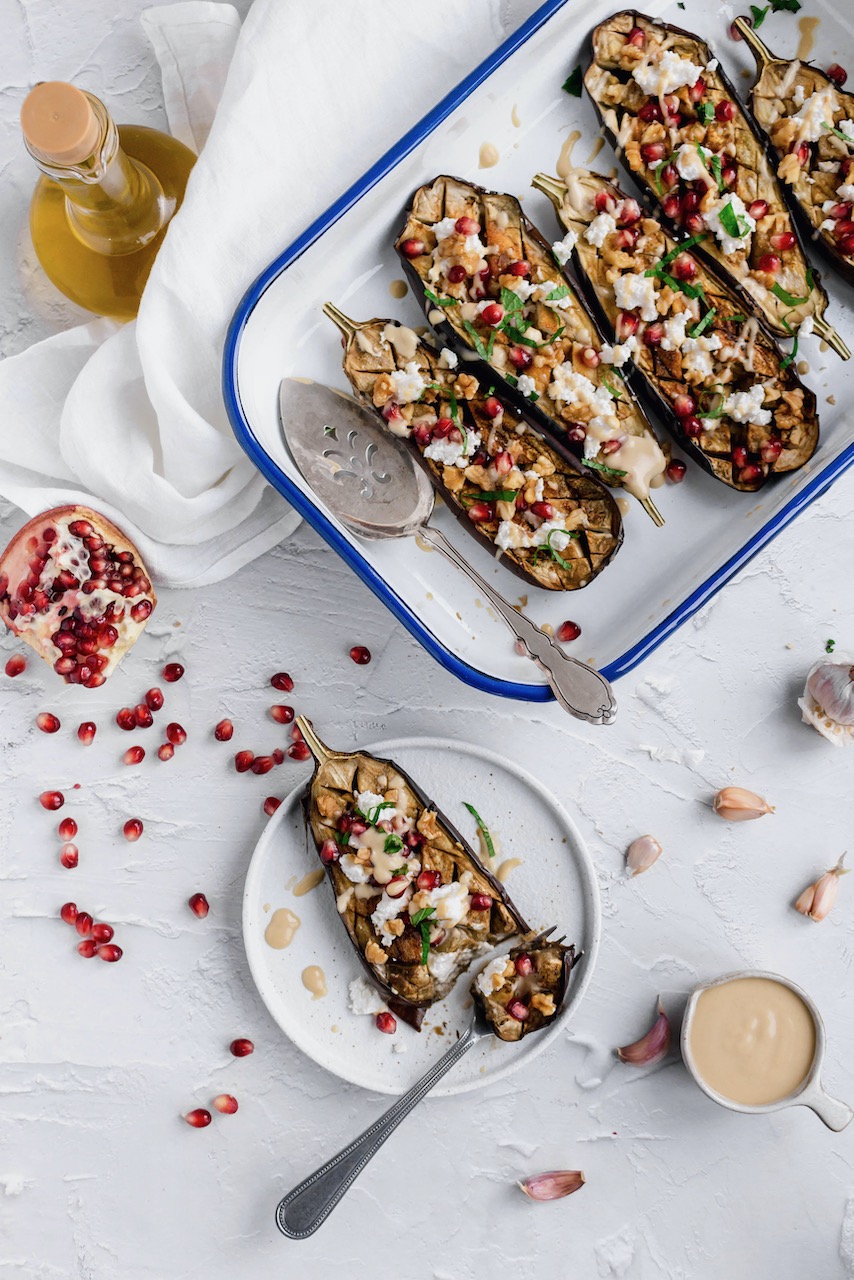 How to bake the eggplants?
Wash the eggplants and slice them in the middle, lengthwise. Score the eggplants in a criss-cross pattern. Be careful not to cut through the skin. Salt the eggplants and place them in a colander, for ~ 20 minutes or more. Salting removes the bitterness and draws out some moisture, making the eggplants crispier when baked. Brush (not only the top but also into the flesh) with olive oil. Bake them skin side down, so that you can see when they are ready (flesh gets a golden brown color).
Ingredients for making baked goat cheese eggplants
Eggplants: When eggplants are in season, they are sweet and delicious. I use large Italian eggplants because they have enough flesh, but graffiti or white eggplants can also be used.
Goat cheese: I use soft goat cheese. In Greece, there are many different types of goat cheese, with the most common being feta, mizithra, and anthotyros. Its creamy texture and distinct flavor add a unique taste to the dish.
Walnuts: Crunchy, meaty, and delicious, walnuts give a lot of texture to the dish. They are rich in antioxidants and Omega-3 fats and are a good source of protein.
Pomegranate seeds: They provide a burst of flavor to this dish. Pomegranate seeds are juicy, sweet, and filled with vitamins K, and C. They are also rich in fiber and minerals.
Herbs & spices: I like using spearmint or coriander leaves in this recipe, but you can also use parsley or mint. Salt, garlic, and cumin are also a must in this recipe.
Tahini: I prefer using organic tahini. Tahini is a great product, and it can be incorporated both in sweet and savory dishes. It is full of healthy fats, minerals (phosphorus, manganese), vitamins (B1, B6), and antioxidants.
Olive oil: I use extra virgin olive oil for its unique flavor. Also, I crush the garlic in the olive oil and let the flavors infuse for ~ 15 minutes before brushing the eggplants with it.
Tips & tricks
Salting the eggplants is recommended to remove the bitterness. Bitterness comes from the seeds in larger eggplants.
Always use parchment paper when baking the eggplants, to ensure that the skin won't stick on the baking tray.
How to serve the baked goat cheese eggplants
This dish can be served as a main on its own. It is also perfect as a side dish for kebabs or roasted lamb, and any kind of meat on the BBQ.
Serve them warm, drizzled with some extra tahini sauce, and topped with pomegranate seeds.
Scoop the flesh of the eggplants and serve them on top of crusty bread.
How to store
Store the leftovers in an airtight container, in the fridge, for up to 5 days.
Do you like eggplants?
Check this delicious recipe containing eggplant:
Recipe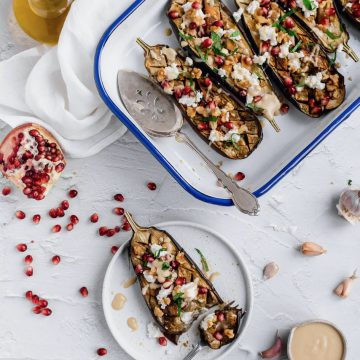 Baked Goat Cheese Eggplants With Tahini Sauce
Delicious oven baked eggplants, topped with goat cheese and walnuts, drizzled with a tasty tahini sauce. A great appetizer, side dish, or main, perfect for the summer.
Ingredients
3

large

eggplants

4.4

oz/125g

fresh goat cheese

3

tablespoon

olive oil

extra virgin

3

cloves

garlic

finely chopped

½

teaspoon

ground black pepper

½

teaspoon

cumin

1

teaspoon

salt

½

teaspoon

paprika

¼

teaspoon

cayenne pepper

¼

cup

pomegranate seeds

½

bunch/40g

peppermint leaves

chopped

⅓

cup/34g

walnuts

chopped
Tahini sauce
¼

cup

tahini

1

tablespoon

olive oil

extra virgin

¼

teaspoon

garlic powder

2

tablespoon

lemon juice

2

tablespoon

water

pinch

of salt
Instructions
Eggplants
Preheat the over to 400°F/200°C

Wash and halve the eggplants lengthwise. Score them in a criss-cross pattern. Salt them and place them in an oven-proof dish with parchment paper.

In a small bowl, mix the olive oil, garlic, black pepper, paprika, cayenne pepper, and cumin.

Brush the eggplants with the mixture and bake them for 30 minutes. Keep the bowl and mix in it the cheese and walnuts.

Remove the eggplants from the oven, divide the cheese mixture equally, and spread it on top of the eggplants.

Bake for 15-20 minutes and remove from the oven.
Tahini sauce
Mix the tahini, olive oil, water, lemon juice, and garlic powder in a bowl, and whisk it until smooth. It might need a bit more water or lemon juice.
Assembly
Sprinkle the chopped peppermint and pomegranate seeds on top of the eggplants and drizzle with the tahini sauce.
Nutrition facts of the baked goat cheese eggplants
Servings: 1 (350g) | Calories: 312kcal | Carbohydrates: 23.36g | Protein: 9.58g | Fat: 22.43g | Saturated Fat: 5.435g | Trans Fat: 0.004g | Cholesterol: 10mg | Sodium: 523mg | Potassium: 785mg | Fiber: 10.7g | Sugar: 11.62g | Vitamin A: 706IU | Vitamin C: 11.9mg | Calcium: 125mg | Iron: 2.71mg
Have you tried this recipe?
Spread the love and mention @foodathlon_ or tag #foodathlon on Instagram
Leave a comment and star rating ★ in the section below