One of the most iconic salads worldwide that Greek cuisine has to offer. The traditional Greek salad is an example of how Mediterranean cuisine transforms simple ingredients into a delicious dish. Also known as horiatiki in Greek, which means village-style, you will find it everywhere throughout Greece, with some small variations.
It is best served from late Spring to early Fall/Autumn when its ingredients are seasonal and top quality. A healthy, great meal for the warm days and nights of Summer.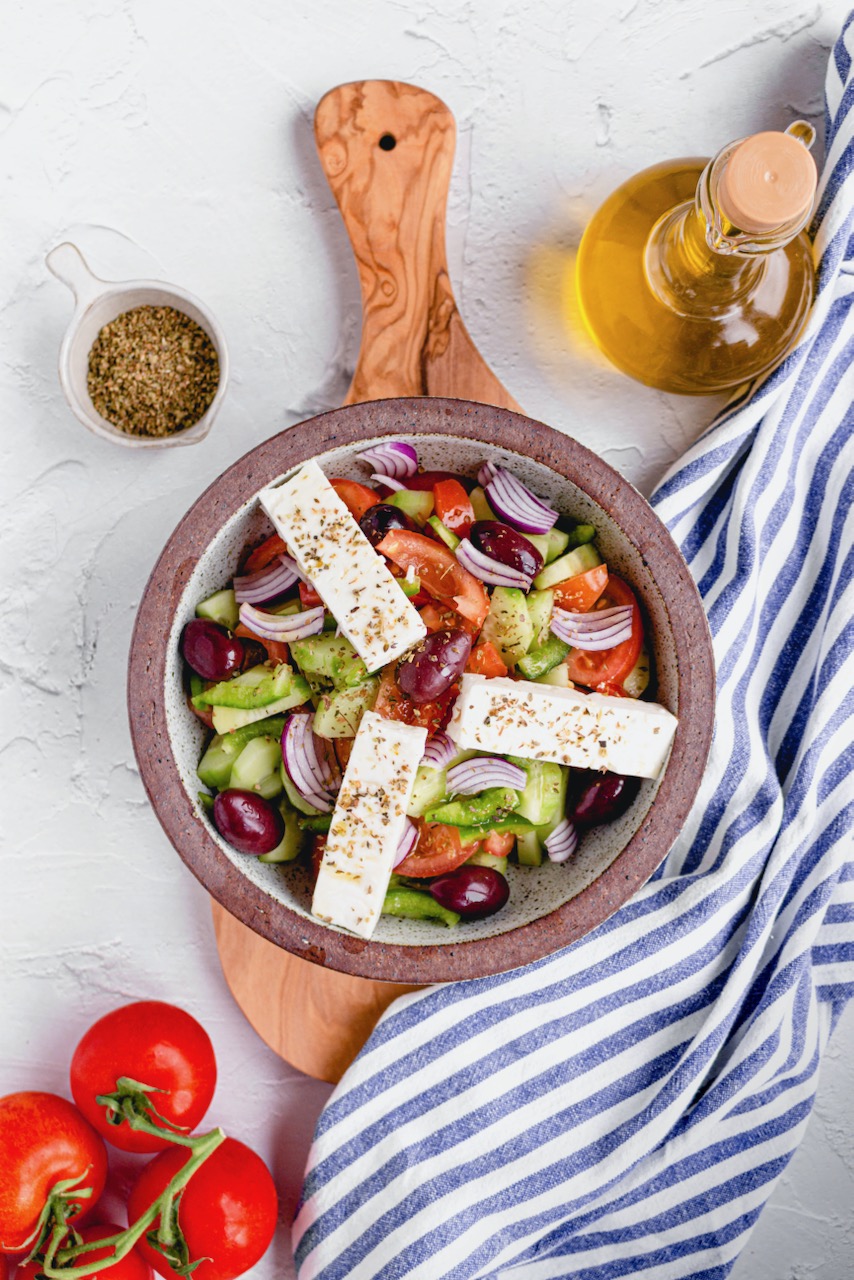 What is horiatiki salad?
The most common version of the traditional Greek salad has slices of tomatoes and cucumber, onion, green peppers, and olives, and is topped with feta cheese, olive oil, salt, and oregano. Sometimes, capers are added, or other types of cheese, but no greens like lettuce or kale.
Ingredients of traditional Greek salad
Tomatoes: Use any kind of tomato that you love. I suggest cherry or vine-ripe tomatoes. They should be firm but juicy, and preferably in season. Cut them straight into the bowl, to keep their juices in the salad.
Cucumber: Use an English cucumber or mini seedless cucumber. Cut them into slices.
Cheese: Typically, when we talk about Greek salad, feta cheese is a common choice. Typically, a large block of feta is added at the top, but we can also cut it into large or smaller blocks. There are also variations that use other types of cheese, such as mizithra, xinomizithra, or anthotiro.
Onion: I use red onions in this recipe. The Greek red onions are very sweet and not very spicy. Slice it in half, and then thinly slice it in half moons.
Olives: Black Kalamata olives are amazing, but we can use also other varieties, depending on the geographical location and availability.
Pepper: It is very common to add Sweet green bell pepper or green bullhorn pepper to horiatiki.
Herbs: Dried oregano is the most common herb, but you can also use dried thyme.
Spices: Salt and pepper, according to your taste and diet preferences.
Olive oil & vinegar: I drizzle a good quality extra virgin olive oil and white/red wine vinegar over the vegetables. A simple and delicious dressing.
Tips & tricks for making an amazing traditional Greek salad
For a more rustic, traditional style, cut tomatoes and cucumbers in large chunks.
Don't add too much salt, because feta cheese and olives are already salty.
Buy the best quality products available that you can afford. I am using organic ingredients.
Soak the onion slices in cold water for at least 15 minutes, to reduce their sharpness. Dry them between two kitchen towels before adding them to the salad.
Use feta in brine for the best results.
How to serve the traditional Greek salad
There are countless options, and it pairs perfectly with almost every Greek Summer dish.
Serve it on its own with some bread for lunch or dinner. Or serve it with grilled meat or fish.
How to store
It's a fresh salad, so better not to. But if there are leftovers, drain the dressing, place it in an airtight container in the fridge, and consume it as soon as possible.
Recipe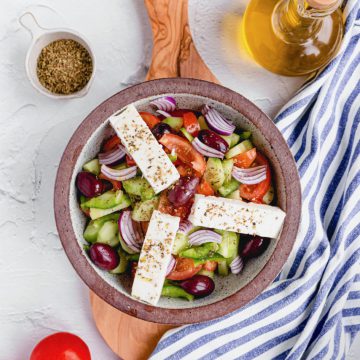 Traditional Greek Salad (horiatiki)
The most famous salad the Greek cuisine has to offer. Greek salad or horiatiki (χωριάτικη), which means village-style, is a colorful, flavorful, refreshing salad, perfect for the hot Summer.
Ingredients
1

English

cucumber

2

large

red tomatoes

1

medium

red onion

1

bell pepper

5.2

oz/150g

feta cheese

Kalamata olives

1

tablespoon

caper berries

4

tablespoon

olive oil

extra virgin

1

tablespoon

red or white wine vinegar

½

teaspoon

dried oregano

Greek

½

teaspoon

salt

freshly ground black pepper
Instructions
Wash and cut the cucumber lengthwise. If the seeds are big, take them out. Then, slice into thick halves (about the thickness of pinkie finger).

Wash and cut the tomatoes into large wedges (at least 1.5 cm, 0.6inch thickness).

Cut the red onion in half and thinly slice it.

Slice the green bell pepper into rings.

Place all the ingredients in a large bowl.

Add the salt, pepper, olive oil, red/wine vinegar, and 1 teaspoon of the oregano, and gently toss the ingredients, so that everything is coated with the olive oil.

Add the Kalamata olives, the feta cheese cut in sticks, cubes or triangles, and the capers.

Sprinkle the rest of the oregano, drizzle with some extra olive oil, and serve.
Notes
Variations include the use of mizithra, xinomizithra, or anthotyros instead of feta.
If you can find Greek oregano, use it. It is more fragrant and tasty than other varieties.
Nutrition facts
Servings: 1 (161g) | Calories: 175kcal | Carbohydrates: 7g | Protein: 4g | Fat: 14.8g | Saturated Fat: 5g | Trans Fat: 0.004g | Cholesterol: 22mg | Sodium: 493mg | Potassium: 265mg | Fiber: 1.6g | Sugar: 4.26g | Vitamin A: 736IU | Vitamin C: 29mg | Calcium: 142mg | Iron: 0.67mg
Have you tried this recipe?
Spread the love and mention @foodathlon_ or tag #foodathlon on Instagram
Leave a comment and star rating ★ in the section below