Travel to some sweet Arabian nights with these delicious bliss balls. Filled with Middle Eastern flavors, these bliss balls can give you the energy to last One Thousand and One Nights.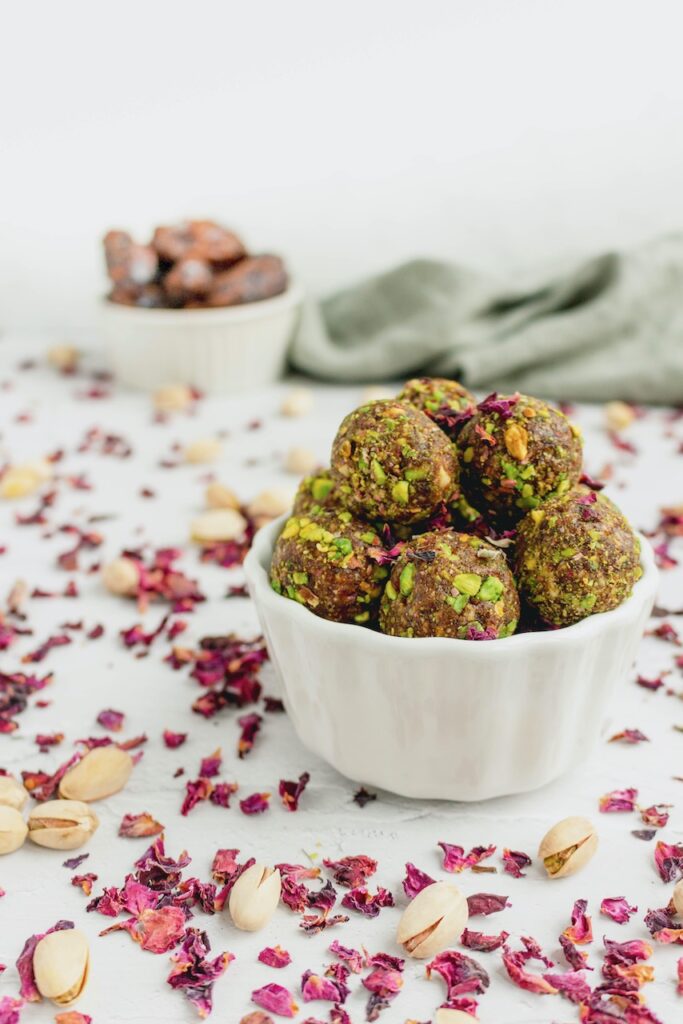 I was always fascinated by this incredible saga of Middle Eastern folk tales that is called One Thousand and One Nights. The story of Scheherazade who was the last wife of the monarch Shahryar and manage to stay alive (the king was killing his wives after the first night of their marriage because his first wife was unfaithful) by telling 1000 fascinating stories to him. And who doesn't know her stories? Sindbad the sailor, Ali baba and the Forty Thieves, and of course Aladdin's Lamp. So how can I not give this name to one of my recipes?
What are bliss balls?
Bliss balls, energy balls, or protein balls, are healthy treats or desserts made in many different ways. We typically make them with energy boost ingredients, like dates and nuts and they are perfect as a before or after-workout energy snack.
Ingredients
Dates: Dates are highly nutritious fruits packed with nutrients, essential vitamins antioxidants, and fiber. It is one of the healthiest dry fruits. I use Medjool dates because they are large in size, with a rich sweet taste and a fibrous, soft texture. Be sure that you buy unsweetened, naturally dried dates if you want the bliss balls to be sugar-free.
Pistachios: Pistachios are a rich source of protein, dietary fiber, minerals, vitamins (B, K, E), and antioxidants. They are also full of healthy fats. Relative to other tree nuts they have fewer calories and a good amount of potassium. Middle Eastern cuisine uses pistachios heavily.
Almonds: One of the tree nuts loaded with nutrients. Almonds are rich in vitamin E, magnesium, selenium, calcium, phosphorus, and potassium. We use them widely in the Mediterranean Basin. With a sweet taste and a crunchy texture, almonds are perfect for sweets but also as a snack.
Cardamom: With a complex aroma and a fruity flavor, this is a great spice to use. Cardamom is used in a wide variety of sweet and savory dishes in Middle Eastern cuisine. It has been used as a medicine for digestion for a hundred of years.
Cinnamon: The number 1 used spice around the world and one of the most fragrant. It has anti-viral, anti-bacterial, and anti-fungal properties. It contains antioxidants with anti-inflammatory properties, filled with manganese, calcium, and dietary fiber. Mostly used in sweet but also in savory dishes.
Cloves: With an intense, rich aroma, and a slightly warm and sweet flavor with notes of bitterness cloves are a Mediterranean favorite spice. We can use clove both for savory and sweet dishes and it is high in antioxidants and important nutrients and works as a toothache medicine.
Rosewater: A characteristic aromatic flavor water. We can make them by distilling rose petals with steam. A large variety of Middle Eastern sweets use rose water. It has anti-inflammatory, antiseptic, and antibacterial properties and is high in antioxidants.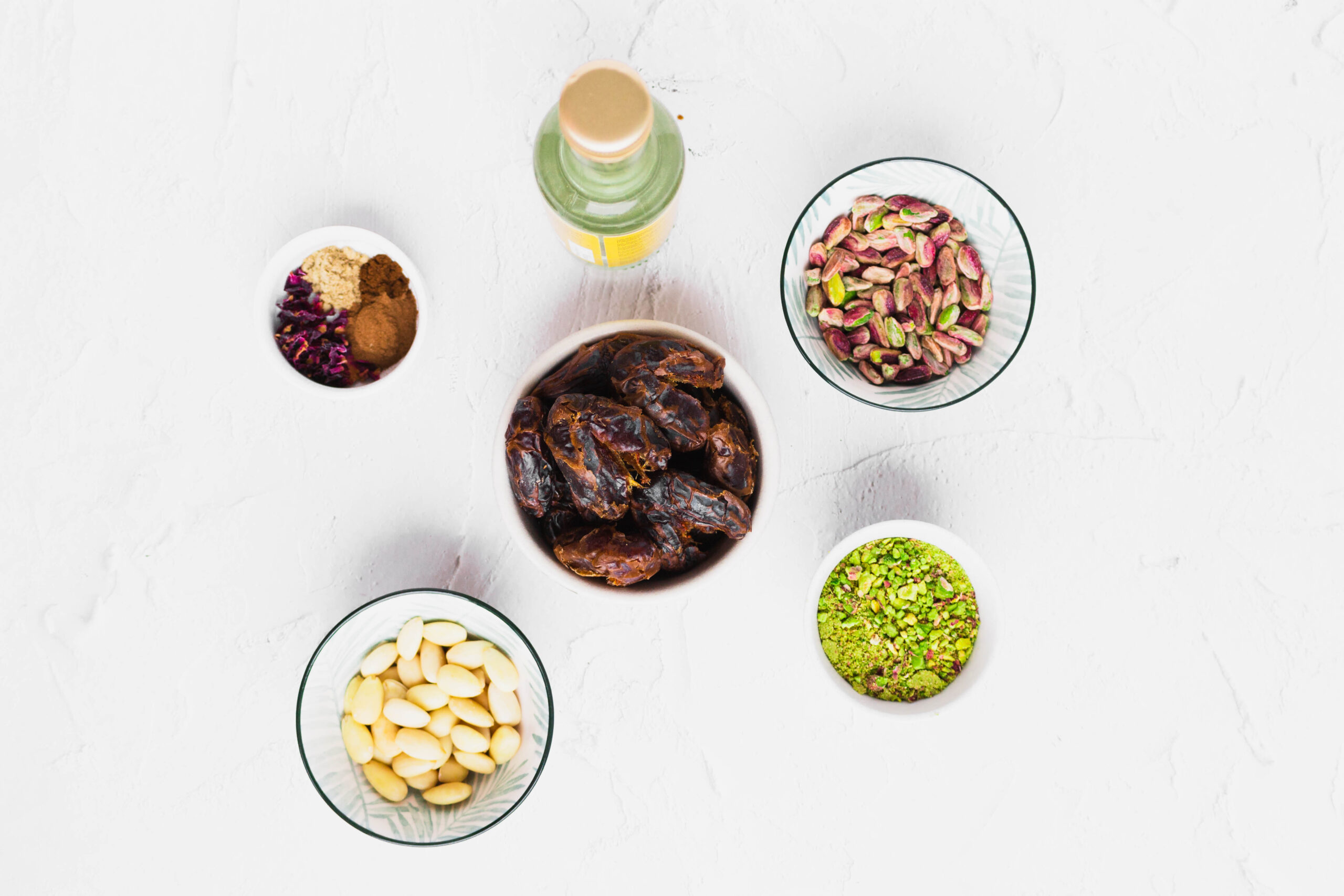 Tips & tricks
Be careful about how much rose water you add. If you add too much your sweet can have a soapy flavor.
How to store the bliss balls
Store the bliss balls in an airtight container for up to 3 weeks in the fridge.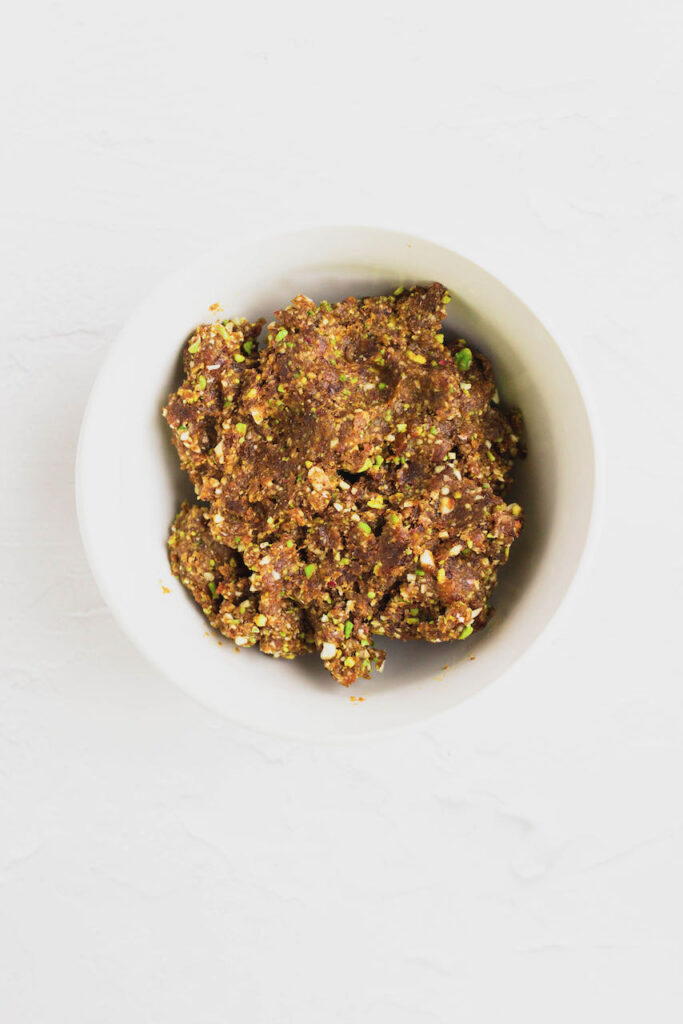 Do you fancy energy snacks?
Don't miss the following:
Recipe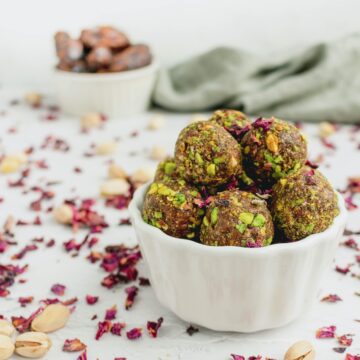 Arabian Nights Bliss Balls
Let the flavors of cardamon, rose water, dates, and pistachios transport you to the Middle East with these Arabian nights bliss balls.
Ingredients
14

large pitted Medjool dates

⅓

cup/42g

pistachio kernels

¼

teaspoon

ground cloves

½

teaspoon

ground cinnamon

½

teaspoon

ground cardamom

½

teaspoon

rose water

¼

cup/40g

roasted unsalted almonds

¼

cup/35g

thinly chopped pistachios

1

teaspoon

dried edible rose petals (optional)
Instructions
In a food processor add the Medjool dates and blend until pureed (they will form a ball).

Then add the almonds, spices, rose water, pistachio kernels, and rose petals (if applicable) and pulse a few times until all the ingredients are well combined.

Take 1 tablespoon of the mixture and form a ball.Dip and roll the ball to the thinly chopped pistachios.

Eat them right away or refrigerate them for a better, more firm texture.
Notes
If you like them sweeter you can always add 1 tablespoon of maple syrup or honey (if not vegan).
Keep in an airtight container in the fridge for up to 2 weeks.
Bliss balls nutrition facts
Servings: 1 (33g) | Calories: 115kcal | Carbohydrates: 20g | Protein: 2g | Fat: 4g | Saturated Fat: 0.4g | Trans Fat: 0g | Cholesterol: 0mg | Sodium: 0mg | Potassium: 245mg | Fiber: 3g | Sugar: 16g | Vitamin A: 59IU | Vitamin C: 0.3mg | Calcium: 31mg | Iron: 0.56mg
Have you tried this recipe?
Spread the love and mention @foodathlon_ or tag #foodathlon on Instagram
Leave a comment and star rating ★ in the section below