Looking for a healthy and gluten-free Vasilopita? Foodathlon has you covered. This Greek New Year's cake is not only gluten-free but also dairy-free, nut-free, and refined sugar-free. Although it's healthy, it doesn't lack in flavor.
I use the same recipe to make muffins and banana bread. So, why not use it to also make Vasilopita? The only difference is the hidden coin, known as "flouri". Of course, we pimped it up with a chocolate Ganache and the essential winter holiday decorations to make it more festive.
What is Vasilopita?
Vasilopita (Βασιλόπιτα) is a Greek New Year's cake that contains a hidden "gold" coin known as "flouri". It is associated with the Greek Christian Orthodox celebration of Saint Basil's (Agios Vasileios) day on the 1st of January and is also the Santa Claus figure. It literally means the pie of (Saint) Basil.
Despite what most people think, Vasilopita is not necessarily sweet. Any pie that contains a flouri is a Vasilopita. And it does not need to be a coin. In many regions of Greece, Vasilopita is a savory pie and the flouri is a piece of fruit or nut.
The person who finds the flouri in their piece is said to have good luck for the rest of the year.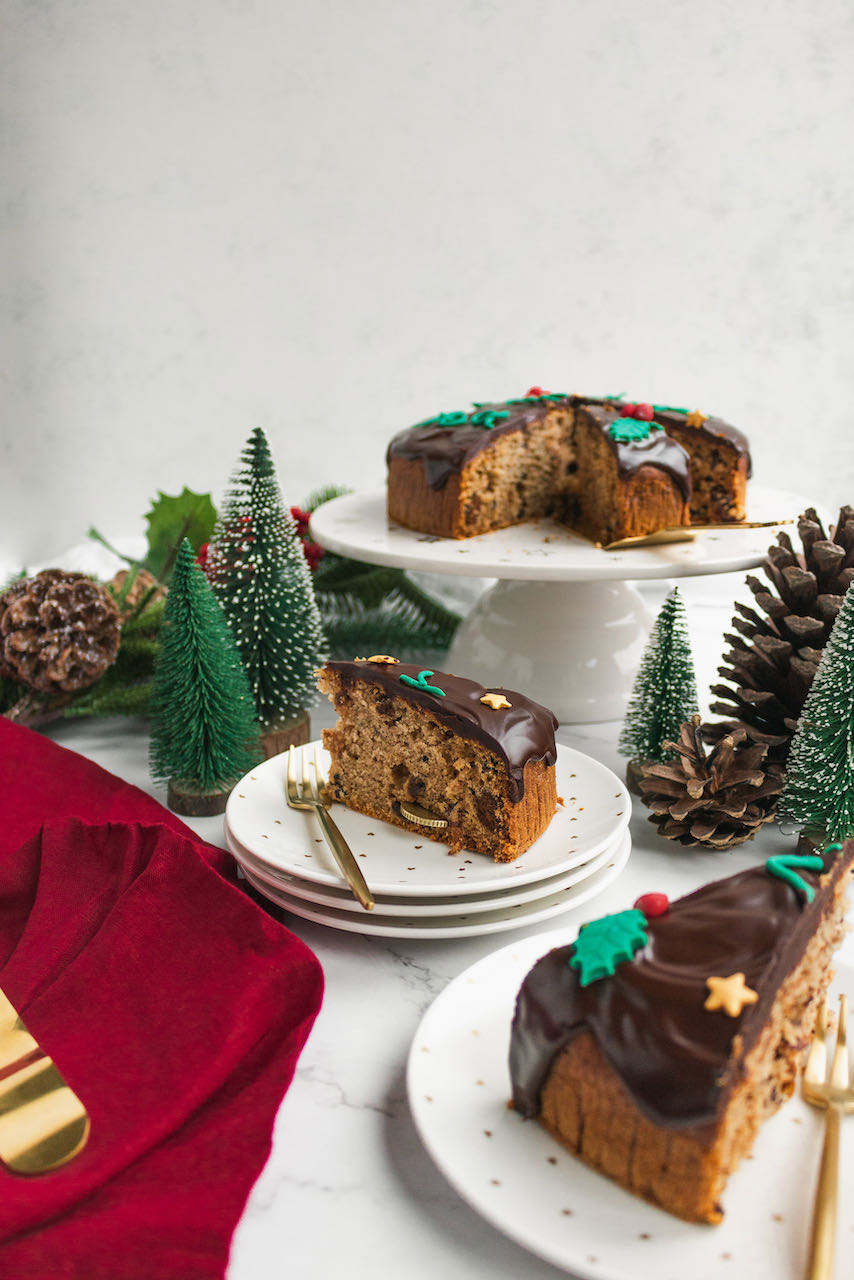 Healthy Vasilopita Ingredients
Banana: Use very ripe bananas because they are super sweet and have high antioxidant levels.
Flour: For this recipe, I use gluten-free plain white flour by Doves Farm (named freee).
Dried fruit: I use cranberries in this recipe, but I have also made it with dried cherries, and raisins. Use any dried fruit of your choice, just ensure that it is cut into small pieces.
Eggs: I use organic eggs. I've also made this cake vegan by substituting the eggs with ½ banana and 1 chia egg (1 tablespoon chia seeds + 3 tablespoon warm water, set aside until gel consistency). In this case, it won't rise as much, but the cake still tastes great.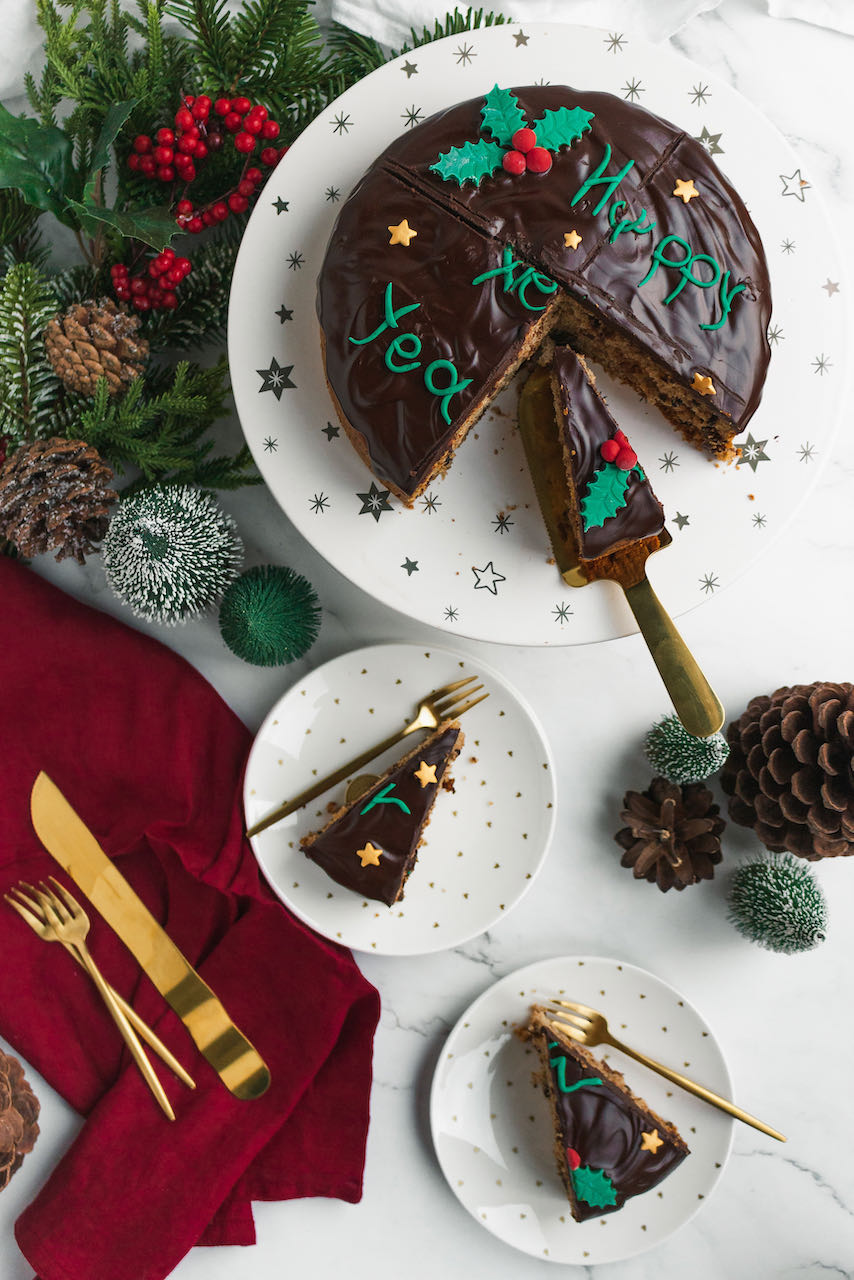 Tips & tricks
Use fresh baking powder. To test it, drop a tear of lemon or vinegar on a pinch of baking powder. If it foams, it is active.
Don't open the oven door until your cake is set, as this will deflate your cake.
Don't forget to add a coin to the mixture before baking it. If you forget (yes, it has happened to me too), make a small insert at the bottom of the cake with a knife and add it while the cake is slightly warm.
In gluten-free baking is always best to measure the ingredients by weight and not by volume. It is more precise and the end result is better.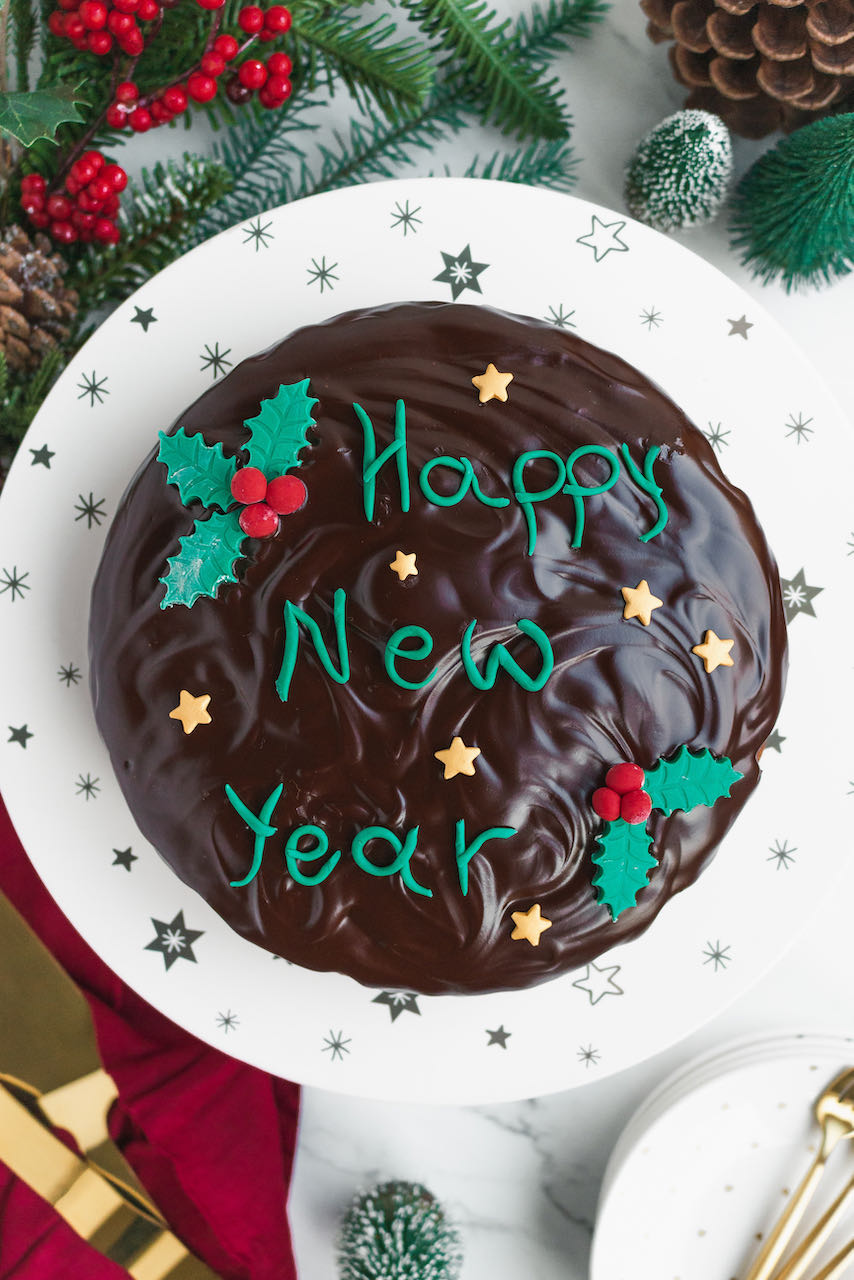 How to decorate and serve the Vasilopita
To decorate your Vasilopita use:
Chocolate Ganache (sugar-free)
Almond or coconut flour (or any other nut or seed flour)
Desiccated coconut
Coconut butter
Whipped cream
Powdered sugar (not sugar-free)
Caramel sauce (not sugar-free)
Slivered or sliced almonds
Sesame seeds
The tradition is to serve Vasilopita right after midnight on New Year's Day or after New Year's dinner. The head of the household forms the cross sign three times at the top of the cake and then slices it. The first slice is devoted to Christ, the second to Mary, and the third to Saint Basil. In our family, we devote the 4th piece to the house. The household head then serves the rest of the slices to everyone present at the house, from eldest to youngest.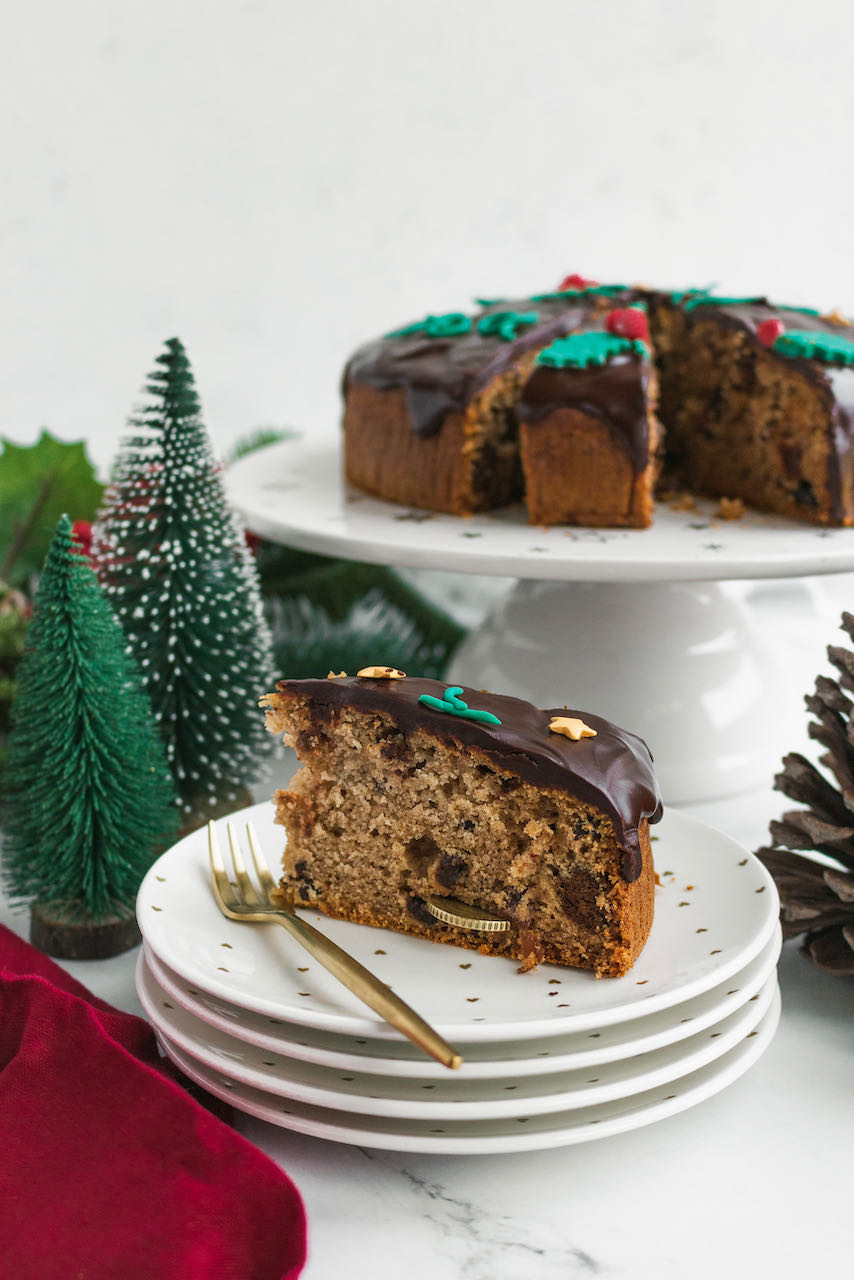 How to store
Store Vasilopita in an airtight container, at room temperature for 3 days, or in the fridge for up to 5 days.
You can also freeze the pieces wrapped in cling film (plastic wrap) for up to 3 months. Thaw them at room temperature and reheat them in the microwave or in the oven at 160ºC (325ºF) for a few minutes.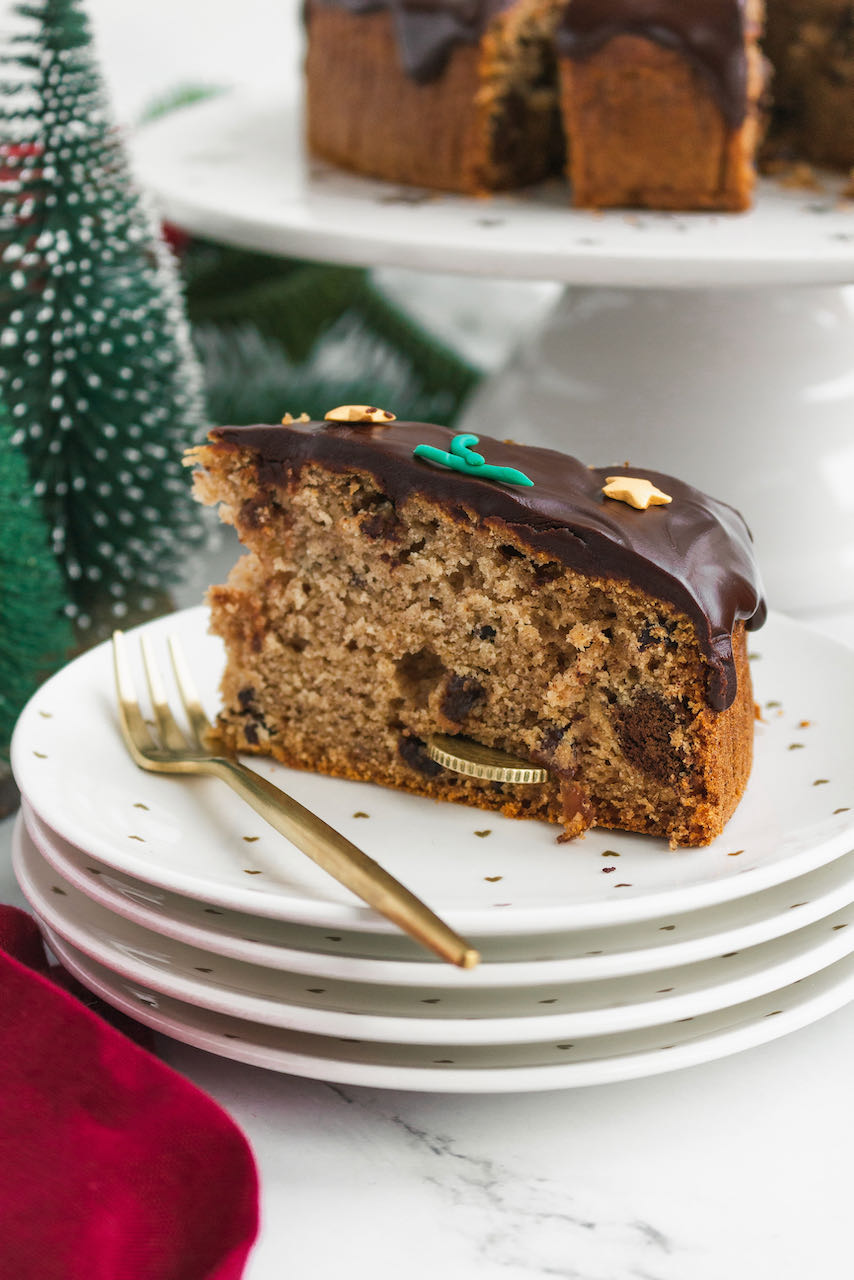 Other Greek winter holiday recipes
If you like Vasilopita you will definitely love these recipes too:
Recipe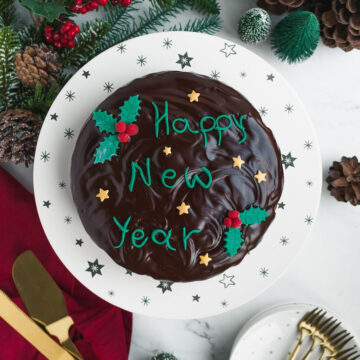 Healthy Gluten-Free Vasilopita
This Vasilopita is not only gluten-free, but also dairy-free, nut-free, and refined sugar-free. A healthy and delicious new year's cake. Happy new year!
Ingredients
300

g

very ripe bananas

⅓

cup/70 g

olive oil

mild

⅓

cup/120 g

honey or maple

⅓

cup/43 g

dried cranberries

no sugar

¼

cup/30 g

cacao nibs

½

teaspoon

baking soda

2

teaspoon

baking powder

1

teaspoon

cinnamon

1

teaspoon

vanilla extract

225

g

gluten-free plain white flour

½

teaspoon

xanthan gum

2

large

eggs
Instructions
Preheat the oven at 165ºC (350ºF) and place parchment paper at the bottom and on the sides of a 20 cm (8 inch) cake pan.

In a large bowl, add the eggs, olive oil, honey, vanilla extract, and bananas, and blend using an immerse blender until fluffy.

Sift the flour, cinnamon, baking powder, baking soda, and xanthan gum, and mix using a spatula until combined.

Mix the cacao nibs and dried cranberries until evenly distributed. Do not forget to add the coin (flouri).

Pour the mixture into the cake pan and bake it for an hour, or until a skewer comes out clean.

Remove from the oven and let the cake cool down in the pan.

Remove from the pan, place the cake on a cooling rack and let it cool completely. Decorate according to taste.

Cut and serve when the new year arrives.
Notes
Instead of an immersion blender, use a blender or a food processor.
In this recipe, I use the gluten-free plain white flour  Freee by Doves Farm.
Store in an airtight container, at room temperature, or in the fridge, for 3-5 days. Freeze Vasilopita pieces for up to 3 months.
In gluten-free baking is always best to measure by weight and not by volume for the best results.
Decorate with chocolate ganache, desiccated coconut, whipped cream, almond flour, or anything else you like. 
Nutrition facts
The nutrition facts do not include the chocolate Ganache.
Servings: 1 (66g) | Calories: 142kcal | Carbohydrates: 30g | Protein: 3g | Fat: 1.5g | Saturated Fat: 0.7g | Trans Fat: 0g | Cholesterol: 0mg | Sodium: 64mg | Potassium: 228mg | Fiber: 1.7g | Sugar: 12.13g | Vitamin A: 20IU | Vitamin C: 2.6mg | Calcium: 45mg | Iron: 1.33mg
Have you tried this recipe?
Spread the love and mention @foodathlon_ or tag #foodathlon on Instagram
Leave a comment and star rating ★ in the section below