These almond and cranberry energy bars are by far my favorite. I love the flavors of almond and vanilla. For the most part, I eat them as a dessert or as a pre-workout snack. Naturally sweetened and gluten-free, these energy bars are perfect for any time of the day.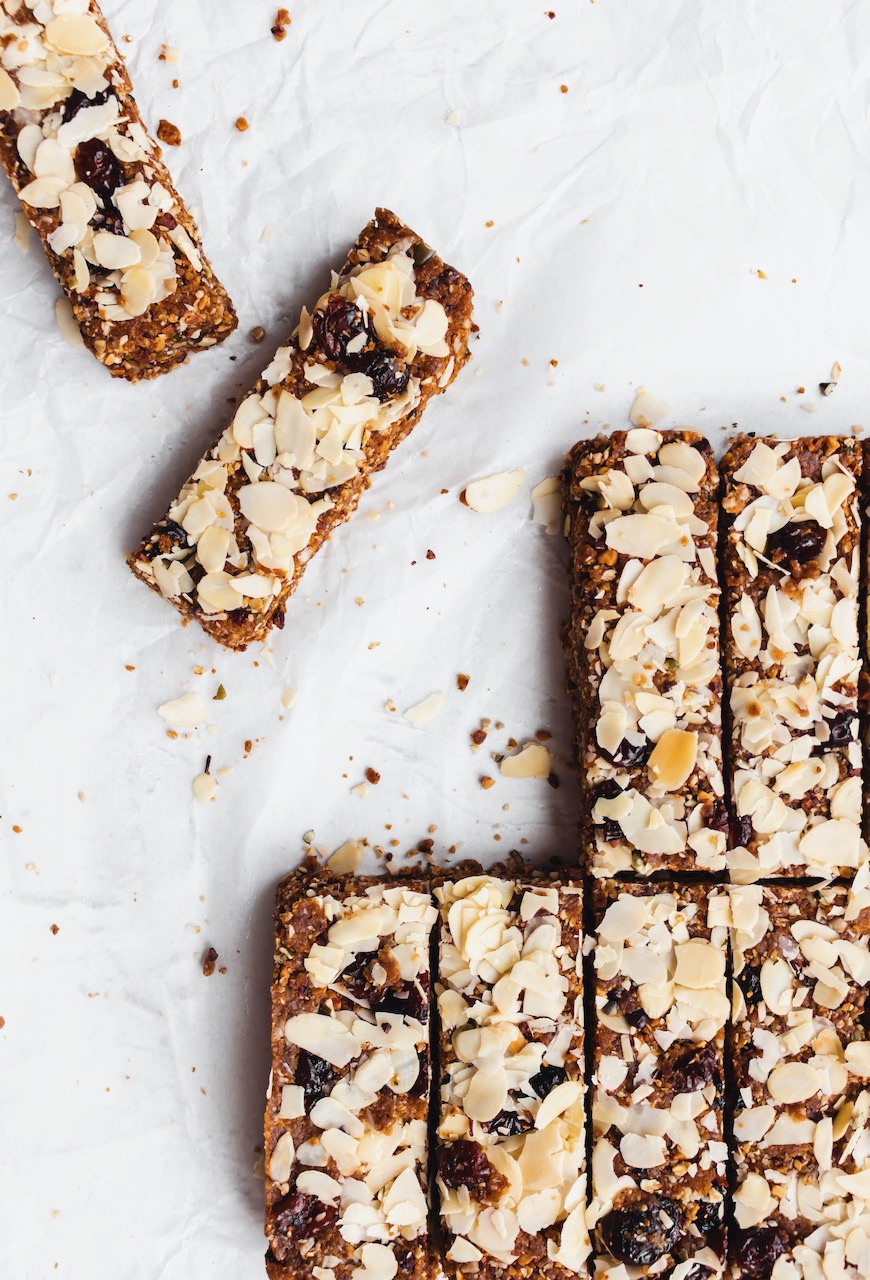 What is an energy bar?
Energy bars are high-energy snacks made with nutritious components. Typically consumed whenever energy expanse is high, such as athletic events and outdoor activities.
Ingredients for making almond & cranberry energy bars
Almonds: I use whole almonds and almond butter in this recipe cause I love their flavor, and also because almonds are a nutrient powerhouse. They contain a high amount of monounsaturated fats, protein, fiber, vitamin E and B2, manganese, magnesium, and copper.
Cranberries: I am using unsweetened dried cranberries, or cranberries that are sweetened with apple juice for this recipe. If you cannot find or like cranberries, you can use dried cherries or raisins. But always remember that cranberries are very high in antioxidants, filled with fiber, minerals such as manganese and copper, and vitamins E, C, and K.
Dates: Medjool dates are perfect for this recipe, of their large size, and their sweet, almost caramel taste. Rich in natural sugars, a good amount of fiber, antioxidants, a variety of B vitamins, and minerals, such as magnesium, calcium, potassium, and copper.
Seeds: I am using sunflower and pumpkin seeds for an extra crunch and because they are rich in healthy fats, fiber, and high in protein.
Cacao nibs: Love this healthy alternative to chocolate chips. They are a bit more bitter and intense, but an excellent source of iron, magnesium, potassium, protein, and fiber. They add crunch and a chocolatey flavor to the bars.
Coconut butter: Even though it's high in calories and contains a lot of saturated fat, it has a great amount of protein, iron, magnesium, potassium, and dietary fiber. Make sure that you use coconut butter, not coconut oil.
Rolled oats: Ensure that your rolled oats are gluten-free if you don't consume gluten. You can also use the same amount of oatmeal.
Sweetener: Use maple syrup if vegan, or honey if you consume it. If you are satisfied with the sweetness of the dates, you can omit to add extra sweeteners.
Tips & tricks for making the best almond cranberry energy bars
Place the energy bars in the freezer for at least 30 minutes to achieve a firmer texture faster.
Sprinkle with slivered almonds and diced cranberries at the top of the bars and then press the mixture to make it flat.
Serve
Enjoy them as breakfast, snack, or dessert.
How to store the almond & cranberry energy bars
Store the bars in an airtight container, in the fridge, for up to 3 weeks.
These energy bars are also freezer friendly. Freeze them individually, wrapped with parchment paper, for an easy grab-and-go snack.
Energy snack fan?
We have more energy snacks to offer:
Recipe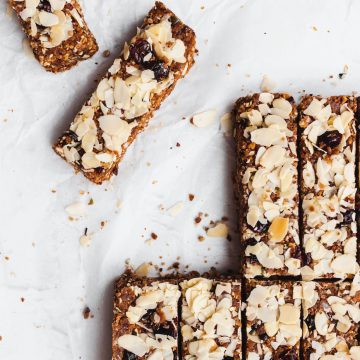 Almond & Cranberry Energy Bars
Bursting with almond and cranberry flavors these energy bars are perfect as a healthy snack, breakfast, dessert, or on the go treat.
Ingredients
12

large pitted Medjool dates

1

cup/90g

rolled oats

gluten-free

2

tbsp/43g

maple syrup or honey

2

tbsp/32g

melted coconut butter

½

cup/120g

almond butter

⅓

cup/50g

whole unsalted baked almonds

⅓

cup/65g

dried cranberries

⅓

cup/30g

cacao nibs

¼

cup/34g

sunflower seeds

¼

cup/30g

pumpkin seeds

2

tsp/10ml

vanilla extract
Toppings
3

tbsp/13g

sliced almonds

1

tbsp/8g

dried cranberries
Instructions
Add the pitted dates to a food processor and blend until pureed (they will form a ball).

Then add the almond butter, coconut butter, vanilla extract, and maple syrup and blend.

Add the rolled oats, almonds, cranberries, cacao nibs, pumpkin seeds, sunflower seeds, and pulse until combined.

Line a 20x20cm (8x8 inch) pan with parchment paper.

Transfer the mixture to the pan and level it with a spatula.

Top it with some slivered almonds and extra cranberries and press down until flat.

Place the pan in the fridge for at least 2 hours (or 30 minutes in the freezer), to harden the mixture.

Remove and cut into 12 bars.
Notes
You can store the bars in an airtight container in the fridge for several weeks.
If you want to store them longer, put them in the freezer. The bars are freezer friendly.
Nutrition facts
Servings: 1 (65g) | Calories: 246kcal | Carbohydrates: 32g | Protein: 6.55g | Fat: 13g | Saturated Fat: 2.184g | Trans Fat: 0.002g | Cholesterol: 0mg | Sodium: 4mg | Potassium: 392mg | Fiber: 5.2g | Sugar: 21g | Vitamin A: 40IU | Vitamin C: 0.5mg | Calcium: 78mg | Iron: 1.87mg
Have you tried this recipe?
Spread the love and mention @foodathlon_ or tag #foodathlon on Instagram
Leave a comment and star rating ★ in the section below