When in season, these vegan Greek zucchini and carrot fritters are simple perfections.
A popular traditional Greek appetizer typically served with ouzo as meze. Vegan Greek zucchini and carrot fritters are eaten mostly during fasting. A crispy, fluffy, and simple delicacy.
Zucchini fritters are a Mediterranean favorite, and every country cooks them in a different style. In Greece, we call them kolokithokeftedes and you can fry them or bake them in the oven.
In this recipe, they are gluten-free, vegan, and oven-baked. That makes them as healthy as it gets.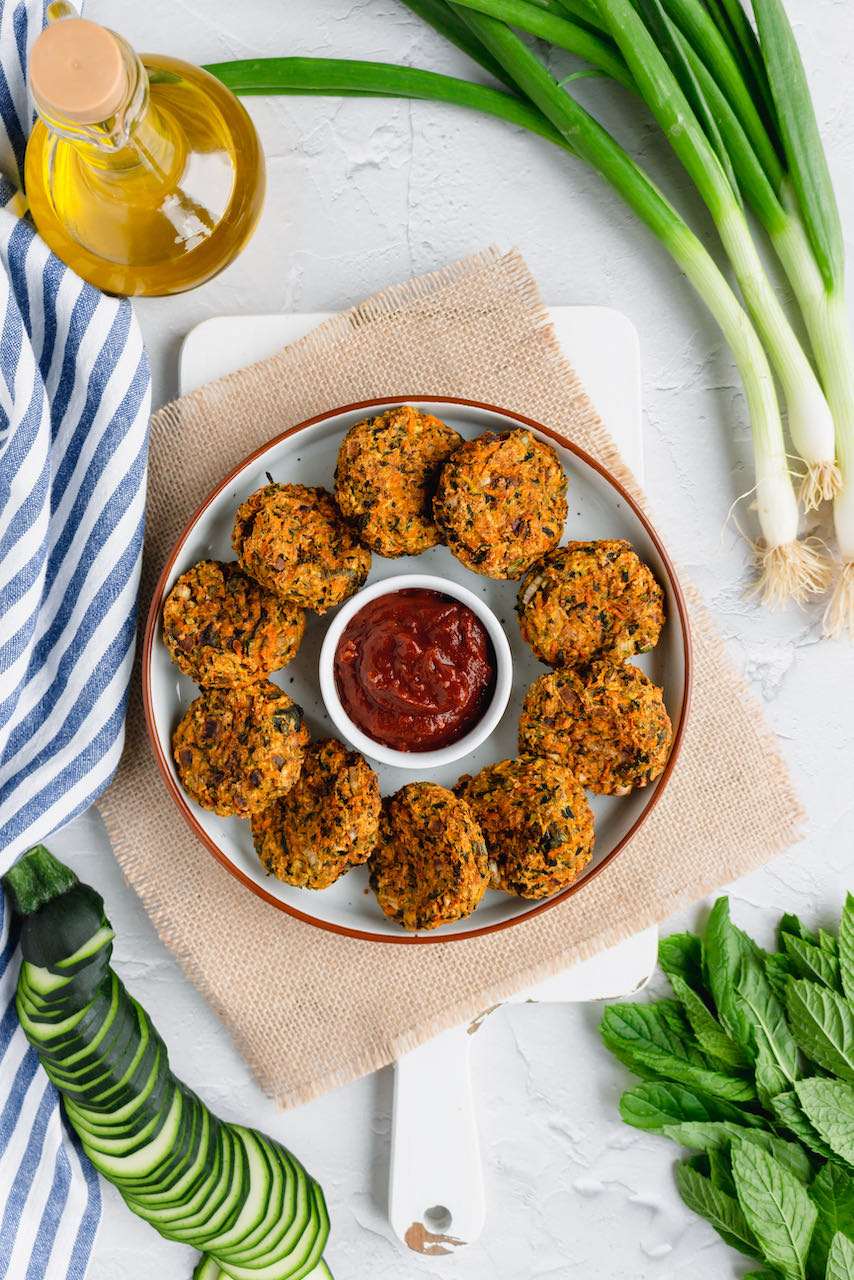 Why vegan zucchini & carrot fritters are good for you?
These fritters are good for you because they contain a lot of veggies. Furthermore, they are gluten-free and vegan so they don't contain dairy or egg products that some people can not consume.
Zucchinis are low in calories but they contain good amounts of folate, potassium, fiber, and vitamin C. Carrots are filled with antioxidants, beta-carotene, fiber, potassium, and vitamin K.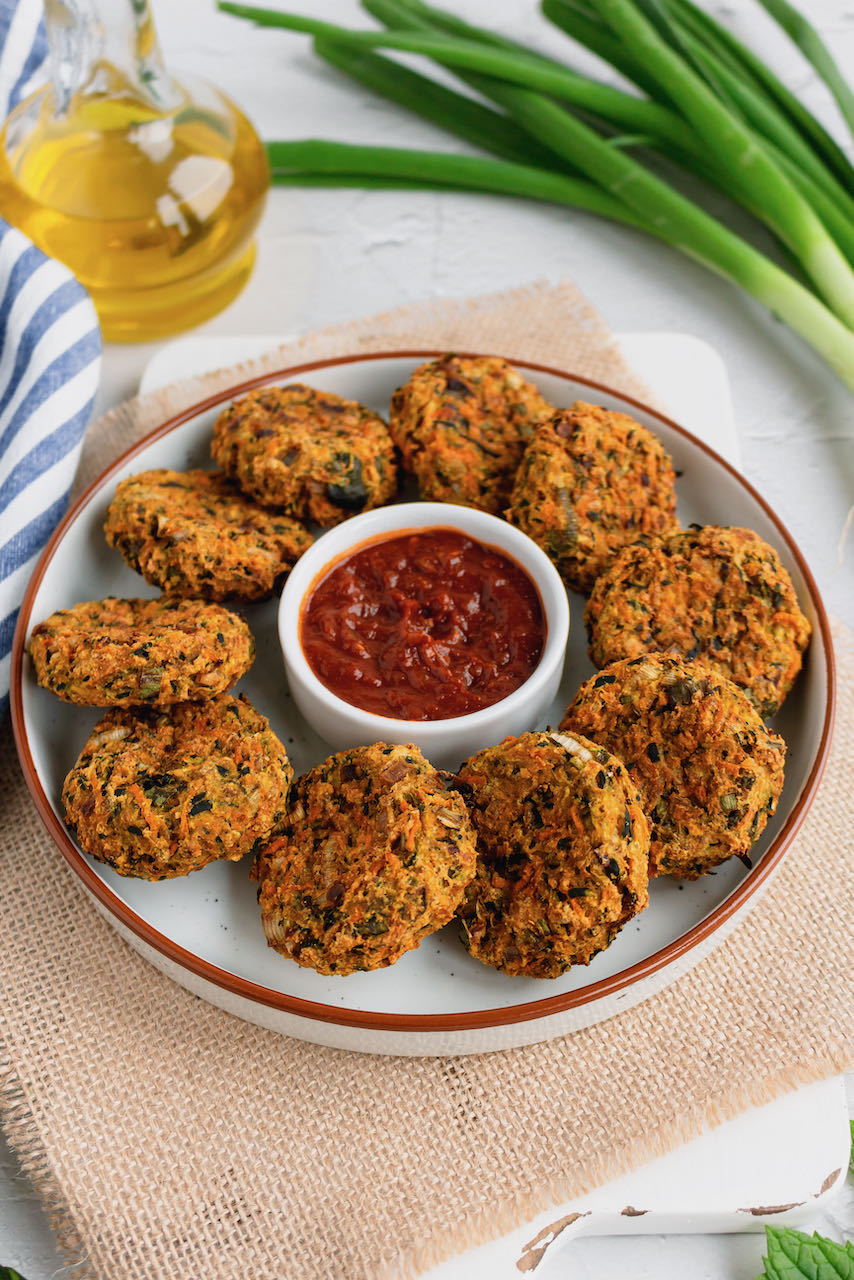 Vegan Greek zucchini & carrot fritters ingredients
Zucchini: Also known as courgette or summer squash, it is the main ingredient of this dish. Best consumed during spring and summer.
Carrots: They provide a sweet earthy flavor to the dish and they are highly nutritious. Not a typical ingredient of Greek zucchini fritters, but I love their taste and I think that they are a perfect match.
Olive oil: One of the healthiest fats on earth. Filled with antioxidants. Research has shown that it reduces inflammation and protects against heart disease. I am using extra virgin olive oil, both in the batter and in the frying pan (when deep-fried).
Spring and red onions: Onions are low in calories and are used as a flavoring in the dish. They are very rich in healthy soluble fibers, antioxidants, and are considered to be anti-inflammatory.
Herbs: The most frequently used herbs in kolokithokeftedes are dill and garlic. Others are spearmint/mint and/or parsley. Herbs are highly used in Mediterranean cuisine, for their distinctive flavor and aromas.
Spices: Salt and pepper are staples in the Mediterranean kitchen. The addition of smoked paprika adds a smokey flavor to the dish. Always season according to your taste and diet.
Flour: To make gluten-free kolokithokeftedes, I use a mix of corn and oat flour. You can always use the same amount of all-purpose flour if you can consume gluten.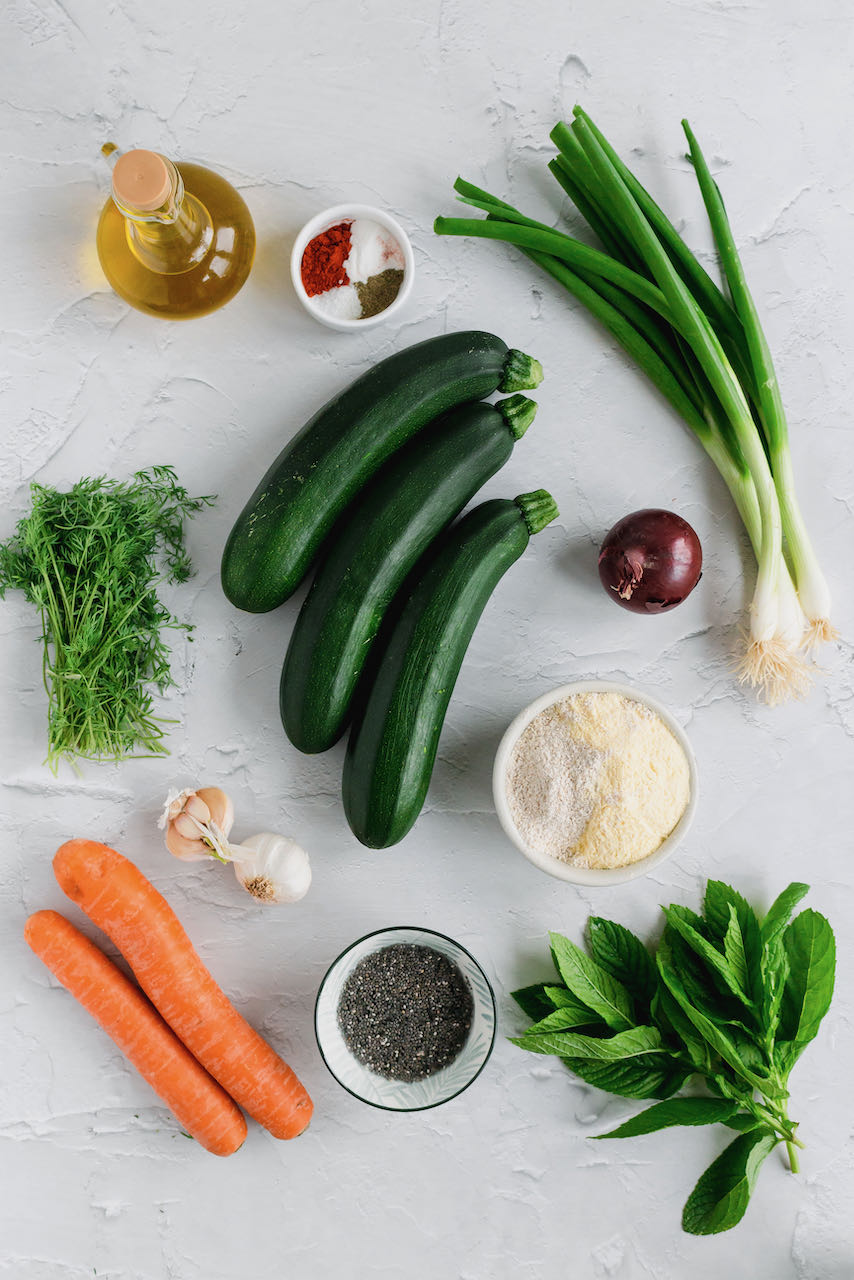 Tips & tricks
Squeeze out as much liquid/moisture as possible from the grated zucchini. Less liquid gives you crunchier kolokithokeftedes. Use your hands or a cheesecloth.
If your zucchini has too many seeds, scrape them out before grating. The seeds make the batter more watery.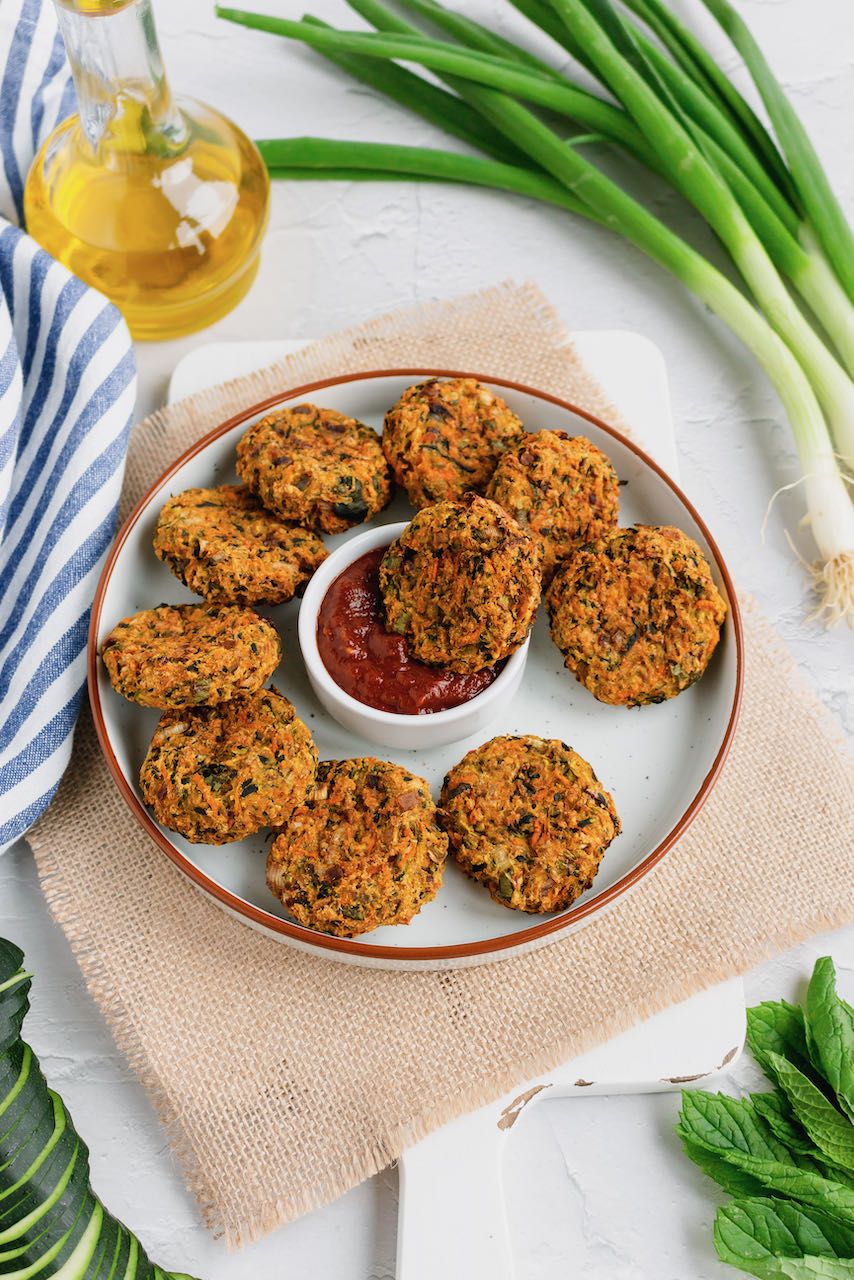 How to serve vegan zucchini & carrot fritters
Kolokithokeftedes are best consumed the same day.
Serve them as an appetizer (meze, as we call it in Greece), side dish, or main. Dip it in tzatziki, yogurt sauce, Greek salad, or spicy ketchup.
Squeeze some fresh lemon juice on top of kolokithokeftedes before eating them, to add some zest.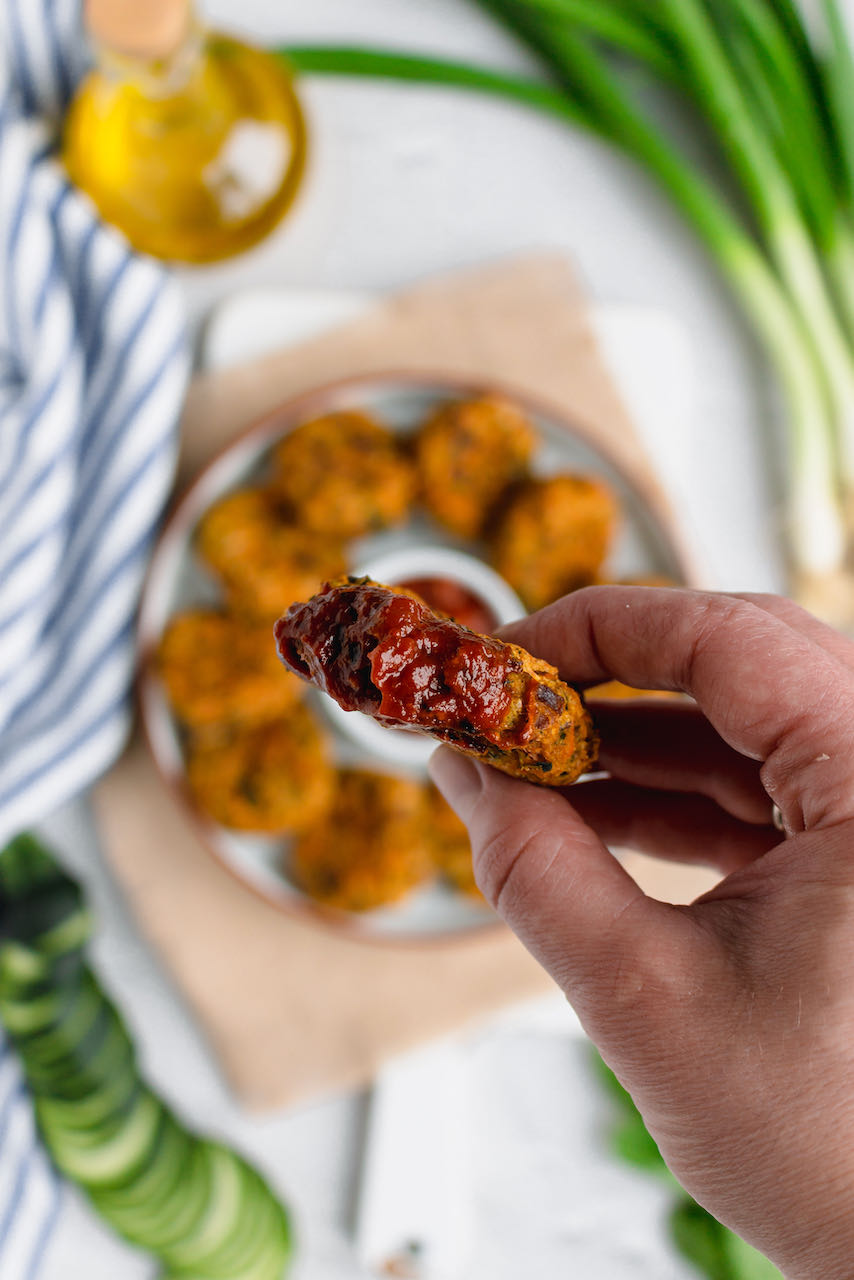 How to store vegan zucchini & carrot fritters
Store cooled kolokithokeftedes in an airtight container in the fridge for up to 4 days.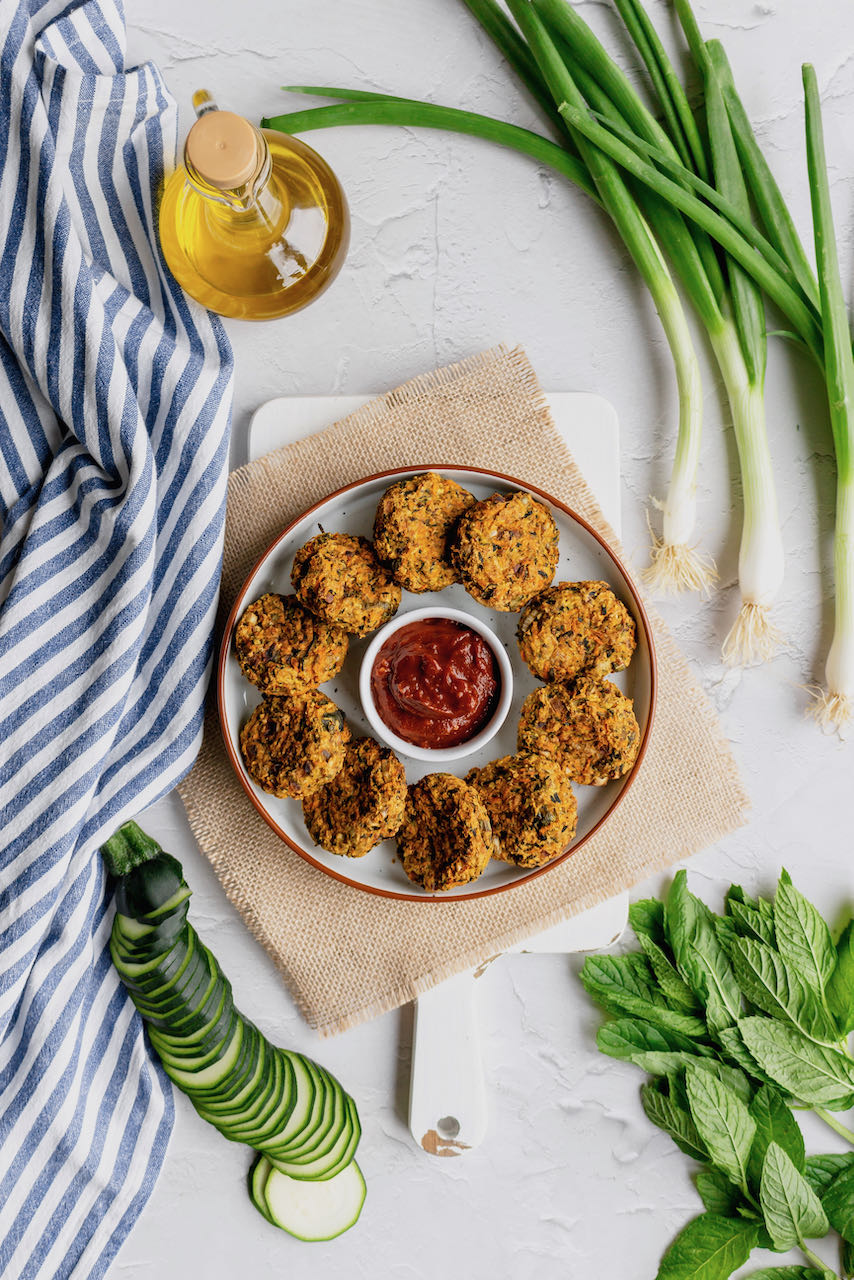 Are you a zucchini fan?
Try also these recipes:
Recipe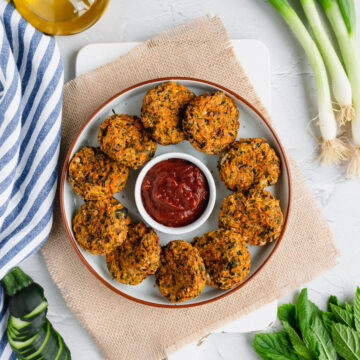 Vegan Greek Zucchini & Carrot Fritters
Delicious gluten-free, vegan, and oven-baked Greek zucchini and carrot fritters. These fritters are filled with vegetables which makes them as healthy as they can be. A crispy, fluffy, and simple delicacy.
Ingredients
500

g/17.5 oz

coarsely grated zucchini

squeezed

150

g/4.9 oz

coarsely grated carrots

1

small

red onion

2

garlic cloves

3

spring onions

finely chopped

60

g/2.11 oz

oat flour

60

g/2.11 oz

corn flour

fine polenta

2

tablespoon

olive oil

extra virgin

1

teaspoon

sea salt

½

tsp

ground black pepper

1

teaspoon

smoked paprika powder

2

tablespoon

fresh dill

2

tablespoon

spearmint/mint

1

teaspoon

baking powder

1

tablespoon

chia seeds

3

tablespoon

warm water
Instructions
Grate the zucchini and carrots. I use a food processor with a 4mm grater blade. If you don't have a food processor, you can use the large blades of a hand grater.

Place the grated zucchini in a mesh strainer and sprinkle with ½ teaspoon sea salt. Mix the chia seeds with 3 tablespoon of warm water and leave it until gelly consistency.

Let the zucchini release its moisture. Mix and squeeze it with your hands or place them in a tea towel/cheesecloth and squeeze as much moisture as possible out.

Finely dice the red onion and chop the spring onions.

Add the onions, the chia seeds, and the grated zucchini in a bowl.

Finely chop the spearmint and the dill and place them in the bowl.

Add the rest of the ingredients to the bowl and mix until well combined.

Preheat the oven at 190°C (375°F) fan.

Place parchment paper on a baking tray.

Oil your hands, and using a heaped tablespoon of the mixture, form the zucchini balls.

Place the ball on the parchment paper and press lightly with your fingers until you get a fritter shape.

Bake for 30-35 minutes until crisp and golden.
Notes
Use a bit of olive oil in your hands to shape the kolokithokeftedes. Or use a lightly greased ice cream scoop. Another option is to wet your hands with water every time you make a ball.
If you want to deep-fry kolokithokeftedes, heat a frying pan with some olive oil over medium/high heat, and when the oil gets hot drop tablespoons of the batter. Fry them for ~ 2 minutes on each side until golden brown, remove them from the oil, and place them on kitchen towels. Do not overcrowd the pan if you want them to be crispy.
Serve them plain, with yogurt, bbq sauce, or ketchup.
Store them in an airtight container, in the fridge, for up to 4 days
Nutrition facts
Servings: 1 (66g) | Calories: 65kcal | Carbohydrates: 7.7g | Protein: 1.46g | Fat: 3.57g | Saturated Fat: 0.5g | Trans Fat: 0g | Cholesterol: 0mg | Sodium: 343mg | Potassium: 171mg | Fiber: 1.5g | Sugar: 1.58g | Vitamin A: 1873IU | Vitamin C: 8.1mg | Calcium: 31mg | Iron: 0.67mg
Have you tried this recipe?
Spread the love and mention @foodathlon_ or tag #foodathlon on Instagram
Leave a comment and star rating ★ in the section below