A vibrant green pesto made with spinach, almonds, and a Greek hard cheese, beautifully coating some gluten-free fussily pasta. A great Italian-inspired dinner choice with a Greek twist.
A fresh, quick, easy, and full-of-flavor dish made in under 30 minutes.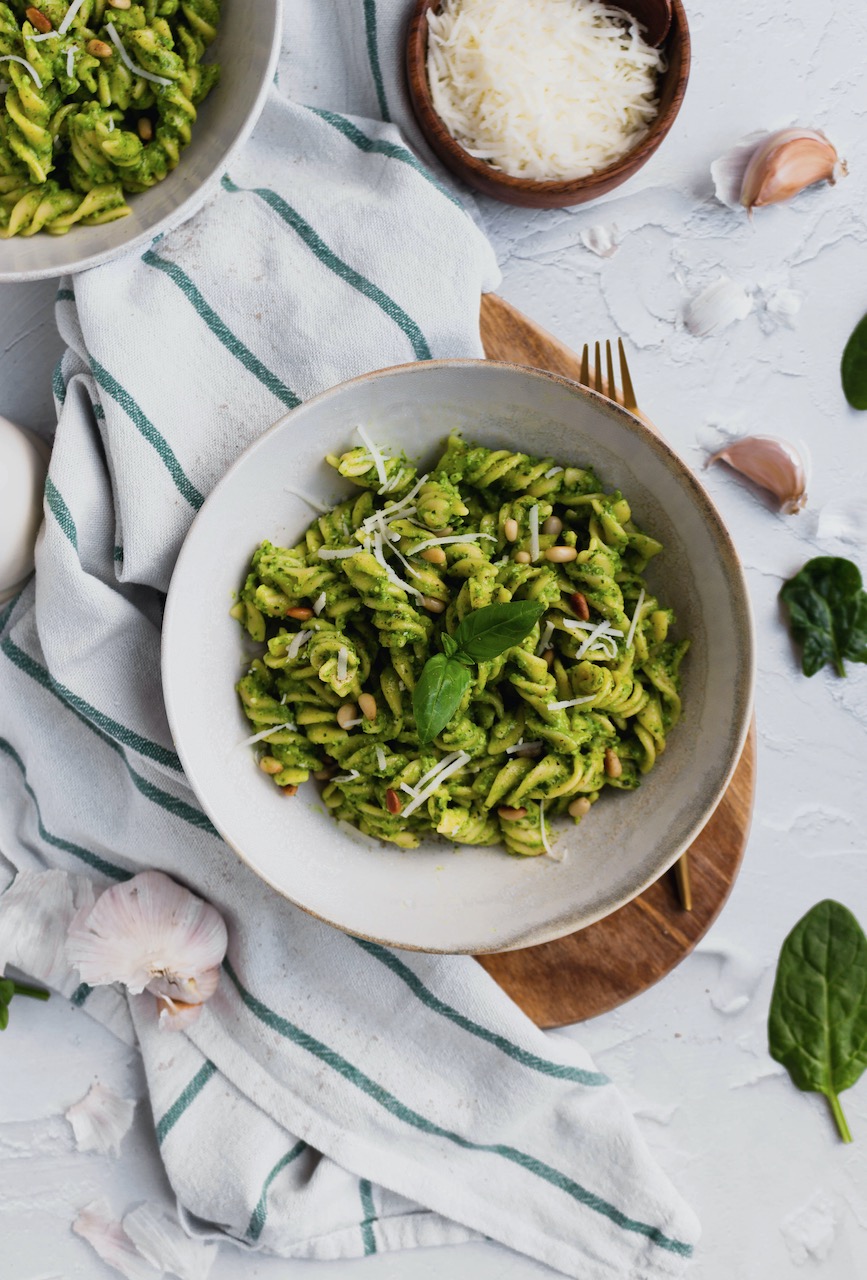 What is pesto?
Pesto literally means to pound or to crush in the Genoese dialect. According to the tradition the ingredients were pounded in marble or stone mortar with a wooden pestle. In reality, there is not one pesto recipe and any combination of ingredients that are grounded is a pesto.
The most well-known pesto is the pesto all Genovese. A vibrant green sauce made out of basil leaves, pine nuts, garlic, and hard cheese like Parmesan or Pecorino blended with olive oil. 
This classic Mediterranean recipe combines simple fresh and seasonal ingredients into a spectacular dish. This traditional Italian dish has some of my twists, but you can always stay with the classics if you prefer that.
Ingredients for making spinach pesto pasta
Spinach: Spinach is at its best from March until June, has a high nutritional value, and it's a rich source of vitamin A, vitamin K, magnesium, iron, and folate. It gives a specific taste to this pesto pasta. You can use fresh or frozen but I really like to use baby spinach leaves because they are sweeter.
Nuts: We use almonds and pine nuts as a base for the pesto. With their sweet nutty flavors and their buttery texture, they add body to the sauce.
Basil: What a pesto would be without the addition of basil? An aromatic herb used widely in the Mediterranean basin, especially Italy, filled with vitamin K, vitamin A, manganese, and iron.
Garlic: With its sharp flavor and the distinctive aroma that gives in a dish garlic can be a beloved or hated ingredient. If you want a more subtle flavor you can reduce or omit the garlic and if you want a greater punch you can add more according to your taste.
Kefalograviera: A Greek hard cheese with a salty flavor and a rich aroma. Great as grated over pasta. It gives an interesting flavor and texture to the sauce. If you cannot find Kefalograviera you can always use the typical Italian cheeses for pesto-like pecorino or parmesan.
Olive oil: One of the healthiest fats on earth and a staple in Mediterranean cuisine. Use a good-quality extra-virgin olive oil (EVOO) for a bit of bitterness and a great aroma.
Pasta: Use fusilli or rotini or any other pasta with curves. It allows the sauce to stick to the pasta better. If you are making the dish gluten-free use pasta made out of corn and rice, or corn and quinoa combination.
Tips & tricks for a great spinach pesto pasta
If you have an almond allergy replace the almonds with walnuts or any other tree nut.
You can omit all the nuts from the sauce and make a French pistou.
Serve
Serve the pasta with crostini or garlic bread, a fresh tomato salad, and a glass of dry white wine.
How to store the spinach pesto pasta
If you have extra pesto sauce, you can freeze it. You can also place it in the fridge for a week in an airtight container.
You can store the pasta in an airtight container for up to 4 days in the fridge.
In love with pasta?
Don't miss the following recipes:
Recipe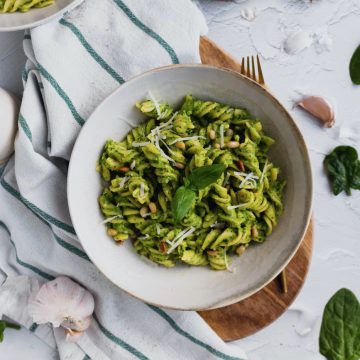 Spinach Pesto Pasta
A fresh, quick, easy and full of flavor dish made under 30 minutes.
Ingredients
500

g/17.5oz

gluten free fusilli pasta 

100

g/3.5oz

spinach leaves

15

g/0.5oz

basil leaves

30

ml/2 tbsp

lemon juice

2

garlic cloves

75

g/1/2 cup

white almonds

unsalted

60

ml/1/4 cup

olive oil

extra virgin

100

g/3.5oz

kefalograviera

9

g/1 Tbsp

pine nuts

salt and pepper

to taste
Instructions
Wash the spinach leaves, drain the excess water and put them in a food processor.

Add the basil leaves, lemon juice, cheese, almonds, garlic, and olive oil, and process until they become a smooth sauce.

Cook the pasta al dente, following the package instructions, keep about ½ cup of the water that pasta was boiled in and drain.

Put the pod over medium/high heat. Add the pine nuts and let them get some colour.

Add the pasta and the sauce into the pot, stir until the pasta is well coated, adding some of the reserved water to make it silky.

Add salt and freshly grounded black pepper according to your taste.

Serve while still warm and sprinkle with more grated kefalograviera, lemon zest, and black pepper.
Notes
Make it vegan/dairy-free: add a vegan hard cheese or add 2 tablespoon nutritional yeast to the mixture.
Nutrition facts
Servings: 1 (178g) | Calories: 404kcal | Carbohydrates: 41g | Protein: 15g | Fat: 21.4g | Saturated Fat: 2.9g | Trans Fat: 0g | Cholesterol: 4mg | Sodium: 247mg | Potassium: 404mg | Fiber: 7g | Sugar: 1g | Vitamin A: 2131IU | Vitamin C: 8.9mg | Calcium: 233mg | Iron: 2.58mg
Have you tried this recipe?
Spread the love and mention @foodathlon_ or tag #foodathlon on Instagram
Leave a comment and star rating ★ in the section below