An epic spaghetti lentil meatballs recipe is about to happen. Who doesn't love a delicious spaghetti plate with some sauce and meatballs on top? An Italian classic dish, known all over the world. But when you make your meatballs with lentils instead of meat, you are up for an amazing surprise.
The texture is very fluffy and the flavor is even better, and this comes from a person who did not like (brown) lentils until recently. An incredible vegetarian alternative filled with Italian-Mediterranean flavors, that makes it a great main course.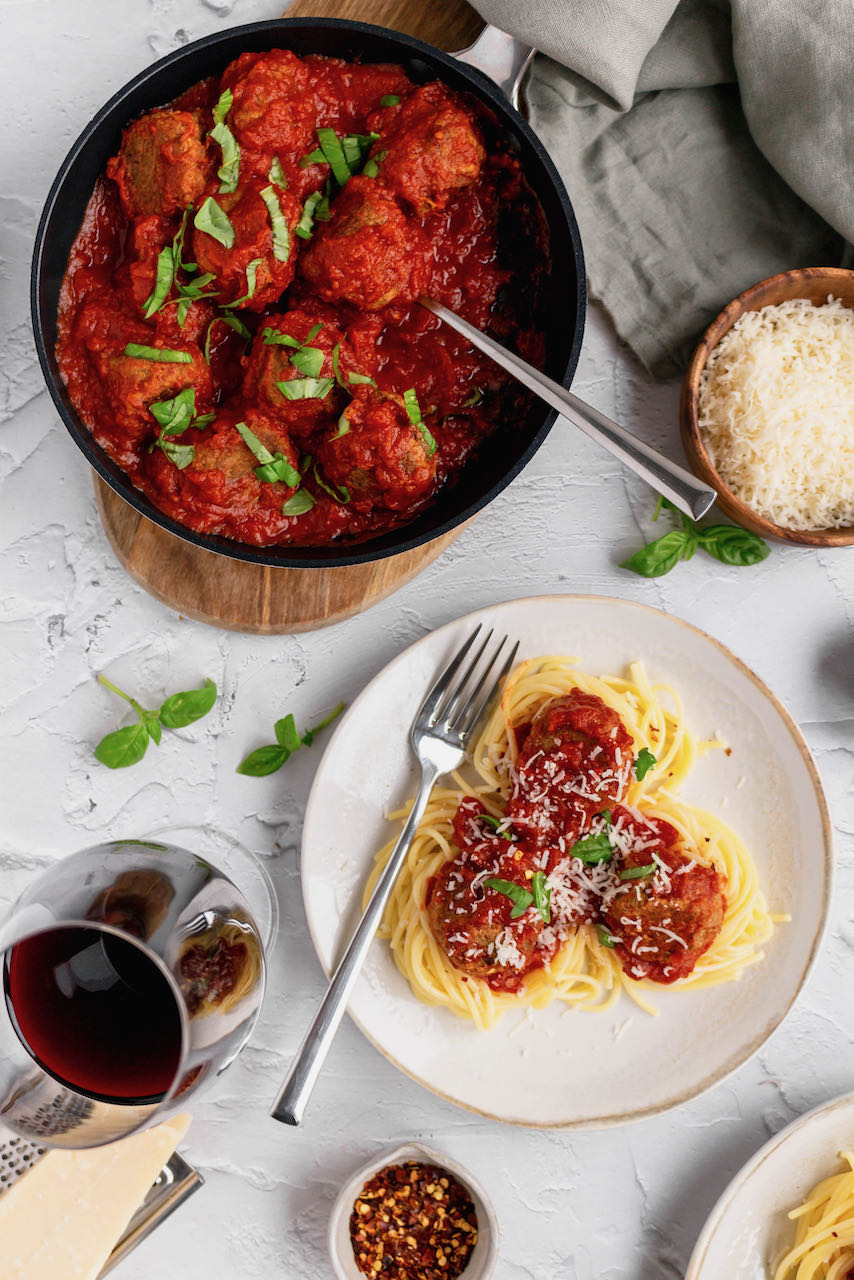 Why spaghetti lentil "meatballs"?
Legumes are one of the Mediterranean diet staples, and it is highly recommended to consume them daily. At our home, we cook them at least twice a week as a main dish. Lentils are packed with iron, dietary fiber, B-complex vitamins, magnesium, zinc, and potassium. They are made up of over 25% protein, which makes them a great vegetarian or vegan meat alternative. Lentils are inexpensive, easy to cook - only need 5 to 20 minutes depending on the variety - and they don't require soaking, unlike other legumes.
Ingredients for making spaghetti lentil meatballs
Lentils: Use already cooked lentils.
Carrot: Use it for the sweet taste, color, and vitamins that it provides to this dish.
Onion & garlic: The vegetables of choice for everyday use in Mediterranean cuisines. They provide a mildly sweet and caramelized flavor to the dish. Saute them in some olive oil before adding them to the mixture.
Oats: They are used to soak up the juices and create a more sturdy meatball. Use certified gluten-free rolled oats or oat flour to be sure that your dish has no gluten. If you consume gluten, you can replace them with stale bread.
Egg: It works as a binding agent. Use organic eggs. In case of an allergy or to make it vegan replace it with a chia seed or flaxseed egg (1tbsp ground chia or flaxseeds + 3tbsp warm water and let it rest for 5-10 minutes).
Sun-dried tomatoes: They are adding a sweet-tart umami flavor to the lentil balls. Drain and pat dry the excess oil with kitchen towels before using them.
Parmesan cheese: It adds a unique salty-sharp flavor, and binds the ingredients together. Use plant-based parmesan instead to make the dish dairy-free and/or vegan. You can also use almonds or cashews instead of parmesan.
Herbs & spices: Salt and black pepper are the staples. Use some paprika for sweetness, oregano, and basil for the aromas and incredible Mediterranean taste.
Spaghetti: I use gluten-free spaghetti for this recipe but you can use any type of pasta that you like and have at your home.
Tomatoes: Use crusted canned tomatoes for the sauce or fresh tomatoes that you have crushed in a food processor.
Olive oil: Use olive oil for the lentil meatballs and for the sauce. I prefer using extra-virgin olive oil.
Tips & tricks for tasty spaghetti lentil meatballs
Cook about ¾ to 1 cup of dried brown or green lentils. Place them in a pot and cover them with water. Add two bay leaves and the veggie scraps in a bag made from cheesecloth and put it in the pot. Bring it to a boil, lower the temperature, and simmer for 15-20 minutes, until the lentils are soft. Drain and rinse the lentils with cold water to prevent further cooking, and let them cool completely.
This recipe is the best way to utilize already-cooked lentils and create an easy, quick, and comfort dish.
To prevent the lentil balls from sticking in your hands while you are shaping them, keep your hands wet or add some olive oil to your palms.
Use a tablespoon or a cookie dough scoop to make even and round lentil balls.
If we don't have a food processor we can use a potato masher for the lentils, and a fine grater for the vegetables and we mix all the ingredients by hand.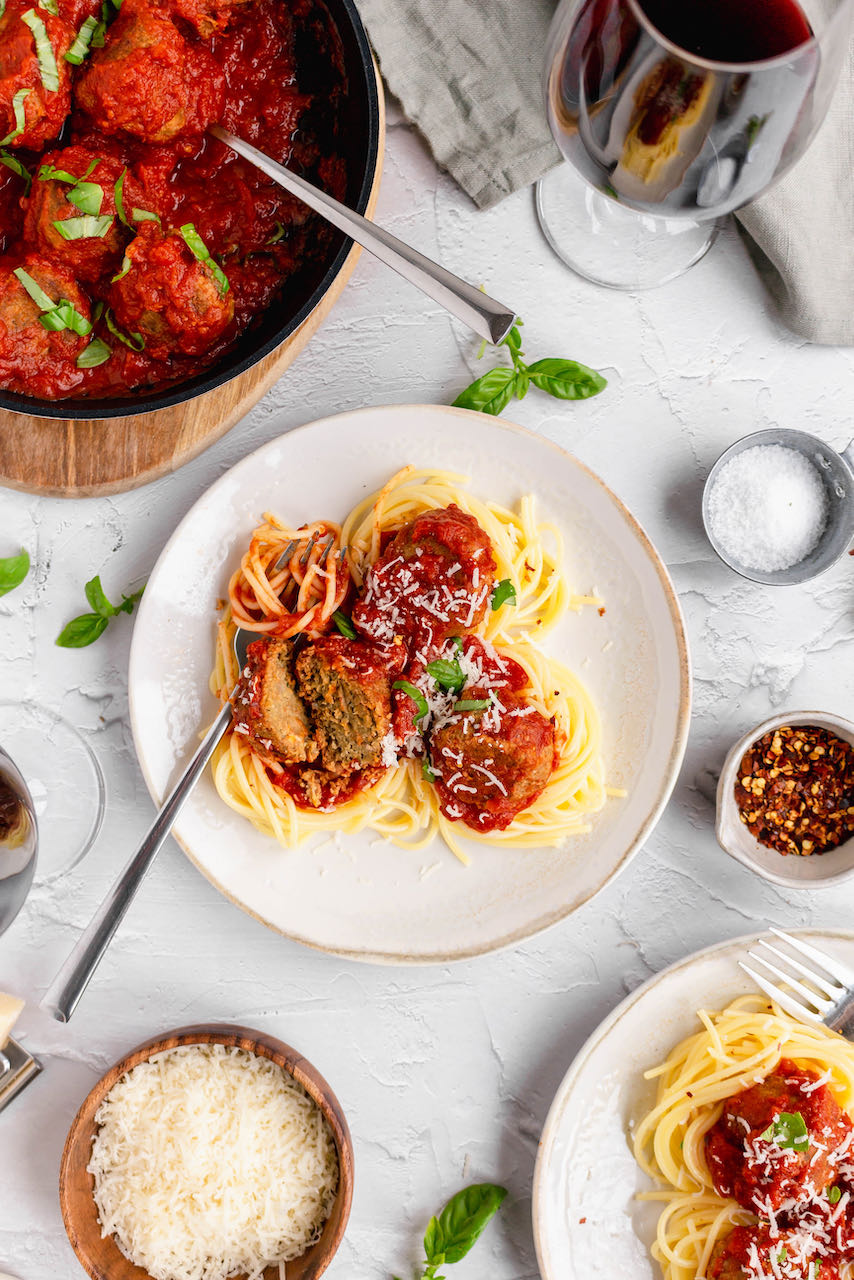 How to serve the spaghetti lentil meatballs
Serve the lentil balls dipped into the marinara sauce with a bowl of spaghetti. Top them with some Parmesan cheese, chili flakes, and fresh basil for extra flavor.
Instead of spaghetti, use rice or vegetable noodles or have them plain with some crusty bread to dip and scoop the tomato sauce.
How to store
Uncooked lentil "meatballs" can be stored in the fridge (shaped or as a batter), in an airtight container, for 1 day.
Cooked lentil "meatballs" can be stored in the fridge, in an airtight container, for up to 5 days.
Freeze the cooked lentil "meatballs" without the sauce for 2 months. Thaw them overnight in the fridge and add them to the sauce while simmering to warm them up.
Related recipes
We have more recipes with legumes and pasta:
Recipe
Spaghetti lentil "meatballs"
A delicious, lentil "meatball" recipe, packed with Italian flavors. An alternative to meat, this fluffy vegetarian dish is a great and filling main.
Ingredients
For the lentil balls
400

g/16oz

brown lentils

cooked, drained, cooled

1

medium

carrot

1

large

red onion

3

cloves

garlic

60

g/2.1oz

sun-dried tomatoes

70

g/2.5oz

fresh basil

65

g/2.3oz

Parmesan cheese

90

g/1 cup

rolled oats

gluten-free

1

medium

egg

1

teaspoon

sweet paprika powder

1

teaspoon

dried oregano

2

tablespoon

olive oil

extra virgin

½

teaspoon

sea salt

½

teaspoon

black pepper

freshly ground
For the marinara sauce and spaghetti
500

g/17.6oz

spaghetti pasta

gluten-free

600

g/21.1oz

crust tomatoes

1

tablespoon

olive oil

extra virgin

1

tablespoon

tomato paste

1

clove

garlic

40

g/1.4oz

fresh basil

salt & pepper

to taste

chili flakes

optional
Instructions
For the lentil balls
Start with cooked, drained, and cooled brown lentils. If not, place ~ 1 cup brown lentils into a pot, cover them with water or vegetable broth, add 2 bay leaves, and boil for 20 minutes, until soft but firm.

Place a non-stick pan (24cm/9.5inch) over high heat and add a teaspoon of olive oil.

Mix the onion and garlic in a food processor, and once the pan is hot, reduce heat, add the mixture, and saute until caramelized (~ 3-5 minutes). Set aside.

Add carrot, Parmesan cheese, sun-dried tomatoes, and basil into the food processor and blend.

Next, add the caramelized onion (keep the pan), rolled oats, egg, spices, and lentils, and pulse for a few times until the mixture is combined. Do not over-mix.

Using a tablespoon, make the lentil balls and place them in the fridge for 30 minutes to set and become firm.

Take the lentil balls out of the fridge, heat 1 tablespoon olive oil over medium heat, and place half of them in the pan. Cook them evenly on all sides, until golden brown. Repeat for the remaining half, after adding 1 tablespoon olive oil.
For the marinara sauce and spaghetti
Using the same pan, add 1 tablespoon olive oil and saute the garlic over medium heat.

Add the tomato paste, crust tomatoes, half of the basil, chili flakes (if used), salt & pepper, and stir.

Let the sauce simmer and stir occasionally, until it starts to thicken.

While the sauce is simmering, cook the pasta according to the package instructions.

When the sauce starts to thicken, add the "meatballs", shake the pan softly (or use a spoon) to roll the balls around.
Serve
Serve the spaghetti topped with the sauce, the lentil balls, the remaining half of basil (finely chopped), and some Parmesan cheese.
Notes
Skip the cooling time if your lentils are already cooked and chilled.
For a vegan alternative, use vegan Parmesan cheese or almonds/cashews and 1 tablespoon nutritional yeast. Replace the egg with a chia or flaxseed egg.
For a lighter version, bake the lentil balls for 15 minutes in a preheated oven at 190

°

C (375

°

F) fan.
Nutrition facts
Servings: 1 (336g) | Calories: 346kcal | Carbohydrates: 41g | Protein: 15.87g | Fat: 14.6g | Saturated Fat: 3.4g | Trans Fat: 0.1g | Cholesterol: 38mg | Sodium: 728mg | Potassium: 1054mg | Fiber: 11.9g | Sugar: 9g | Vitamin A: 3702IU | Vitamin C: 30.7mg | Calcium: 211mg | Iron: 5.25mg
Have you tried this recipe?
Spread the love and mention @foodathlon_ or tag #foodathlon on Instagram
Leave a comment and star rating ★ in the section below