Potatoes are an extremely common and delicious side dish. We can cook them in many different ways. This potato recipe is simple, yet so tasty! Herb roasted baby/new potatoes cooked Greek-style, and guarantee that you always have a hit dish at your table.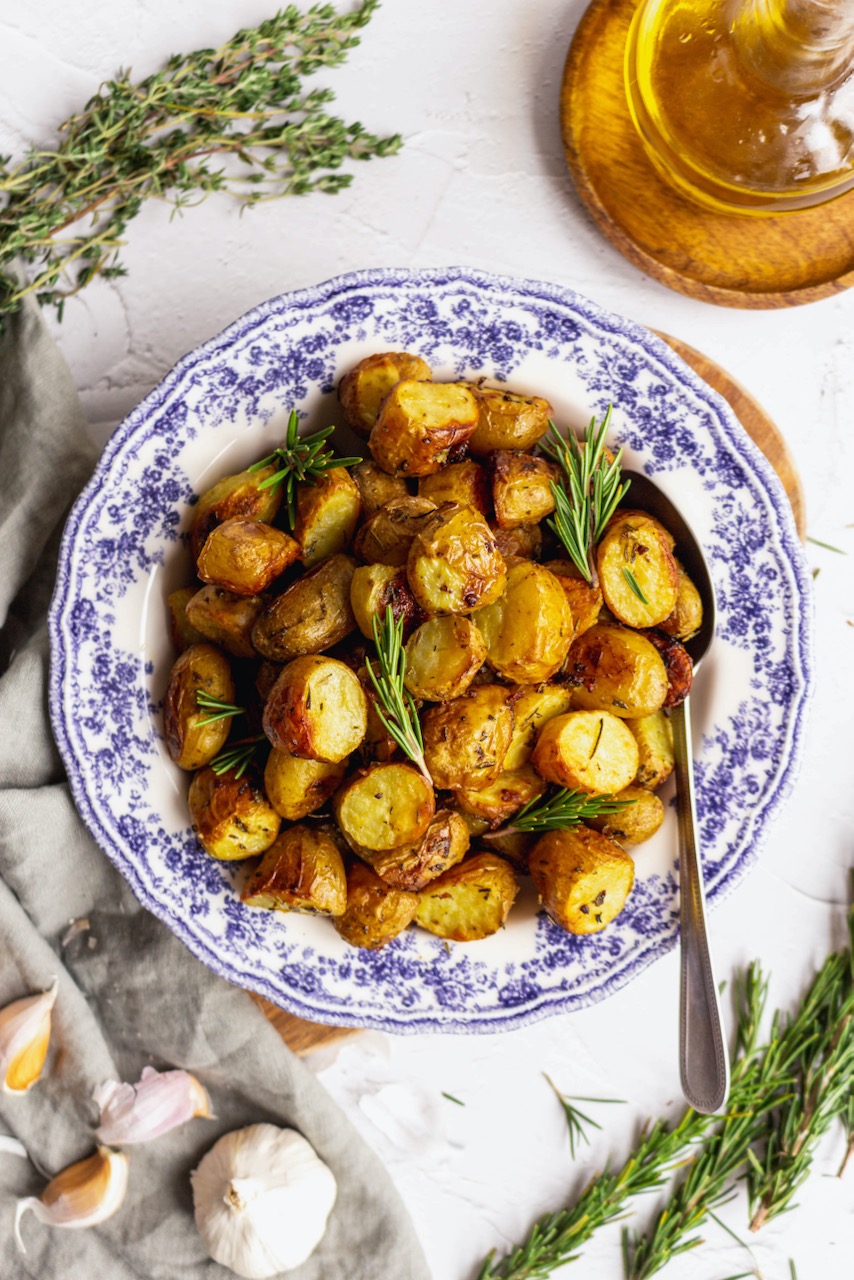 Potatoes were introduced to Europe from the Americas in the 2nd half of the 16th century, by the Spanish. The first potatoes started to cultivate in the Netherlands in 1567, and are a must in the Dutch diet ever since. In Greece, potatoes were imported around 1828, after the Greek revolution, by the first prime minister Ioannis Kapodistrias.
What are herb-roasted new potatoes?
New or baby potatoes are one and the same. They are not a specific variety, but simply the baby version of any potato, harvested early.
There are many different ways to roast potatoes, but this is one of my hubby's favorites.
Ingredients for the herb-roasted new potatoes
Potatoes: I use baby/new potatoes for this recipe because they have an almost sweet taste creamy flesh and delicate skin. Even though they are high in carbs potatoes have almost no fat and they are highly nutritious.
Olive oil: One of the healthiest fats and a Mediterranean staple, it is a must for this Greek-style recipe. I use extra virgin olive oil for its punchy taste.
Mustard: Mustard is rich in powerful antioxidants and tastes amazing (according to my taste buds). It creates a crispy crust to the potatoes and adds extra aroma.
Herbs: Typical Mediterranean herbs like savory, thyme, and rosemary are blended together to give an amazing taste and aroma to these baked potatoes. If you can find savory you can always replace it with oregano.
Spices: We add salt and pepper to almost every dish in the Mediterranean, and they elevate the flavor of the dish.
Tips & tricks
Soak the potatoes in cold water for ~ 20-30 minutes, drain them, and pad them dry, so that they can become crispier.
Roast the potatoes in a preheated oven at 220°C (425°F), for perfect, crisp skin.
Don't overcrowd the pan. If the potatoes are in a single layer, they cook easier and evenly.
Flip, shake, or toss the potatoes every 25 minutes, to make them crispy on all sides.
Parboil the potatoes for 5 minutes, and drain them very well, before adding the olive oil, herbs, spices, and mustard.
How to serve the herb-roasted new potatoes
If not vegan, grate some kefalotyri or graviera cheese on top. Alternatives are manchego, pecorino, or parmesan cheese.
Serve them as a side dish with roasted chicken or a juicy steak. If you don't eat meat, they are delicious on its own!
How to store
It is best to eat potatoes freshly roasted, to get the max crispness. If you have leftovers, you can store them in an airtight container for up to 2 days in the fridge.
Recipe
Herb Roasted New Potatoes
New/baby potatoes 🥔 roasted in the oven with rosemary, garlic 🧄, thyme, and savory. The Mediterranean taste in one plate.
Ingredients
35

oz/1kg

new/baby potatoes

3

tbsp/45ml

olive oil

extra virgin

1

teaspoon

sea salt

1

teaspoon

dry savory

1

tablespoon

freshly chopped rosemary

1

tablespoon

freshly thyme leaves

freshly ground black pepper

1

tablespoon

mild mustard

2

cloves

garlic
Instructions
Wash and cut the potatoes in half, quarter them if big.

Preheat oven to 220°C (425°F).

In a large bowl mix olive oil, minced garlic, herbs, spices, and mustard, and toss the potatoes in, so that they are coat completely.

Spread the potatoes over a baking sheet.

Bake until the potatoes are golden brown outside and tender inside. Use a fork to check if they are ready, about 40 minutes to an hour.
Notes
Stir the potatoes occasionally so that they crisp from all sides.
If not vegan, grate some parmesan or kefalotyri cheese on top.
Nutrition facts
Servings: 1 (270g) | Calories: 241kcal | Carbohydrates: 45g | Protein: 5.44g | Fat: 4.93g | Saturated Fat: 0.709g | Trans Fat: 0g | Cholesterol: 4mg | Sodium: 730mg | Potassium: 1082mg | Fiber: 6.1g | Sugar: 2g | Vitamin A: 78IU | Vitamin C: 51mg | Calcium: 48mg | Iron: 2.34mg
Have you tried this recipe?
Spread the love and mention @foodathlon_ or tag #foodathlon on Instagram
Leave a comment and star rating ★ in the section below