A simple, healthy, Mediterranean dish made with peas and vegetables, simmered in a rich tomato sauce with herbs and olive oil. A comfort, vegan, traditional Greek pea stew dish called Arakas, brings the taste of Spring to your plate. A quick and easy food made in only one pot.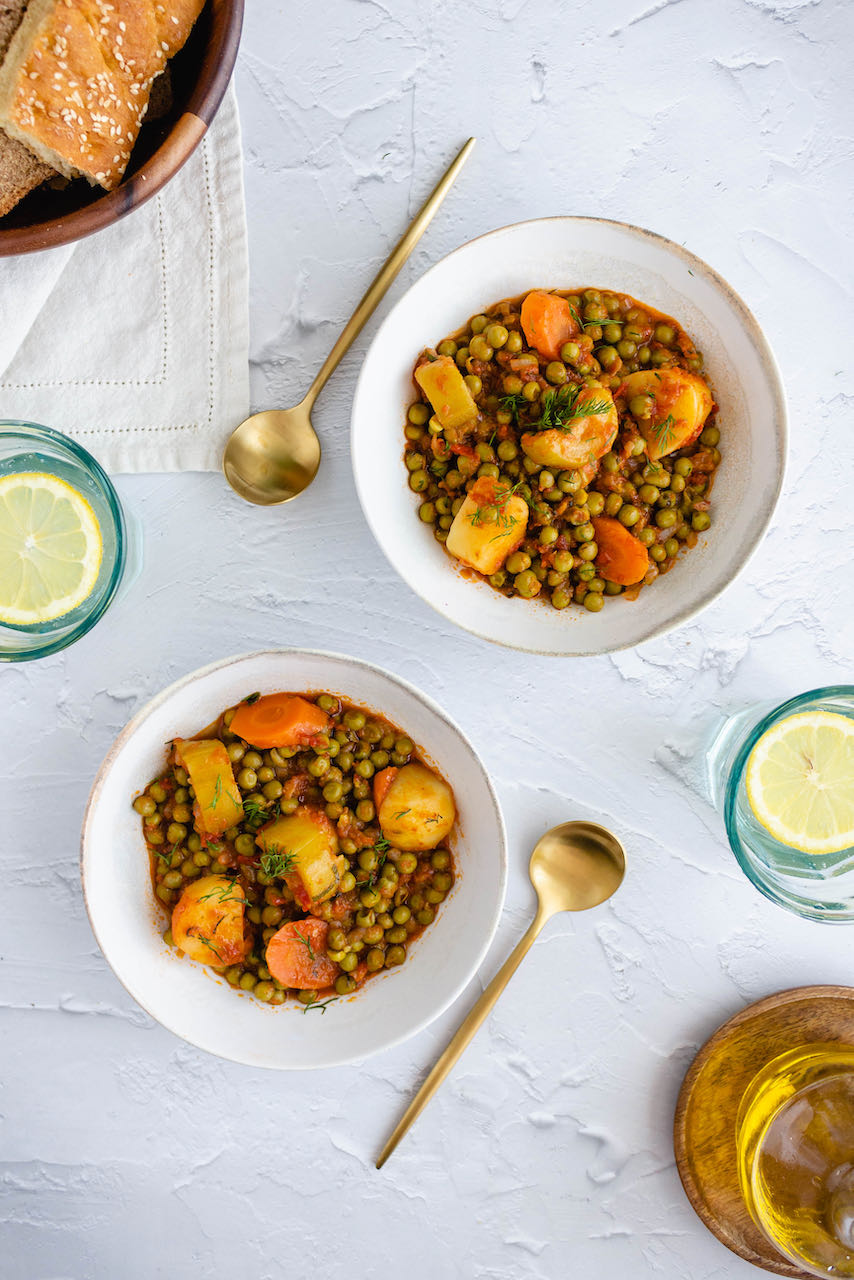 What is arakas?
Greeks call this dish "Arakas kokkinistos" or "bizelia". It literally means peas with red sauce. It is a dish in the category of "Ladera" or "Lathera", a large number of Greek dishes that are made with a good amount of olive oil and vegetables. A vegan favorite, highly consumed during fasting as a main dish. It is very sweet when peas are in season.
Ιngredients for the Greek pea stew
The classic ingredients of Arakas are peas, potatoes, tomatoes, onion, olive oil, and dill. Carrots and zucchini can be added for extra sweetness and flavor.
Peas: Peas are healthy, highly nutritious, and considered to be legumes. A great source of plant-based protein, they are high in fiber, antioxidants, and vitamins A, K, C, and B1, and they also contain manganese, folate, and iron. Pea season is between April and October but during Spring and early summer peas are the sweetest they can be. You can always use frozen peas to make this dish.
Olive oil: Use a good amount of olive oil to get a healthy dose of monounsaturated fats and antioxidants. If the olive oil is very expensive, use half olive oil and half another kind of oil, usually sunflower oil or corn oil.
Potatoes: They are a good source of minerals, like potassium, and vitamins like vitamin C. Potatoes contain a lot of carbs but almost no fat. They give a great soft texture and a mildly sweet taste to the plate. You can always omit them.
Carrots: Filled with antioxidants and beta-carotene, carrots add a great earthy and sweet flavor to the dish. They are usually added to the pea stew but you can also omit them.
Tomatoes: Use very ripe tomatoes to get the acidity, color, juice, and sweet taste. Tomatoes are rich in lycopene, a nutrient with antioxidant properties. Use finely chopped canned tomatoes, if tomatoes are not in season.
Dill: Dill is a herb that is a must when you cook this dish because it gives a very distinct flavor to it. If you don't like the flavor of dill you can always omit or replace it with mint, spearmint, or parsley.
Onion: Use a red onion for extra sweetness and sauté it until caramelized.
Zucchini: Not a typical addition to this dish, but I love the flavor and sweetness that zucchini gives to the dish.
Tips & tricks
Use good quality and amount of olive oil in the food. This is the main source of healthy fats, and it's the ingredient that creates the rich sauce and lifts the whole dish's flavor.
Don't add a large amount of water to the pot, because that will make your dish watery and reduce the oil flavor. The amount should be just enough to cover the peas.
Add some white wine, when sautéing the vegetables for extra flavor (optional).
Instead of water, add vegetable stock and if not fasting or vegan chicken stock to make the sauce more fragrant and tasty.
For some extra kick, add some chili flakes or chili pepper to the recipe.
How to serve the Greek pea stew
Serve Arakas, while still warm or at room temperature with a piece of feta cheese and some crusty bread to dip into the delicious sauce. If vegan or following a dairy-free diet try a piece of vegan feta.
Serve it as a side dish with baked chicken or beef.
How to store the Greek pea stew
Store in an airtight container in the fridge for up to 5 days.
You can always freeze this dish, after it's cooked and cold, if you omit the potatoes, for up to 3 months.
This classic, comfort, traditional Greek dish, is an example of how Greek cuisine uses the simplest ingredients and transforms them into a delicious dish. A Mediterranean diet, vegetable-based main dish promoting simplicity at its best.
Recipe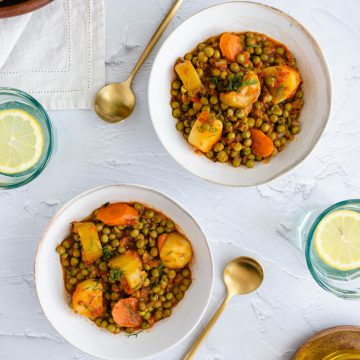 Greek Pea Stew (Arakas)
A simple, healthy, Mediterranean dish made with peas and vegetables, simmered in a rich tomato sauce with herbs and olive oil.
Ingredients
500

g/17.6oz

frozen peas

2

medium carrots

1

medium zucchini

2

large potatoes cut in bite size pieces

1

medium red onion

1

tablespoon

tomato paste

⅓

cup/(80ml)

olive oil

3

tablespoon

freshly chopped dill

2

tablespoon

freshly chopped spearmint/mint

1

teaspoon

smoked paprika powder

salt & pepper

400

g/14oz

grated ripe tomatoes or canned

1

teaspoon

sugar

optional

1 ½

cup/360ml

boiling water

1

tbsp/15ml

lemon juice
Instructions
Heat the olive oil in a pot over medium/high heat.

Chop the onion and sauté in olive oil until soft.

Slice the carrots and add them to the pot.

Peel the potatoes and zucchini and cut them into cubes.

Add them into the pot, sprinkle with the smoked paprika powder, and sauté for 5 more minutes.

Add the peas, the grated tomatoes, and the sugar (if applicable).

Add the water, tomato paste, salt, and pepper to taste, and bring it to a boil.

Lower the heat to medium/low and simmer for 20 to 30 minutes, or until the vegetables are soft.

Finely chop the spearmint/mint and dill, add them to the pot with the lemon juice, and simmer for another 2 minutes.
Notes
Use 1 teaspoon of sugar if you want your peas to taste sweeter.
Replace water with vegetable or chicken stock for extra flavour.
Nutrition facts
Servings: 1 (396g) | Calories: 278kcal | Carbohydrates: 37g | Protein: 7g | Fat: 13g | Saturated Fat: 1.8g | Trans Fat: 0g | Cholesterol: 0mg | Sodium: 108mg | Potassium: 1001mg | Fiber: 8g | Sugar: 11g | Vitamin A: 4896IU | Vitamin C: 88mg | Calcium: 142mg | Iron: 4.2mg
Have you tried this recipe?
Spread the love and mention @foodathlon_ or tag #foodathlon on Instagram
Leave a comment and star rating ★ in the section below