My sister shared this no-knead bread recipe with me, and I modified it a little bit. It is an easy bread recipe that doesn't need a lot of attention or requires a lot of time (except for the hours in the fridge).
Nothing smells better than a fresh loaf of bread coming out of the oven. Bread is one of the oldest prepared foods and a Mediterranean diet staple because it is categorized as a source of grains in the food pyramid. Flour, water, yeast, and some salt are mixed to create one of the prominent foods in the world. Bread is also a good source of carbohydrates, magnesium, dietary fiber, B vitamins, and iron.
A tasty overnight no-knead bread, baked in a dutch oven, with a soft and chewy inside (crumb) and a crispy, crunchy outside (crust).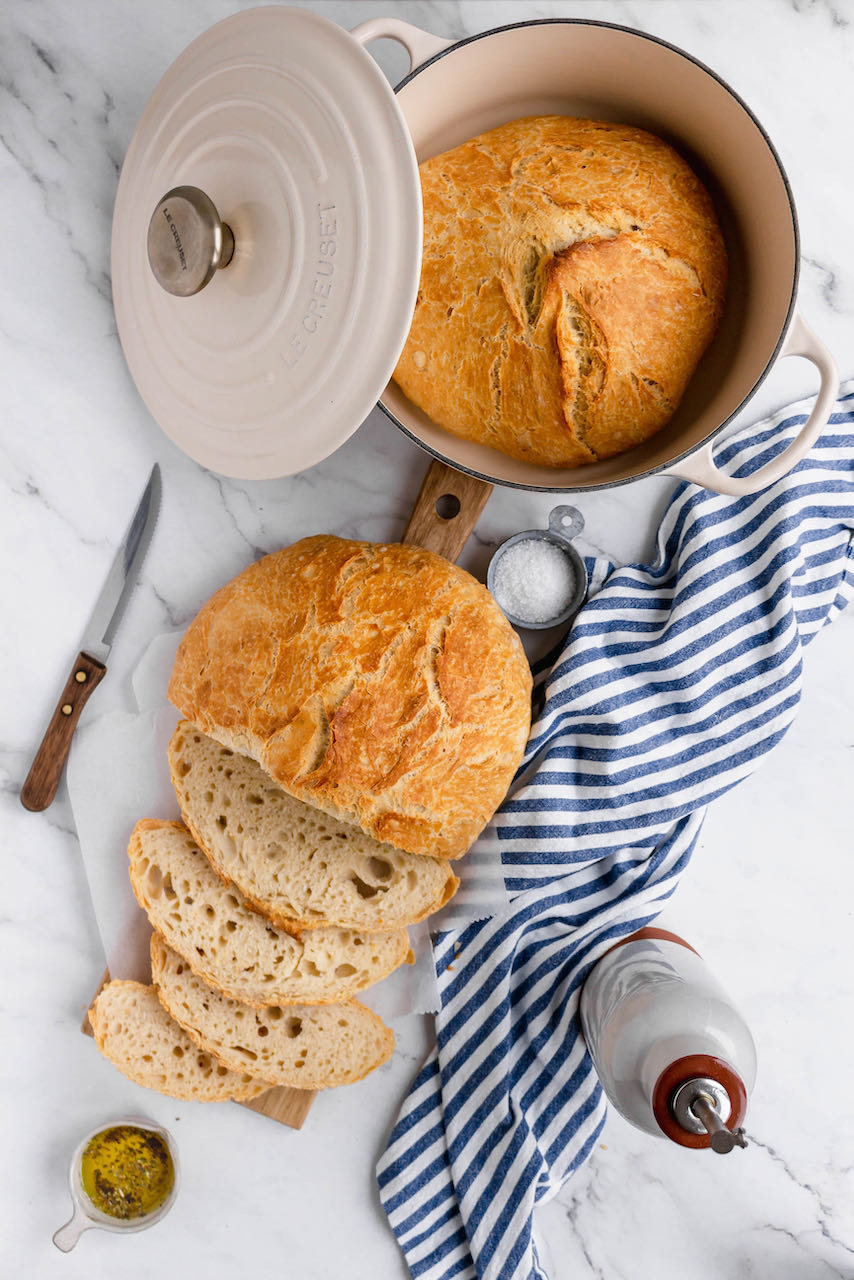 What is artisan bread?
Artisan bread, in general, is fresh, homemade, crusty, and rustic-looking. It is great to make it using high-quality, natural ingredients, without additives or chemicals. Usually, it has a long fermentation time which allows the dough to develop better texture -fluffy and light structure-, aromas, and flavor than commercially produced bread.  Creating this artisan, flavourful bread needs just four or five key ingredients. The better the ingredients, the better the end result is, so make sure that you choose the best quality ingredients that you can afford.
Ingredients for making the no-knead bread
Flour: I use a mixture of bread flour and durum flour. Durum or yellow flour is made by milling semolina or semola very fine and producing hard wheat flour.  In Greece, we use it for traditional, country, or village-style bread. Fresh pasta flour is another name for this type of flour. We can also use all-purpose flour, but bread flour has a bigger gluten content, and that is what makes the bread extra fluffy and gives elasticity to the dough to create holes in the bread. If using wholemeal flour, you need more water because it is more absorbent.
Yeast: Use active dry yeast and dissolve it in the water before adding it to the mixture. There is no need to let it foam. Instant or rapid-rise yeast mixed straight into the flour is another option. 
Salt: Use good quality sea salt. Taste it first to find out the intensity of its flavor because salt adds a little more taste to everything.
Sweetener: Yeast needs a sweetener to activate. Use sugar, molasses, and malt, and for a sugar-free alternative, replace the sugar with coconut sugar, maple, or honey (if not vegan).
Water: The perfect water temperature to proof yeast is between 40,5°C (105°F) and 46°C (115°F). However, in this particular recipe, the use of room temperature or lukewarm water is better. As long as the water is not boiling hot to kill the yeast, everything else is acceptable.
Olive oil: It works as a tenderizer and helps to create a tender interior and a crispier exterior. Use extra-virgin olive oil to add more flavor.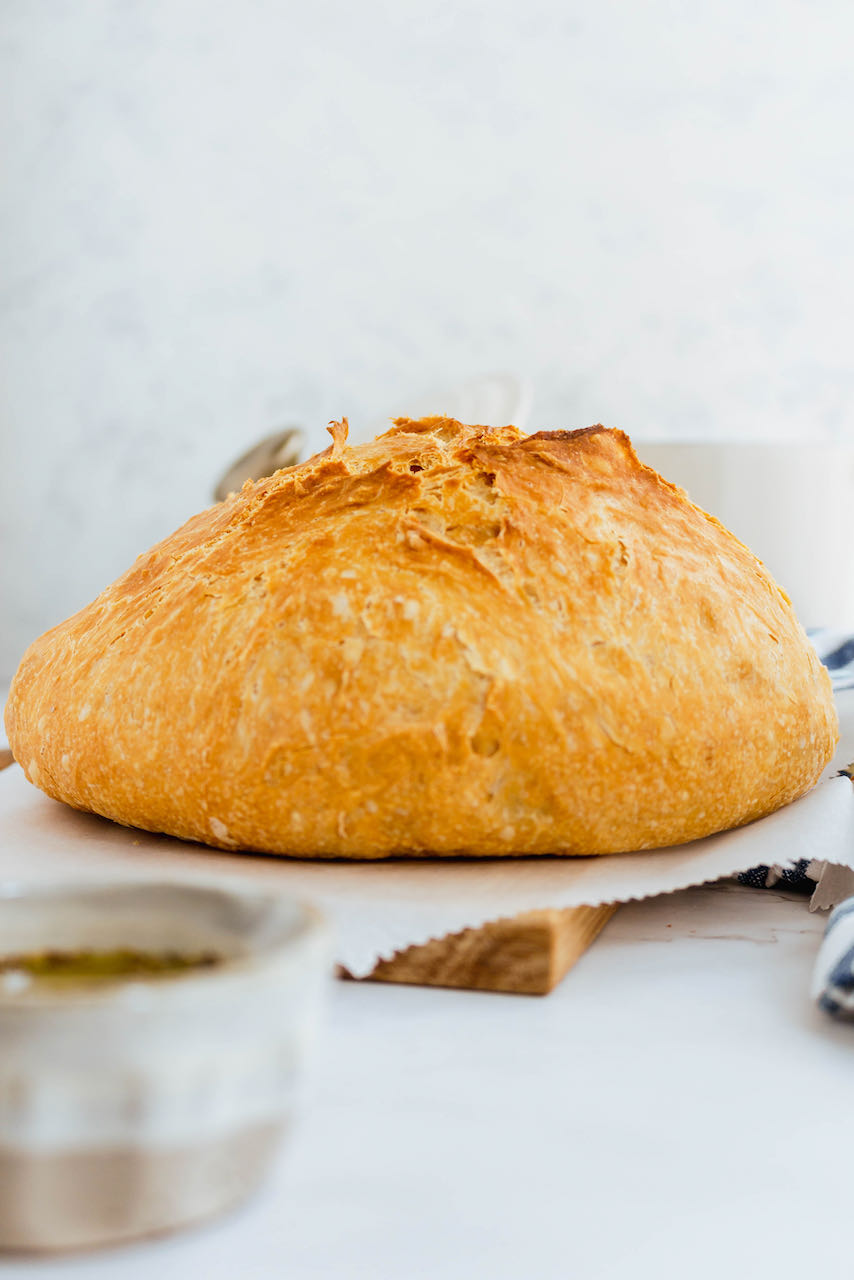 Tips & tricks for a great no-knead bread
The dough can be affected by a number of factors. Different types and brands of flour, altitude, and humidity can all affect differently the dough. If the dough is too wet, add a little flour, and if it is dry, add some water until the dough barely sticks in your fingers.
Even though it is very tempting and the best thing that you can eat, slicing it into warm bread affects its flavor and texture. The bread becomes stale, dries out faster and it is less airy.
A Dutch oven works as a steamer keeping the air trapped inside, creating a better bread texture (crust). In case you don't have one use a pot with the lid on. Do NOT use a glass casserole because the bread expands and it can break it. Enamel, cast iron, and heavy roasting pots are giving the best results.
The stickier the dough is and the longer it is fermented in the fridge the tastier it will be.
Serve
The possibilities are endless here. Use it as a base for bruschetta, sandwiches, or paninis. Spread any kind of butter, jam, or honey on it. Top it with extra-virgin olive oil, garlic, sweet paprika powder, or oregano. Use it to dip and scoop the sauces of your main course, or dunk it in soups, and when it goes stale, use it for bread puddings and French toast.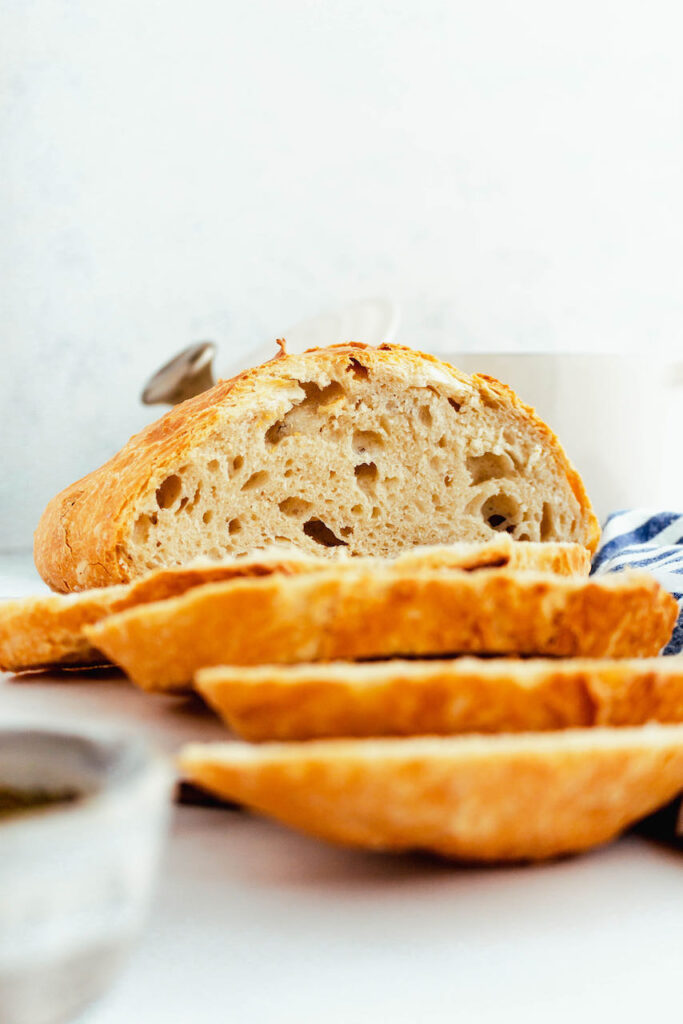 How to store the no-knead bread
Store the baked bread, in an airtight container or ziplock bag, for up to 5 days. It is fresh and at its best for 2 days. After that, warm it in a toaster, griddle, bbq, or in the oven.
We can store the dough in the fridge for up to 3 days; so we can always make it ahead of time and bake it later.
Freeze the bread for up to 3 months after you bake it. Allow it to cool completely and slice it first before freezing it. This makes the defrost process easier.
Thaw the bread in the fridge to defrost and allow it to come to room temperature. You can also use the microwave or toaster to defrost it.
The dough is also freeze-friendly. Place it in an airtight container and freeze it for 3 months. To bake, allow the dough to come to room temperature or thaw it in the fridge overnight.
Looking for a delicious spread?
You'll love these:
Recipe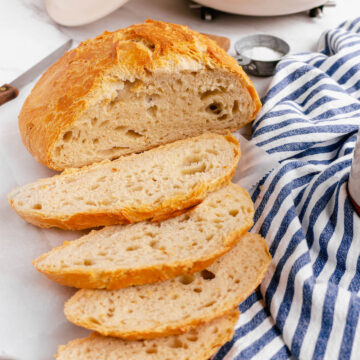 Artisan no-knead dutch oven bread
This easy artisan no-knead bread recipe is going to free your hands. It is made with the simplest of ingredients, fermented overnight, in the fridge, and baked in a dutch oven creating a crispy crust on the outside and an airy, soft and chewy crumb on the inside. 
Ingredients
600

g/4 ¾ cups

bread flour

400

g/3 ¼ cups

durum/yellow flour

18

g/~2 tbsp

instant yeast

30

ml/2 tbsp

olive oil

extra virgin

1

teaspoon

honey or sugar

½

tablespoon

sea salt

680

ml/2.9 cups

lukewarm water
Instructions
Sift the flours, sugar if used, and salt to a large bowl and mix them.

In a measuring cup, add the water and dissolve the instant yeast in it. Add the olive oil and If honey or maple syrup is used, add it also now.

Pour the water/yeast mixture into the flour bowl and mix with a wooden spoon.

When wet and dry ingredients are well combined the dough is ready.

Seal the bowl with a lid or with plastic wrap and refrigerate for at least 12 hours.

After 12 hours, add a dutch oven with the lid on in the oven and preheat it to 250°C (475°F).

While the oven is preheated, take the dough out of the fridge.

Transfer the dough to a well-floured surface and fold it. Pull the outer edges up and into the center a few times.

Separate the dough into two equal sizes and form two round balls.

Place them on a floured surface or on top of floured parchment paper with the foldings at the bottom.

Put the lid on, add the dutch oven into the oven, and lower the temperature to 220°C (425°F).

Bake for half an hour with the lid on and another half with the lid off, or until the top is golden brown.

Take the loaves of bread out of the oven and place them on a cooling rack to cool.
Notes
The milling of semolina produces a finer grain flour which is yellow, durum, or pasta flour, and is hard wheat flour. In Greece, we use it for traditional, country, or village-style bread.

 
You can use any pot or casserole with a lid that can be placed in the oven. Dutch oven and enameled steel are the best to bake bread. If your pot is stainless steel, line it with parchment paper.
Always be very careful and always use oven mitts (silicone, neoprene, or aramid fabric) to remove any part of a dutch oven. It gets extremely hot.
If your dutch oven is small just bake one bread at a time.
Replace the sugar or honey with coconut sugar, or maple syrup (if vegan).
If you can't find yellow bread flour, then replace it with the same amount of bread flour or whole-grain flour.
Nutrition facts
Servings: 1 (62g) | Calories: 141kcal | Carbohydrates: 28g | Protein: 4g | Fat: 1.4g | Saturated Fat: 0.2g | Trans Fat: 0g | Cholesterol: 0mg | Sodium: 85mg | Potassium: 44mg | Fiber: 1.1g | Sugar: 0.25g | Vitamin B1: 0.351mg | Vitamin B9: 0.11mg | Calcium: 8mg | Iron: 1.68mg
Have you tried this recipe?
Spread the love and mention @foodathlon_ or tag #foodathlon on Instagram
Leave a comment and star rating ★ in the section below