Every household in Greece has a pie recipe without phyllo pastry. We call them naked pies (gimnopites), dough pies (zimaropites), or flour pies (alevropites). For this Greek cheese yogurt pie, I'll use the name zimaropita.
What is a Greek cheese pie with yogurt?
This specific pie is a dough pie (zimaropita). Zimaropita was the poor man's pie, made with whatever produce was available at the household, and it could be either fried or baked. This pie type is very typical in the regions of Thessaly and Epirus.
I learned how to make pies like this when I was a student in Larissa, Thessaly. Later, I found it very easy to convert them into gluten-free since they have a moist batter and you can use a lot of different combinations of filling.
Ingredients for making Greek cheese yogurt pie
Eggs: I am using organic eggs. Eggs are a good source of high-quality protein, and in this recipe, I use them as a leavening and binding agent.
Olive oil: I am using mild olive oil. It's one of the healthiest fats in the world. The stronger the olive oil is, the more intense its flavor will be in the pie.
Cheese: I use a combination of Greek cheeses to give a unique flavor to this pie. Feta cheese is tangy, mizithra cheese is creamy, kefalotyri is salty, strong, and spicy.
Yogurt: Use a full-fat Greek (not Greek style) yogurt to get the best creaminess out of it.
Flour: I am using a combination of gluten-free flours to make my batter as tasty as possible. The baking powder is also mixed with the flour.
Spices: I use nutmeg and sweet paprika for their warm and aromatic flavor, and black pepper and salt because they are a staple in Mediterranean food.
Herbs: I use spearmint or mint for its delicate almost sweet flavor and intense fragrance.
Tips & tricks
If you can't find mizithra cheese, a good substitute is ricotta cheese.
If you can't find kefalotyri cheese, you can replace it with pecorino or parmesan cheese.
Kasseri can be replaced with gouda cheese.
Serve
Serve this pie as breakfast, lunch, or dinner, on its own or with a simple green or cucumber-tomato salad.
How to store the Greek cheese yogurt pie
Keep zimaropita in an airtight container, after completely cooled down, in the fridge for up to 5 days.
You can also freeze the pie, after it cools down completely. Cut it into pieces and place it in a ziplock bag for up to 2 months. It's better to place parchment paper between the pieces, to prevent them from sticking and defrost individual pieces easier.
Do you like savory pies?
Check out this delicious pie too:
Recipe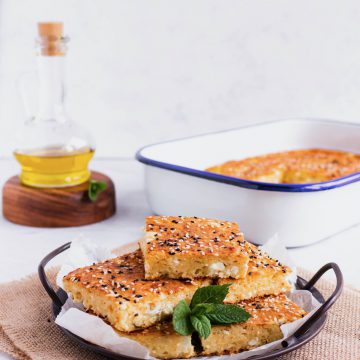 Greek Cheese Pie With Yoghurt
A pie without phyllo dough is a great alternative since it requires less time and effort. Easy one-bowl recipe that will make your taste buds happy.
Ingredients
⅓

cup/80 ml

olive oil

4

medium eggs

1 ½

cup + 2 tbsp/400g

Greek yoghurt

5% fat

¼

teaspoon

ground nutmeg

½

teaspoon

sea salt

½

teaspoon

sweet paprika powder

1

teaspoon

ground black pepper

1

teaspoon

baking powder

gluten-free

2

cups/300g

crumbled feta cheese

1

cup/150g

kefalotyri or kasseri cheese

grated

⅔

cup/300g

crumbled mizithra cheese

⅓

cup/40g

fine corn flour

4.9

oz/140g

self-rising flour

gluten-free

2

tablespoon

fresh spearmint/mint leaves

finely chopped

2

tablespoon

black & white sesame seed

optional
Instructions
Preheat the oven at 180°C (350°F) and line a 36x28 cm (14.5x11 inches) baking pan with parchment paper or brush it with olive oil, butter, or margarine. Set aside.

In a large bowl add the olive oil, eggs, and yogurt and stir with a metal whisk until combined and fluffy.

Add spices, baking powder, and flours, and whisk until just incorporated.

Add the cheeses, spearmint/mint, and mix well. The mixture will be moist.

Pour the mixture into the baking pan, level it equally with a spatula, and sprinkle with sesame seeds (if applicable).

Bake for 40-50 minutes, until golden brown at the top.

Remove from the oven and let it cool down for 10-15 minutes.

Cut it into pieces and serve warm or cold.
Notes
In gluten-free baking, it is always best to measure the flours by weight than by volume.
If you cannot find mizithra cheese, good substitutes are mascarpone, ricotta, pecorino, feta, or parmesan cheese.
If you cannot find kasseri or kefalotyri cheese, good substitutes are gouda, mozzarella, Romano, and provolone.
If not gluten-free, substitute the same amount of flour in grams with self-rising flour.
Nutrition facts
Servings: 1 (80g) | Calories: 177kcal | Carbohydrates: 12.21g | Protein: 10.86g | Fat: 9.41g | Saturated Fat: 4g | Trans Fat: 0.006g | Cholesterol: 53mg | Sodium: 401mg | Potassium: 160mg | Fiber: 0.4g | Sugar: 1.49g | Vitamin A: 238IU | Vitamin C: 0.1mg | Calcium: 238mg | Iron: 1.22mg
Have you tried this recipe?
Spread the love and mention @foodathlon_ or tag #foodathlon on Instagram
Leave a comment and star rating ★ in the section below