Spanakotiropita (Greek spinach cheese pie) is one of the most famous Greek pies and a very popular breakfast/lunch street food. Filled with greens and/or feta cheese with crispy phyllo, swirled or leveled, hot or cold, this vegetarian-friendly pie is a hearty delicious dish.
Savory pie making is typical in Greece since ancient times. Pies were originally food for the shepherds and farmers to take with them on their journeys in the mountains and farms. Made with the simplest of ingredients and what was available at the time, pies are a traditional delicacy. The most popular spanakotiropita is made in the region of Epirus.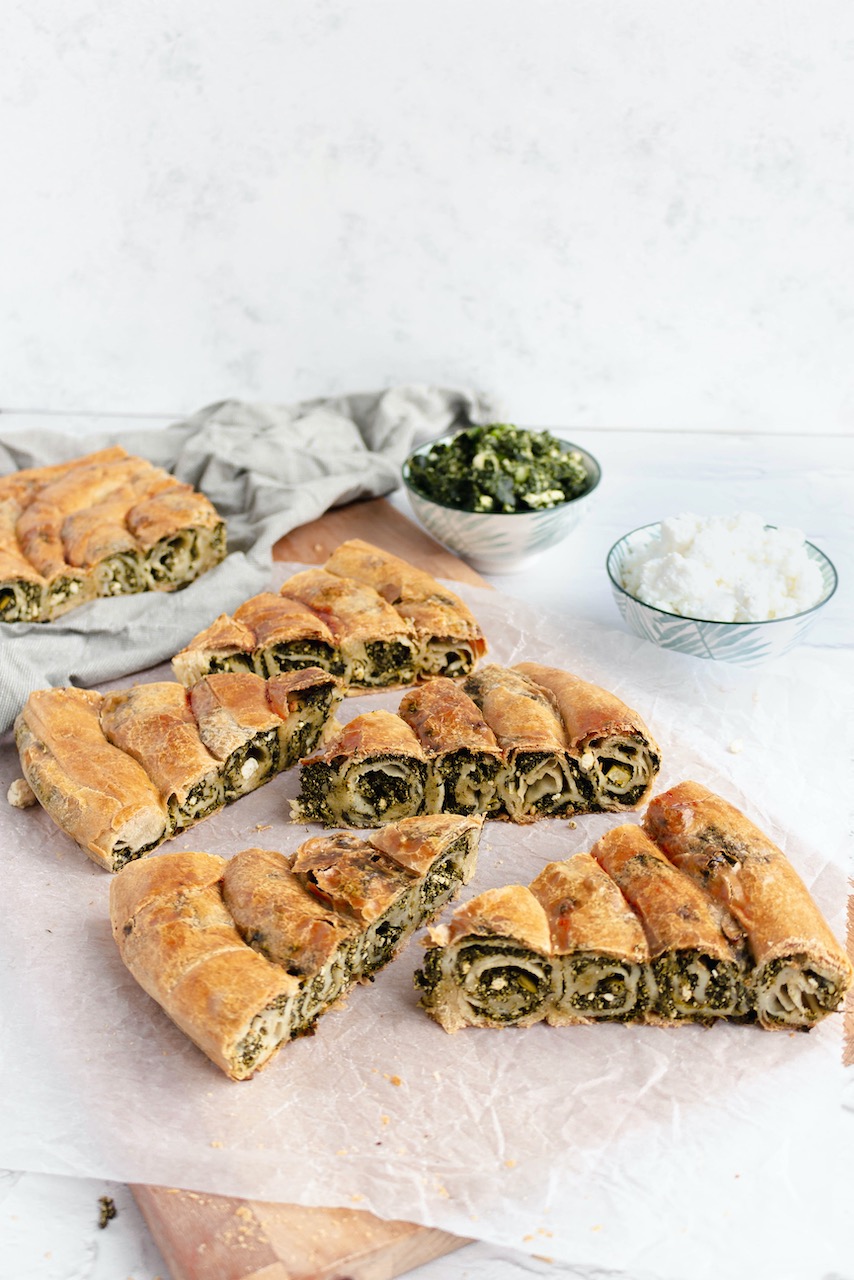 What is spanakotiropita?
It is a popular savory Greek pie made with phyllo pastry and filled always with spinach (dah, it's a spinach pie), herbs, and other greens. Feta cheese is also added to the mixture. Hence the name spanakotiropita, which literally means spinach cheese pie.
Ιngredients for making Greek spinach cheese pie
Spinach: The earthy, almost sweet leaves of fresh spinach, provide a unique flavor to the pie. Use it by itself or with other greens, like cavolo nero, endives, or chards, to add an extra depth of flavor. Spinach is rich in iron, magnesium, potassium, and vitamin A.
Feta cheese: Use authentic Greek feta cheese (not Greek style) to get the best result.
Eggs: Use organic eggs to get the best quality. Eggs act as the binding agent and help to achieve the right texture.
Phyllo dough: I often make my own phyllo dough, which is the village-style type. It is a little bit thicker and more rustic. I learned the recipe from my grandmother. If you are looking for an easier and quicker solution, use store-bought phyllo dough (e.g. baklava phyllo).
Herbs: Dill is the most typical herb, but spearmint or mint are also used. All of them provide exceptional taste and aroma to the pie.
Onions: A combination of red onions and spring onions is the most common for spanakotiropita. Another variation is using leeks instead of onions, for their sweeter taste.
Spices: Salt and pepper are commonly used, and sometimes paprika powder and nutmeg are also added.
Olive oil or butter: To add in the filling and brush the phyllo dough. The choice depends on what flavor you want. When using butter, prefer the clarified one to achieve a more intense flavor.
Tips & tricks for a delicious Greek spinach cheese pie
Fresh spinach is always better than frozen. Fresh spinach has less water, and that makes the pie crispier.
Drizzle the phyllo with olive oil rather than brushing it, to make it crunchier.
Ensure that you have drained excess liquid out of the spinach. Saute spinach, onions, and greens, and drain them before mixing the rest of the filling ingredients.
Make spanakopitoripa ahead of time and refrigerate overnight before baking it.
I don't recommend reheating spanakotiropita in the microwave because the phyllo becomes soggy. Heat it in the oven for ~ 10 minutes at 160°C (320°F), or on a panini grill.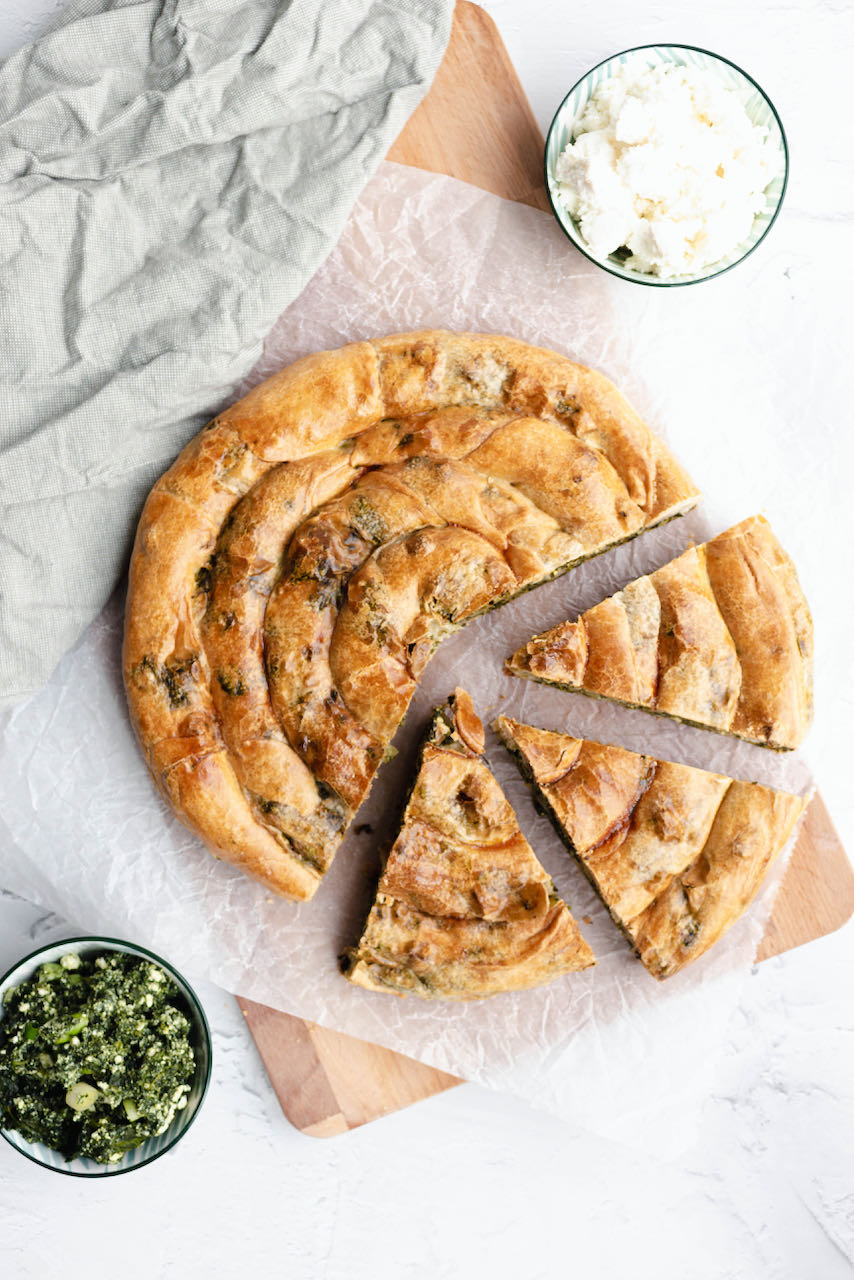 Serve
Let the pie slightly cool before serving it. That makes both cutting and serving it easier.
Serve spanakotiropita as breakfast, snack, lunch, or even dinner!
How to store the Greek spinach cheese pie
Store spanakotiropita after completely cooled in an airtight container, in the fridge, for up to 4 days.
Freeze spanakotiropita after completely cooling in a ziplock bag for up to 3 months. Place parchment paper between the pieces to defrost individual pieces easier.
In love with Mediterranean pies?
Check also this easy and delicious recipe:
Recipe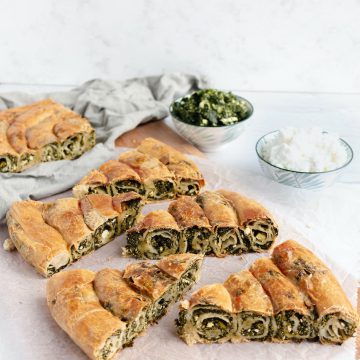 Greek Swirl Spinach and Cheese Pie (spanakotiropita)
The authentic Greek spanakotiropita (spinach pie) recipe with a delicious filling and crispy village-style phyllo.
Ingredients
Dough
400

g/3 ¼ cups

hard or all-purpose flour

2

teaspoon

sea salt

220

ml/0.9 cup

warm water

1

tbsp/15ml

white wine vinegar

60

ml/ ¼cup

olive oil

3

tbsp/45ml

vegetable oil
Filling
600

g/21.1oz

fresh or frozen spinach

2

tbsp/30ml

olive oil

1

leek

finely chopped

4

spring onions

coarsely chopped

2

sprigs

fresh spearmint

finely chopped

2

sprigs

fresh mint

finely chopped

2

tablespoon

fresh dill

finely chopped

300

g/10.6oz

feta cheese

crumbled

1

teaspoon

freshly ground black pepper

½

teaspoon

salt

1

medium

egg

white
Assemble
semolina or flour

oil for the phyllo

3

tablespoon

milk

1

egg yolk

1

teaspoon

sweet parpika powder

(optional)
Instructions
For the dough
In a large mixing bowl, add the flour and the salt and mix.

Make a well in the middle and pour the olive oil, vinegar, and warm water.

Use a mixer with a hook to mix the dough for 8 to 10 minutes until it becomes smooth and elastic.

Transfer the dough to a floured surface and cut it into 4 equal parts.

Roll them into balls and coat all of them with the vegetable oil.

Let them rest for at least 30 minutes.
For the filling
Wash your spinach leaves thoroughly if the spinach is fresh.

Place a nonstick pan over medium/high heat and add the olive oil.

When the oil is hot, add the spring onions and leek and saute until soft.

Add the spinach and saute until all the liquid evaporates from the pan.

Remove from the heat and add the spearmint, mint, dill, salt, freshly ground black pepper, feta cheese, and egg white.

Mix well so that all the ingredients are combined, and the egg white doesn't cook.
Assemble and bake the pie
Preheat the oven at 190°C (375°F) and add parchment paper to a baking tray. Set aside.

When the dough is rested, sprinkle some flour or semolina and place the dough on a working surface.

Use a rolling pin and roll out gently moving your hands from the center to the sides until the phyllo is a thin sheet.

If the dough becomes sticky sprinkle more flour on it.

Using a pastry brush, brush the phyllo with olive oil. Spread ¼ of the filling, and roll it into a cylinder shape.

Leave ⅓ of the phyllo without filling so that the filling can be coated by the phyllo and doesn't ooze when baked.

Create a swirl/snail and place it on the baking tray. Continue with the rest of the dough and filling.

Wrap each cylinder around the previous one to make a large spiral.

Whisk the egg yolk and sweet paprika powder(if used) with the milk and brush the top of the finishing pie.

Bake for 50 to 60 minutes or until golden brown and crunchy.

When ready, remove from the oven and let it cool slightly in a cooling rack.

Cut into pieces and eat it while still warm.
Notes
Make four small swirl pies by creating one swirl from every dough sheet.
You can always use a store-bought thick Greek phyllo pastry, if you don't want to make your own.
If your pie gets colored quickly, lower the oven to 180°C (350°F), or cover up with aluminum foil.
The amount of flour and water depends on the flour quality, humidity, and room temperature.
Nutrition facts
Servings: 1 (193g) | Calories: 370kcal | Carbohydrates: 37g | Protein: 12g | Fat: 20g | Saturated Fat: 6.34g | Trans Fat: 0.008g | Cholesterol: 46mg | Sodium: 915mg | Potassium: 341mg | Fiber: 3.3g | Sugar: 2.48g | Vitamin A: 7450IU | Vitamin C: 5.8mg | Calcium: 264mg | Iron: 3.92mg
Have you tried this recipe?
Spread the love and mention @foodathlon_ or tag #foodathlon on Instagram
Leave a comment and star rating ★ in the section below