I am thrilled to announce that Foodathlon (aka me) is featured in the fourth issue of the "Food Connects Us" magazine created by the Members Club. The article showcases one of my all-time favorite Greek recipes called Yiouvetsi. The theme was "Meals that warm your body and soul" and I couldn't think of a better example to highlight this feeling.
Submitting your work for a food magazine can be scary and intimidating but the people in the Members club made it possible for me and guided me through the whole process. Now I can proudly say that I have taken part in an editorial process and made it through.
What is the Members Club Magazine
Twice each year the Members club organizes a magazine tournament. Members that want to participate, register and split into teams. Each team gets a unique and most importantly creative theme to work on.
"Food Connects Us" is a magazine that shares the traditions, cultures, and recipes of members from all over the world and highlights their amazing food photography.
This experience is very important because it teaches you how to work with and as a team, how to combine ideas and styles, how to create an article, and how to submit your work on a deadline.
What is the Members Club
It is an interactive learning community for food photographers created by Lucia Marecak @foodlight.io former healthygoodiesbylucia.com. Through its portals, you are taught everything about food photography, how to create your business, and how to establish yourself as a freelance food photographer. You learn everything through live and pre-recorded lessons given by Lucia but also some other amazing food photographers and stylists.
In this community you are constantly progressing with new materials each month and with live calls that happen at least two times per month at different times.
The most important though is that in the club you learn not only to achieve your goals but you also have the support that you need from all your peers. They provide help, ideas, and inspiration, but also constructive criticism and feedback on your work and progress. The Members club is in reality a supportive community of other creatives worldwide.
My contribution to the magazine
Having a true and deep nostalgia for my childhood I submitted one of my mom's recipes for this issue but with my own little twist. I used a gluten-free type of orzo to recreate one of my favorite slow-cooked dishes. Youvetsi is a true signature dish that highlights the passion of Greek cuisine and the preparation that goes into each dish.
This experience made it possible to create something so close to my heart shine and I am also proud to say that I had an amazing team beside me. I prepared the food and shot it at my parent's home, the place where I grew up. My dad helped me set my scene, he create my background or backdrop, moved furniture around, and even held a black card for me when I didn't have anywhere to attach it. My mom gave me her recipe and wisdom throughout the cooking process to add to the issue. I used my grandfather's table to set the food on and all the props that I used are coming out from both of my grandmother's cabinets.
So the fourth issue of the "Food Connects Us" magazine is not only the first food magazine that I am featured in but it is also an emotional one due to my contribution.
I am so grateful to Lucia and all the members of the club for even considering my recipe for this issue and especially to my teammates for all the help and support Daniela (@daniscooking) and Ana Rita (@anaritam.foodtography). This tasty recognition is really a testament that hard work and dedication to yourself can make your dreams come true.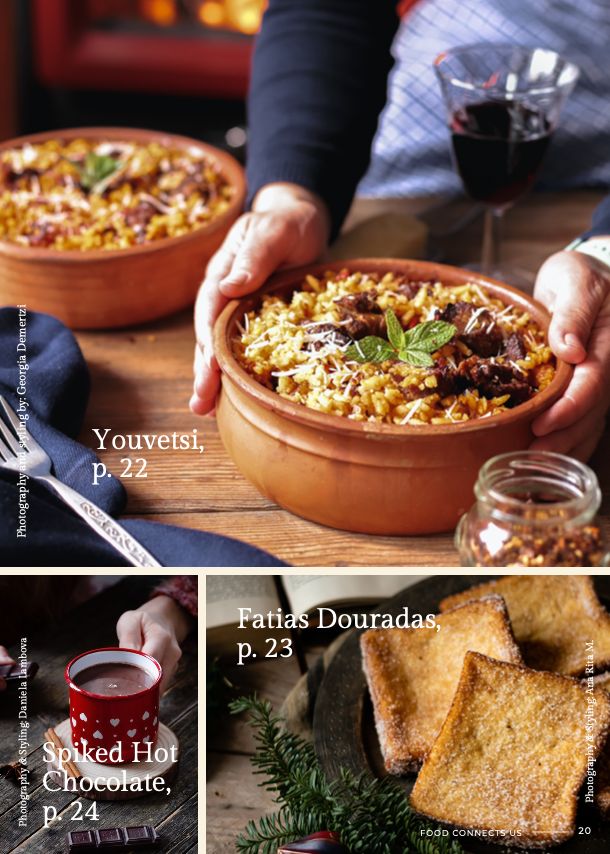 Where can you find the Magazine?
Download the magazine and read the full article here:
Hope that you enjoy the newest edition of the "Food Connects Us" magazine. And of course, I would love for you to try mine or any other recipe of the featured dishes.
Thanks again to the Members Club for this exciting opportunity!