This recipe is one of those that reminds me of my childhood and it's very close to my heart. It is something that my grandma used to cook with fresh produce from her garden. She used to grow spinach and spring onions, and she had fresh eggs from her chickens. A vegetarian simple dish, full of flavor, made with 4 or 5 ingredients, ready in 30 minutes, perfect for Spring and early Summer. Very similar to Shakshuka but not exactly the same. In Greek, we call it "kremmydakia me ayga" which literally means scallions and eggs.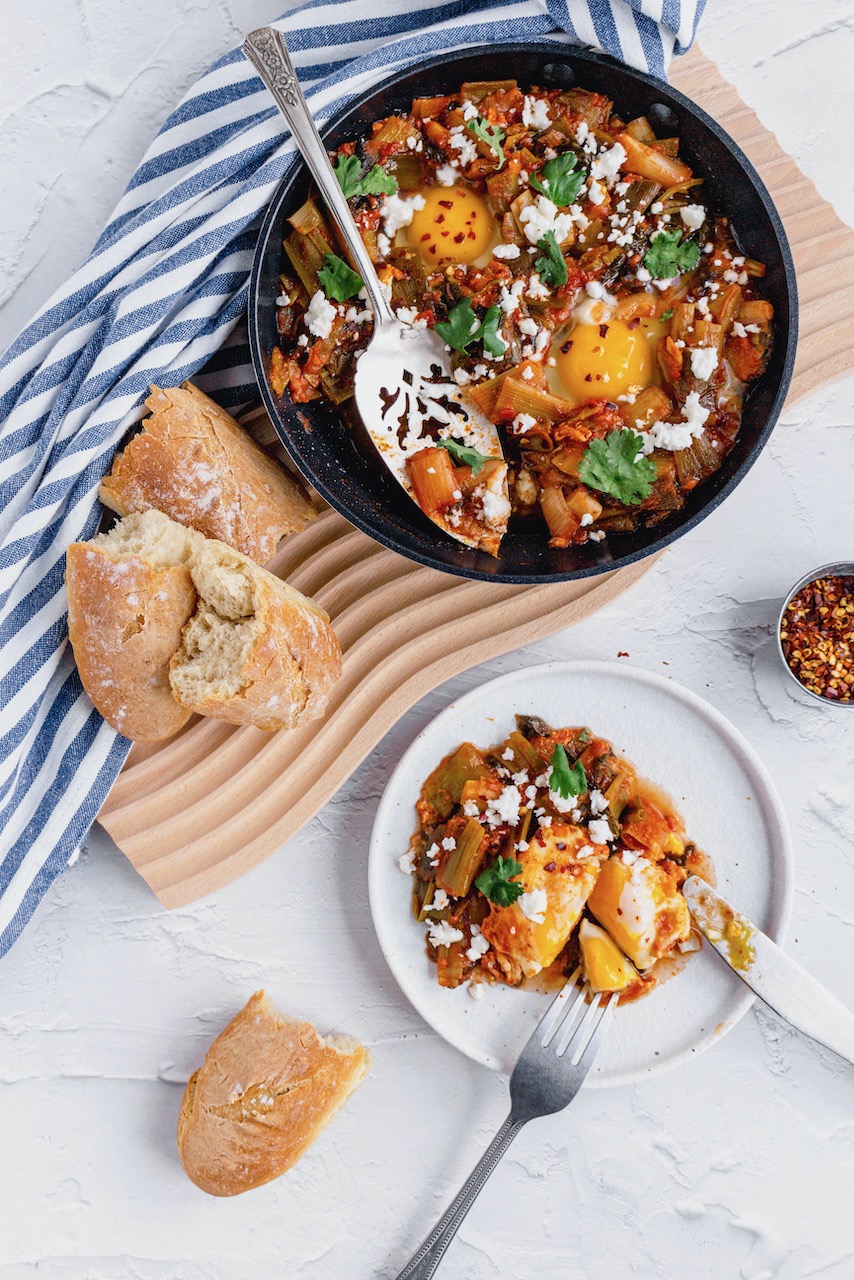 What is shakshuka?
Shakshuka is a Maghrebi dish that is made with eggs commonly poached in tomato sauce. The Arabic name literally means "a mixture" and we can eat this dish for breakfast, lunch, or dinner.
Made with simple ingredients the dish has existed in Mediterranean cultures for centuries. There are many variations but the traditional one uses eggs, olive oil, tomatoes, peppers, onion, garlic, and spices.
Today I am presenting you my grandmother's variation.
Ingredients for making shakshuka
Eggs: Use fresh organic eggs to get the best flavor out of the dish. They provide you with high-quality protein, iron, vitamins, and minerals.
Spring onions: They are also known as scallions and they have a mild sweet taste. They are full of essential nutrients like flavonoids, fiber, vitamins (K, C), and minerals.
Spinach: Spinach is a powerhouse with a high nutritional value and a rich source of vitamins A, K, iron, and magnesium. It is at its best from March until June. You can always omit spinach from this dish. In that case, add some more spring onions.
Tomatoes: With a complex flavor combination of sweet, savory, and sour, tomatoes give a distinctive taste to this dish. They are also rich in nutrients like potassium, vitamins (C, and A,), and antioxidants like lycopene.
Olive oil: One of the 3 staple Mediterranean ingredients filled with beneficial fatty acids. Most of its fat is made up of heart-healthy monounsaturated fats, with a small amount of polyunsaturated fat and saturated fat.
Herbs: My grandma used to add parsley to the dish but I am using spearmint, mint, or cilantro.
Spices: Sea salt and black pepper are the staple spices of this Shakshuka. Paprika powder and oregano are also added to my dish, and if you like a smokier flavor simply add smoked paprika powder.
Tips and tricks for a great shakshuka
Make the dish ahead right until the moment that you add the eggs. When ready to serve, just warm up the mixture on medium heat and add the eggs in the sauce to poach.
To clean the scallions wash them upside down under running water, or place them in a bowl filled with cold water and vinegar for about 10 minutes.
If you want to make individual portions, brush 6 shallow baking dishes with olive oil, divide the spinach-scallion mixture, make a well in the center, crack the eggs, and bake them in a preheated oven at 180°C (350°F) for 10-15 minutes.
Serve
Serve with crumbled feta on top and some crusty bread to scoop the delicious sauce.
How to store
Shakshuka is always best eaten fresh, but if you have leftovers wait until they cool down completely, and place them in an airtight container in the fridge for up to 3 days.
Do you like eggs?
Then, you'll definitely enjoy this recipe too:
Recipe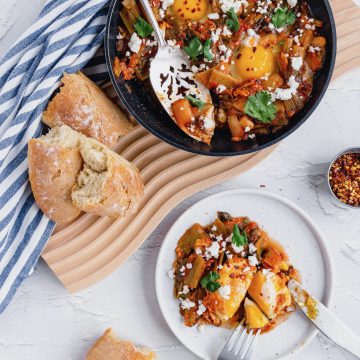 My Grandmother's Shakshuka
Shakshuka is a classic North African and Middle Eastern dish and has existed in Mediterranean cultures for centuries. This recipe is my grandmother's and it is not a typical Shakshuka.
Ingredients
30

spring onions/scallions

14

oz/400g

spinach leaves

6

large

eggs

¼

cup

olive oil

extra virgin

14

oz/400g

tomato sauce

1

teaspoon

salt

1

teaspoon

smoked paprika

½

teaspoon

ground black pepper

¼

cup

finely chopped spearmint/mint
Instructions
Wash the spring onions under cool water. Remove any damaged parts, place on a cutting board, slice the top 2cm (1 inch), and discharge.

Cut the root end off and also discharge.

Cut the spring onions into chunks about 5cm (2 inches).

Wash the spinach. Discharge all leaves that went bad and drain them in a colander.

Heat the olive oil in a large deep bottom sautés pan/skillet with a lid on medium/high heat.

Add the chunks of spring onions and cook for 10 minutes, until the onions become soft.

Add the spices and spinach, stir, and cook it for 2 minutes, until the spinach is wilted.

Add the tomato sauce, stir, reduce heat, and let it simmer for about 8 minutes.

When the sauce is thick and the onions soft, use a wooden spoon and make small wells in the sauce.

Crack the eggs into the wells and cover the pan with the lid.

Cook for 4-8 minutes, until the egg whites are cooked and the egg yolk is done to your liking (runny or soft yolk).

Garnish with the chopped spearmint and some extra ground black pepper and serve.
Notes
My grandmother used to make it using only spring onions when spinach was not in season.
Instead of tomato sauce, use 400g (14 oz) fresh or canned, diced tomatoes.
Serve the Shakshuka with some crusty bread, and if not dairy-free with feta cheese. Crumble the feta cheese in the sauce for saltiness.
Nutrition facts
Servings: 1 (252g) | Calories: 205kcal | Carbohydrates: 11g | Protein: 10g | Fat: 14.4g | Saturated Fat: 2.9g | Trans Fat: 0g | Cholesterol: 186mg | Sodium: 530mg | Potassium: 814mg | Fiber: 4.6g | Sugar: 1g | Vitamin A: 7813IU | Vitamin C: 36.6mg | Vitamin K: 484.8mg | Calcium: 164mg | Iron: 4.84mg
Have you tried this recipe?
Spread the love and mention @foodathlon_ or tag #foodathlon on Instagram
Leave a comment and star rating ★ in the section below