If you love mushrooms as much as I do, then this recipe is perfect for you. Roasted mushrooms taste amazing, but when you add thyme, garlic, and balsamic, you create a flavor bomb.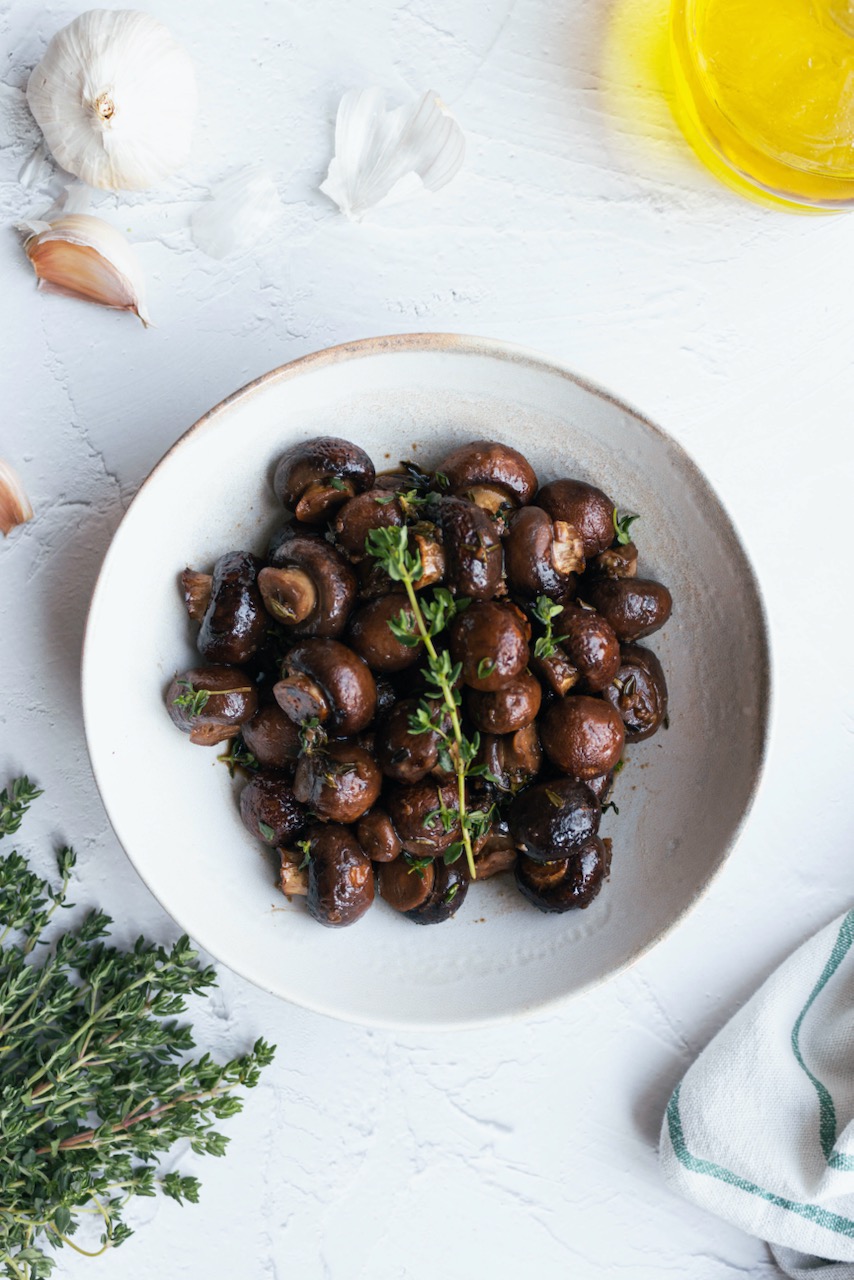 What are mushrooms?
Mushrooms are fungi. They don't belong either to plants or meat and form a category on their own. A mushroom is the "fleshy" part of a fungus, and can be cooked in numerous ways: roasted, grilled, fried, and more. Some mushrooms are poisonous or psychoactive, but if you don't take your basket and go into the woods to pick them, you have nothing to fear.
Ingredients for the balsamic garlic thyme mushrooms
Mushrooms: I use small white buttons or chestnut mushrooms, but this recipe can be done with any edible mushroom. Mushrooms are filled with vitamins, minerals, and antioxidants, and are the only other source of vitamin D besides meat.
Olive oil: I use extra virgin olive oil. It's a staple in the Mediterranean and one of the healthiest fats.
Garlic: I use garlic for its sharp flavor and distinctive aroma. Add more or less according to your liking.
Balsamic vinegar: With its mellow acidity and rich sweetness, balsamic vinegar adds an incredible, slightly caramelized flavor to the dish.
Thyme: One of the Mediterranean's most used herbs. It is very aromatic and has antimicrobial properties. You can always use oregano instead of thyme. I use fresh thyme, but you can always use dry.
Spices: I use onion powder for the extra kick, and salt and pepper cause no dish is complete without them.
Tips & tricks for the balsamic garlic thyme mushrooms
Mushrooms don't need to be peeled. Simply, wipe the dirt away with a damp cloth until clean. If they are very dirty, give them a quick rinse in water just before you cook them. Don't rinse them earlier because they turn slimy.
Try to keep the mushrooms equal in size. If some of them are larger, half them or quarter them.
If you like spicy food, you can add ½ teaspoon (or more) red chilly flakes or cayenne pepper to the spice mix.
How to serve the balsamic garlic thyme mushrooms
You can serve mushrooms as an appetizer or side dish. I love them when served with meat and on top of some bread with goat cheese.
I advise you to serve them immediately after taking them out of the oven because they will be extra juicy.
How to store
Store the mushrooms in an airtight container, in the fridge, up to 3 days.
Recipe
Balsamic Garlic & Thyme Roasted Mushrooms
Classic flavors are combined to create this juicy, tender, and caramelized mushrooms.
Ingredients
500

g/17.6oz

small white button mushrooms

3

tbsp/45ml

olive oil

extra virgin

1

teaspoon

sea salt

1

teaspoon

onion powder

2

garlic cloves

1

tablespoon

fresh thyme leaves

2

tbps/30ml

balsamic vinegar

fresh ground black pepper
Instructions
Preheat the oven to 200°C (400°F).

Line a baking sheet with parchment paper or lightly grease with cooking oil.

Wipe or brush your mushrooms to clean them.

In a large bowl toss mushrooms with olive oil, salt, minced garlic, balsamic vinegar, thyme, ground pepper, and onion powder.

Place them in the pan and roast for 20 to 30 minutes, mixing halfway through, until tender and juicy.
Notes
Wipe the mushrooms with a damp cloth or paper towel to clean off dirt and debris.
Nutrition facts
Servings: 1 (148g) | Calories: 130kcal | Carbohydrates: 7g | Protein: 4g | Fat: 10.59g | Saturated Fat: 1.47g | Trans Fat: 0.005g | Cholesterol: 0mg | Sodium: 591mg | Potassium: 430mg | Fiber: 1.6g | Sugar: 3.73g | Vitamin A: 32IU | Vitamin C: 4.2mg | Calcium: 16mg | Iron: 0.95mg
Have you tried this recipe?
Spread the love and mention @foodathlon_ or tag #foodathlon on Instagram
Leave a comment and star rating ★ in the section below