"An apple a day keeps the doctor away" is a great proverb known throughout the whole world. Did you also grow up hearing this? My grandma used to mention this phrase a lot. And even though my grandpa is a fan of Granny Smith apples, I and my dad are more of a Fuji lovers. But all of us, love a unique Greek apple variety from Pelion called Firiki.
Apples come in so many varieties, with different flavor profiles, but all of them are delicious.
If you bought too many apples and you can't eat them all, one of the ways to preserve them is to make apple butter. Not really butter, but more of a jam, apple butter is a great delight. Simply spread it on a slice of bread and you get a delicious breakfast.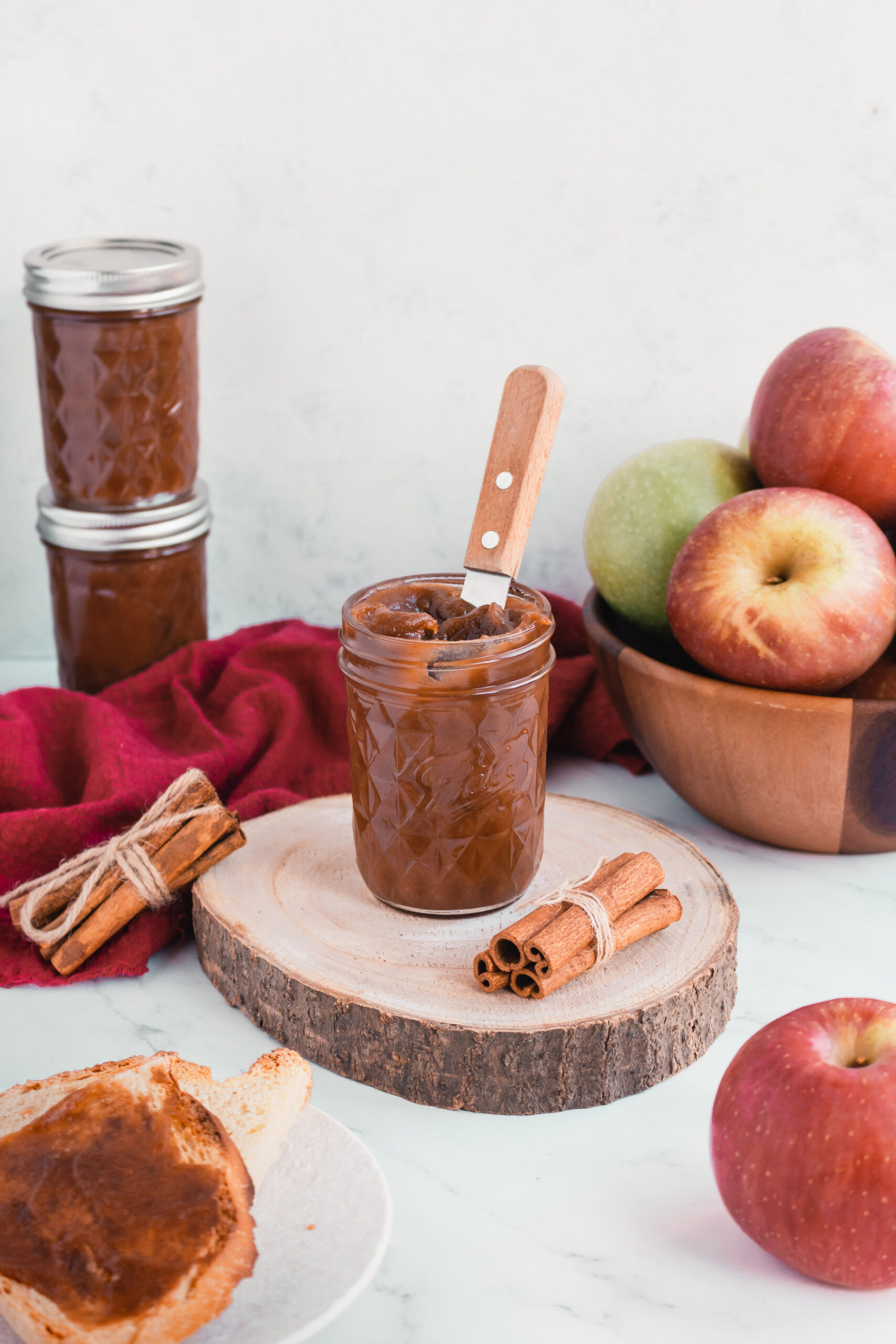 Which apple types are great for making butter?
Any type of apple can work for this recipe. Softer varieties are better because they cook faster and can be easily pureed.
Use at least two different apple varieties to get the best flavor out of the apple butter. My favorite combination uses four varieties: Fuji, Golden Delicious, Granny Smith, and Golden Rennet (Goudreinet) apples.
Other great varieties that I recommend are:
Braeburn
Jonagold
Gravenstein
Royal Gala
Elstar
Cox Orange Pippin
Red Delicious
Honey Crisp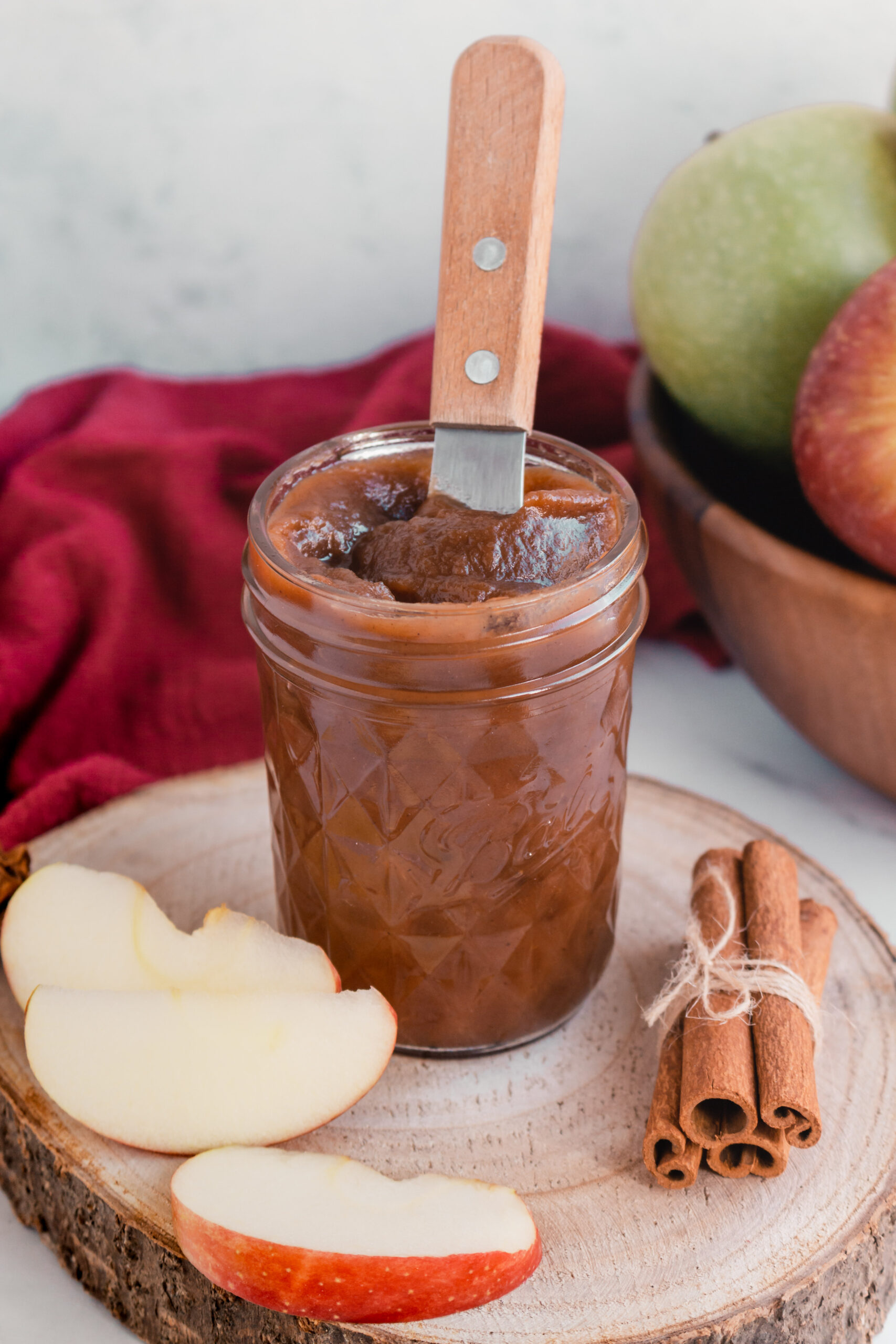 Ingredients for the honey apple butter
Apple: Use only one variety or as many as you like.
Honey: If you are vegan or allergic to honey, use maple syrup or agave syrup.
Spices: Cinnamon pairs perfectly with apples. Other great spices for making apple butter are cloves, nutmeg, ginger, and allspice.
Alcohol: I love adding a bit of brandy or cognac to my apple butter. It gives so much flavor! You can of course always omit it.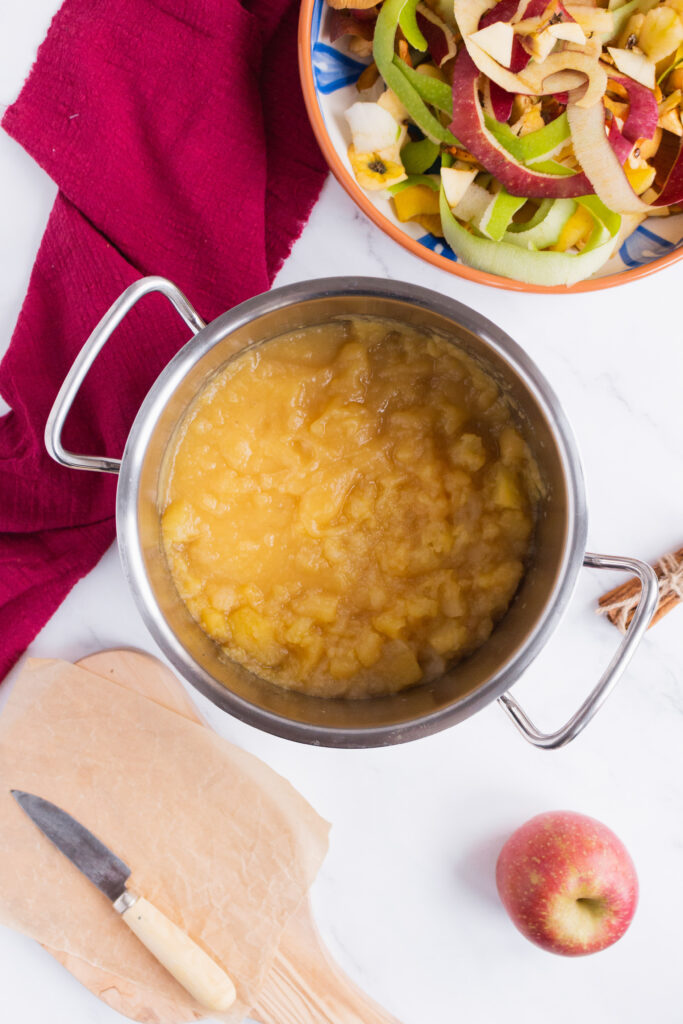 Tips & tricks
Even though I peel the apples in this recipe, if you wash them well and care for the extra added fiber to your nutrition, keep their skin on. After you puree the mixture you can barely tell the difference.
Use a food processor or an immersion blender to blend the apples. A fork or a potato masher can also do the work but the texture of the butter will not be so silky.
If you use apples that are sweet, you can omit honey (or any other sweetener). But the addition of the honey is what gives this apple butter its caramelized flavor.
To make your canning jars sterile, place them on a steaming rack and boil them in water for 10 minutes. Another way is to wash them in the dishwasher and use them while still hot. A third way is to bake them without the lids in a preheated oven at 100ºC (200ºF).
Personally, I cook on induction with a maximum level of 14. I boil the apples at 11, reduce them to 8, and then simmer them at 4.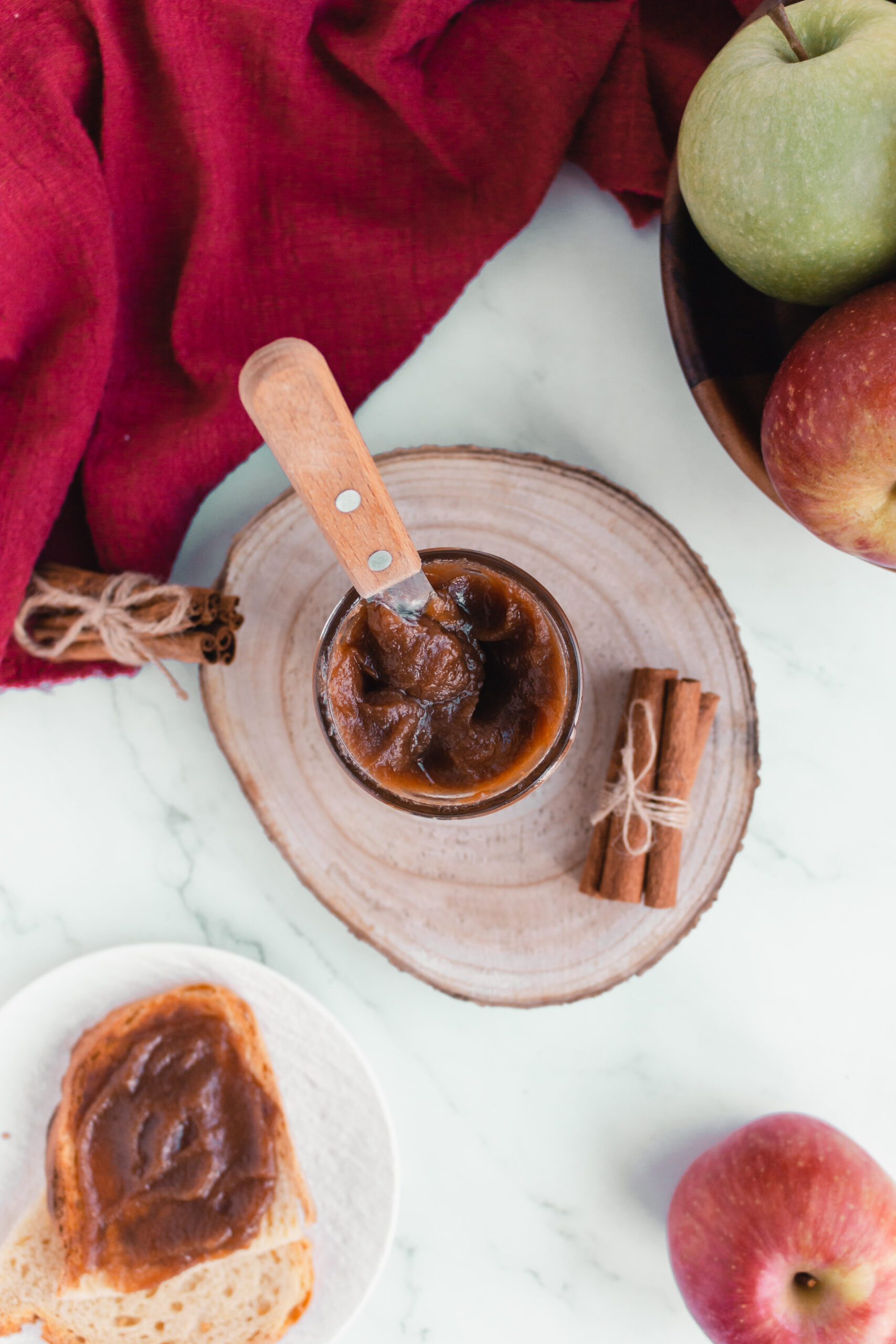 How to serve the honey apple butter
Serve the apple butter warm or cold:
Spread it on the breakfast toast
Put it in a smoothie bowl
Mix it in overnight rolled oats
As a topping for ice cream, muffins, and other desserts
As a sauce for roasted pork
Into a crepe as a filling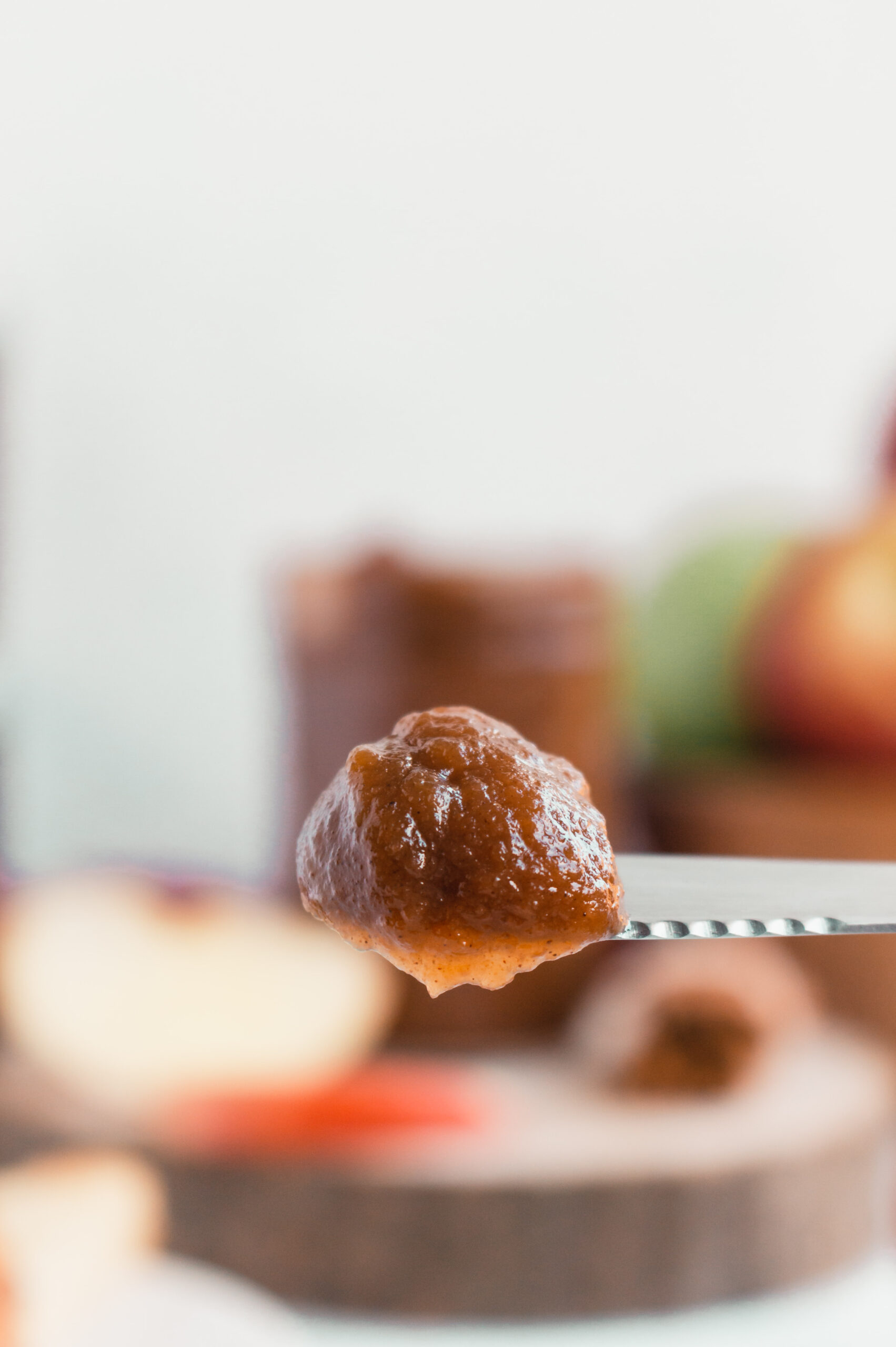 How to store the honey apple butter
Refrigerate the apple butter, after it cools down completely, in airtight/sealed glass jars, for up to 3 weeks.
The apple butter can also be canned in sterile glass jars. It will last in your pantry for ~ 3 months if you sterilize the jars properly. Once open, the jar must be refrigerated.
Freeze the butter in small badges (½ - 1 cup). You can keep it in the freezer for ~ 3 months. Thaw it at room temperature and store it in the fridge max 1 week. It might be a little watery.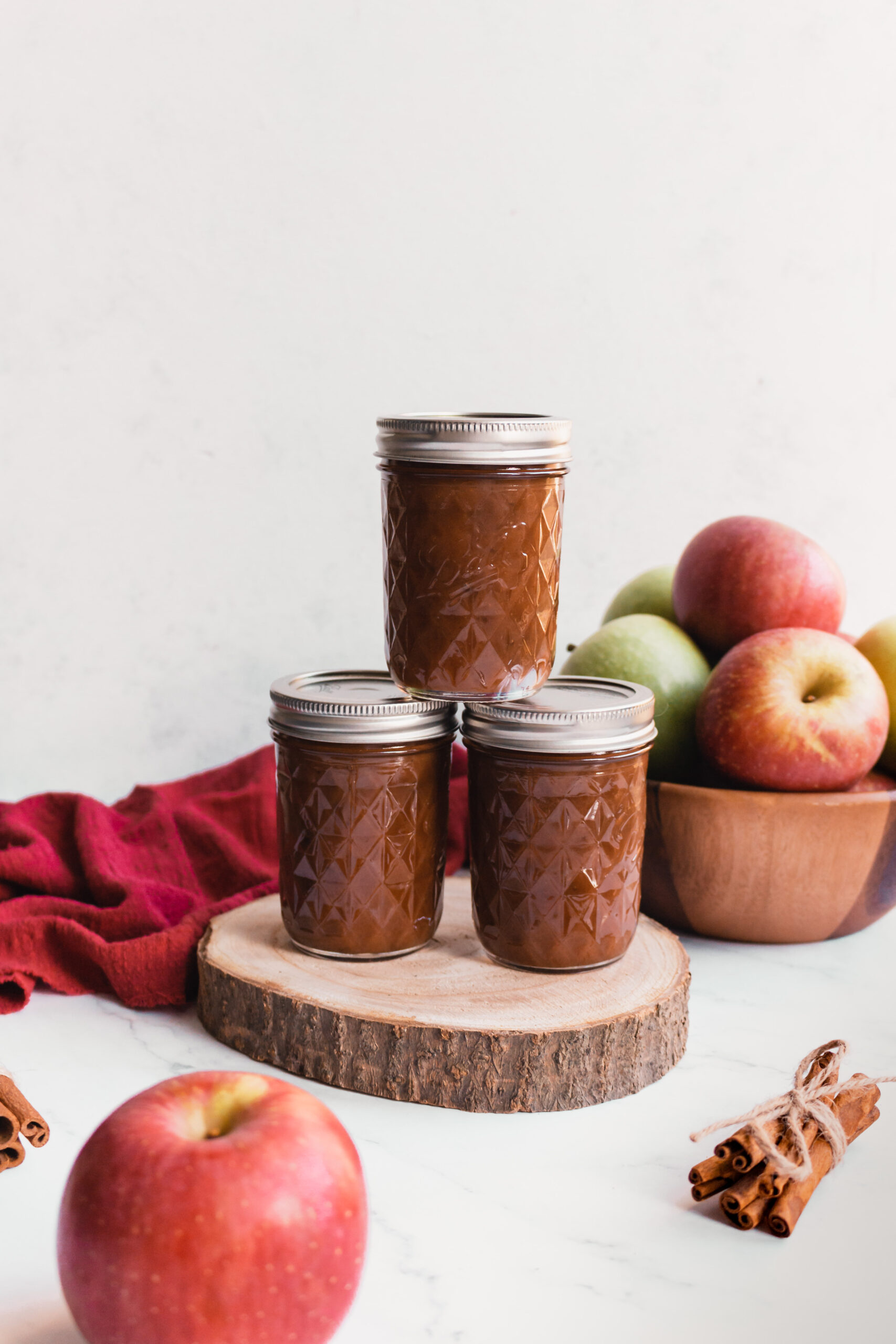 Other great breakfast butter recipes?
Don't miss this:
Recipe
Honey Apple Butter
Easy, delicious homemade apple butter, made with honey to get a caramelized flavor. Ideal as breakfast, and even as dessert.
Ingredients
1.5

kg/3.3 pounds

apples

any type you like

¼

cup/60 ml

apple cider vinegar

¾

cup/180 ml

water

3

tablespoon

brandy

(optional)

¼

cup/85 g

honey

½

tablespoon

ground cinnamon

½

teaspoon

ground cloves

1

teaspoon

vanilla extract

¼

teaspoon

sea salt
Instructions
Peel, core, and cut the apples into medium size pieces.

Place a heavy bottom pot over medium/high heat, and add the apples, vinegar and water.

Bring them to a light boil, reduce the heat to medium, and simmer (stir occasionally) until the apples are soft when pressed with a wooden spoon.

Remove from the fire and using the immersion blender, puree the apples until smooth. Return the pot to the fire and add the rest of the ingredients and blend once more to combine.

Reduce the heat to low, cover the pot with a lid loosely (leave a small opening so that the steam can escape), and let it simmer until it starts to thicken. Stir occasionally with a wooden/silicone spoon(the first 3 hours once every 30 minutes, the final hour every 5-10 minutes).

Once the apple butter has the consistency that you like is ready. Transfer it to sterile glass jars and let it cool.
Notes
Feel free to adjust the sweetness of the apple butter. Taste it before adding the sweetener, and decide if/how much you want to add.
This recipe makes enough apple butter to fill 3 jars of 16 oz/475 ml and we count as a serving ¼ cup. 
Nutrition facts
Servings: 1 (78g) | Calories: 47kcal | Carbohydrates: 12g | Protein: 0g | Fat: 0.1g | Saturated Fat:0 g | Trans Fat: 0g | Cholesterol: 0mg | Sodium: 26mg | Potassium: 73mg | Fiber: 1.6g | Sugar: 9.49g | Vitamin A: 34IU | Vitamin C: 3.1mg | Calcium: 7mg | Iron: 0.12mg | Manganese: 0.088mg
Have you tried this recipe?
Spread the love and mention @foodathlon_ or tag #foodathlon on Instagram
Leave a comment and star rating ★ in the section below