One of the most well-known Greek Easter sweets is tsoureki. A sweet type of bread like challah or brioche, but softer, fluffier, and flavored with different spices. Tsoureki needs a bit of work and time, but the result is always rewarding. Traditionally, it is made using sugar, but in this recipe I use honey.
The flavor is as sweet as in the traditional version, and honey makes tsoureki more aromatic.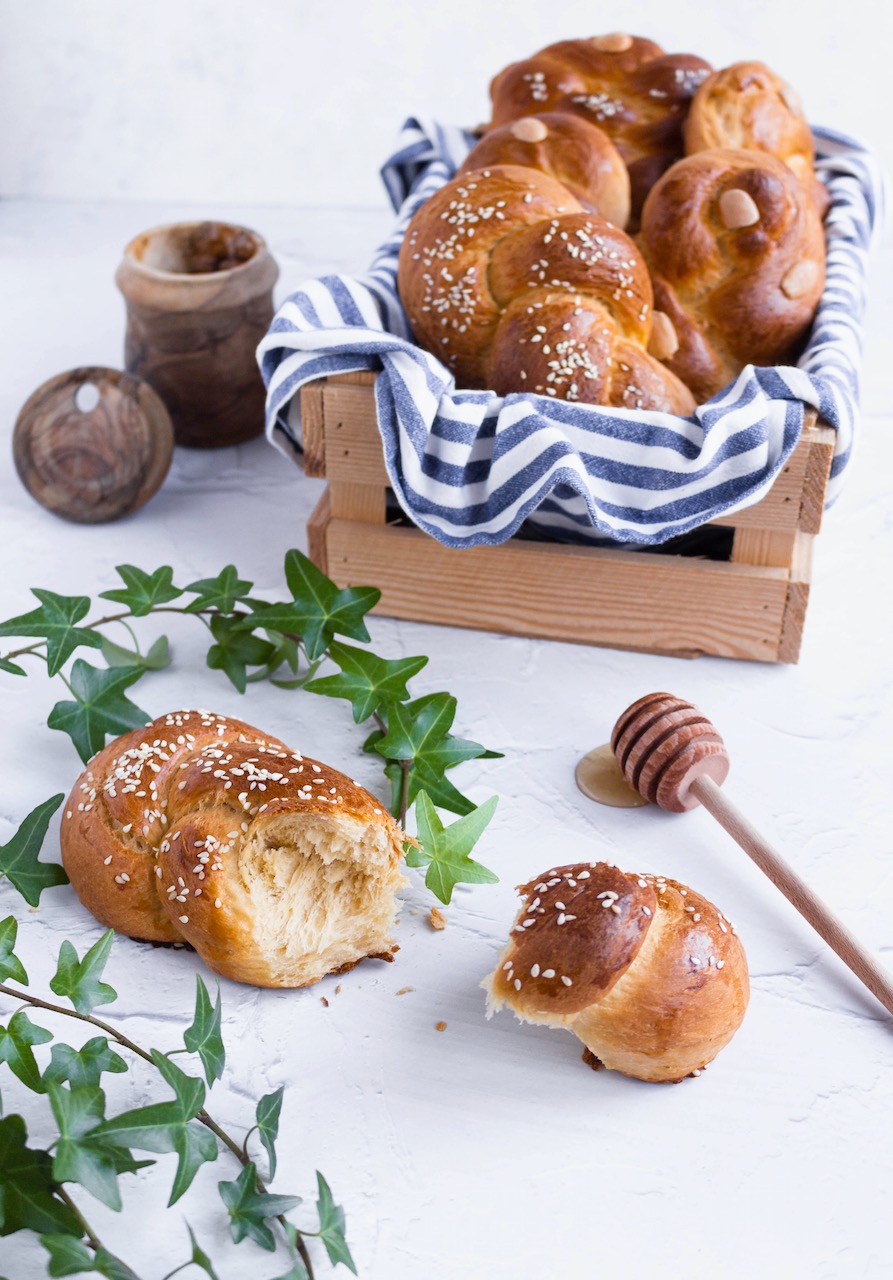 🤔 What is tsoureki?
Tsoureki is a yeast bread, traditionally braided and baked on Holy or Red Thursday, as we call it in Greece. The dough is sweet, buttery, stringy, and flavored with mahleb, mastic, and cardamom. Without these spices, there is no tsoureki.
📝 Ιngredients for making tsoureki with honey
Flour: Use bread flour with a high content of gluten (12% - 14%) to achieve the best texture and elasticity in the dough. You can buy tsoureki flour in Greek markets.
Butter: Use good quality unsalted butter to make tsoureki. This will make it more fragrant and enhance the flavor. You can also use margarine or sunflower oil.
Honey: I use flower honey because it has a subtle flavor. If you want the honey flavor to be more intense I recommend thyme honey, but you can always use your favorite type.
Eggs: Use two large eggs. They should be ~ 115-120 grams (4-4.2 oz) when broken and weighted.
Milk: Use full-fat milk to achieve an optimal result.
Yeast: Use active dry yeast and always make sure that it's still alive.
Mahleb: A rich and aromatic spice made from native Persian ground cherry seeds, provides characteristic smell and flavor to tsoureki. Mahleb is used a lot in Middle Eastern and Greek cooking.
Mastic: An aromatic resin that derives from the sap of a tree on the island of Chios. Known as "mastiha" in Greek, it is a must in this recipe and is better when used freshly ground. Mastic gives its unique smell and flavor to this sweet bread.
Cardamon: Also known as "kakoule" in Greek, cardamom has a complex aroma and a fruity flavor and is one of the finest spices to use.
👩🏻‍🍳 Tips & tricks for the perfect tsoureki with honey
If your tsoureki becomes stiff, cut the slices that you want and pop them in the microwave for 15 seconds. The heat will bring the softness back.
Tsoureki made with honey has a stickier dough. Use melted butter to cover your hands and your workspace, to be able to braid it.
If your dough is too soft, put it in the fridge for 30 minutes. This will help with its texture and make it easier to handle.
Don't use extra flour when braiding tsoureki with honey. It will make it stiff.
Mahleb is more aromatic when it is freshly grounded.
We use the word tsoureki in singular, and tsourekia in the plural.
When braiding tsoureki, make sure that you don't press the strands too much. Give some space to the dough so that it can proof again.
The right proofing is key to the success of tsoureki. Don't try to make the dough expand by placing it in the oven. It will most likely burn the yeast.
🍽 Serve
Sakis loves dipping tsoureki in warm milk🥛, and eat it while it's warm and soft. I prefer spreading it with hazelnut chocolate praline and heating it in the microwave.
🥡 How to store the tsoureki with honey
Wrap tsoureki after completely cooled using plastic wrap, and freeze for up to 3-4 months. Defrost it at room temperature to keep it fluffy.
Tsoureki typically lasts up to 5 days at room temperature, when covered with plastic wrap. After that period, it becomes hard and might go bad.
😋 More similar sweets?
Don't miss the following:
📜 Recipe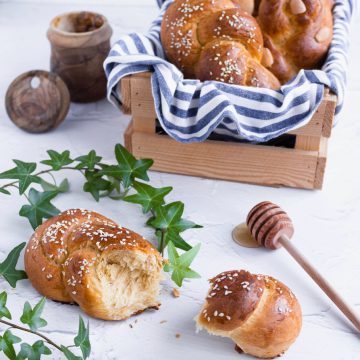 Greek Easter Bread With Honey (Tsoureki)
One of the most well-known Greek Easter sweets. In this recipe I use honey, making it sugar-free but equally tasty and a bit more aromatic.
Ingredients
600

g/3 ¾ cup

bread flour or strong flour

100

g/7 tbsp

unsalted butter

180

g/½cup + 1 tbsp

honey

2

large eggs

200

g/¾ cup + 1 tbsp

milk

16

g/1 tablespoon + 2 tsp

dry active yeast

1

teaspoon

ground mahleb

½

teaspoon

ground mastic

½

teaspoon

ground cardamom

(kakoule)

1

teaspoon

vanilla extract
Extras
1

egg yolk

1

tablespoon

milk

20

g/1 tablespoon + 1 tsp

melted butter

sesame seeds

slivered almonds
Instructions
Weight all of your ingredients and have them at room temperature.

Place into the mixer bowl the yeast combined with 1 teaspoon of honey, 1 tablespoon of flour and ¼ cup lukewarm milk. Mix it with a wooden spoon for 15 seconds and leave the mixture for 10 minutes to activate your yeast until it bubbles up.

Melt the butter in a saucepan over medium heat. When all the butter is melted, remove from heat and add the honey. Stir until honey is melted, add the milk, eggs, and vanilla extract, and stir them all together to bring the temperature down so that the yeast is not burnt.

Add the mahleb, the mastic and the cardamom into the flour and mix.

Pour the butter mixture into the mixer bowl and using the hook in low speed start to incorporate the flour in batches.

Knead the dough for 10 to 15 minutes, until it comes together but it is still slightly sticky.

Transfer the dough into a large bowl and cover with plastic wrap. Wrap it into a tablecloth and then in a blanket and let the dough rise for about 3 hours.

Unwrap the dough, butter your fingers and working space and separate the dough into 2 equally measured pieces.

Divide every piece into 3 equal pieces and roll them into strands (ropes).

Braid 3 strands into a bread, the dough is enough for 2 large tsourekia.

Repeat the same process with the second braid and place them on a lined baking sheet with parchment paper.

Cover them with a towel and let them rest, about 1-2 hours.

Preheat the oven at 180°C (350°F). Whisk the egg yolk with the milk.

Brush them lightly with the egg mixture and sprinkle them with sesame seeds or slivered almonds.

Bake the tsourekia for 25 minutes until golden brown. Remove from the oven and place them on a wired rack to cool.
Notes
If you want to place a red egg on the tsoureki, use a wooden spoon and make a small hole on the top, right after you remove it from the oven. While it cools down it will "hug" the egg and keep it steady.
Serve it plain or with some hazelnut praline.
🍋 Nutrition facts
Servings: 1 (41g) | Calories: 126kcal | Carbohydrates: 21.7g | Protein: 3.4g | Fat: 3g | Saturated Fat: 1.54g | Trans Fat: 0g | Cholesterol: 18mg | Sodium: 6mg | Potassium: 45mg | Fiber: 1g | Sugar: 5.7g | Vitamin A: 90IU | Vitamin C: 0.1mg | Calcium: 16mg | Iron: 0.35mg
Have you tried this recipe?
Spread the love and mention @foodathlon_ or tag #foodathlon on Instagram
Leave a comment and star rating ★ in the section below